Topic Page: Pocahontas, d. 1617
Summary Article: Pocahontas
From Rourke's Native American History & Culture Encyclopedia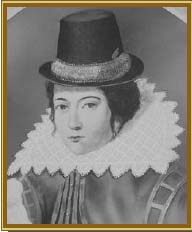 Pocahontas (1595-1617) (also known as Matoaka, her real name) was known as the Indian princess who bridged peace between Native Americans and early European settlers.
Her father, Powhatan, was the powerful chief of the Algonquian tribes in the Virginia region. When Pocahontas was 11 years old, she befriended the Jamestown colonists and brought them food. One of the colonists, Captain John Smith, claimed that Pocahontas saved his life by throwing herself over him just before he was to be killed on her father's orders.
In 1613, Captain Samuel Argall kidnapped Pocahontas to force her father to release the English colonists he held as prisoners. While being held hostage among the colonists, Pocahontas converted to Christianity and married John Rolfe, a colonist. This marriage led to several years of peace between Jamestown colonists and Powhatan's tribes.
In 1616, Pocahontas, her husband, and son traveled to England to raise money for the struggling Virginia colony. Just before returning home, she died of smallpox. Even in death, she symbolized to Europeans the possibility of peaceful relations with Native Americans.
| 1608 | 1613 | 1614 | 1922 |
| --- | --- | --- | --- |
| Saves John Smith's life | Colonists take her hostage for the return of English colonists held prisoner by Chief Powhatan | Marries John Rolfe | A statue of Pocahontas is erected in Jamestown, Virginia |
Related Articles
---
Philip's Encyclopedia
1595-1617 Native American princess and early colonial heroine. According to legend, she saved the life of John Smith , leader of the ...
DK Eyewitness Books: North American Indian
In 1607 Captain John Smith (1580–1631), from the English colony of Virginia, was captured by the chief of the Powhatan. Smith's life was d
Rourke's Native American History & Culture Encyclopedia
(also known as Wahunsonacock) was the leader of the Powhatan Confederacy and the father of Pocahontas. He ruled as the king of about 30 tribes withi
See more from Credo