Topic Page: Pizza
---
Definition:
pizza
from
Merriam-Webster's Collegiate(R) Dictionary
(1845) : a dish made typically of flattened bread dough spread with a savory mixture usu. including tomatoes and cheese and often other toppings and baked —called also pizza pie
pizza•like \-॑līk\ adj
---
Summary Article: pizza
From Library of Health and Living: The Encyclopedia of Nutrition and Good Health
A flat, circular bread baked with a variety of toppings. The word pizza is Italian for "pie." The average American eats about 23 pounds yearly. Pizza dough is rolled or pressed flat, traditionally topped with tomatoes, tomato paste, and herbs, and baked. The American variety of pizza is topped with mozzarella or Parmesan cheese, various types of sausage, mushrooms, olives, vegetables, spices, and anchovies, among other toppings. Pizza is often high in fat, calories, and sodium. Cheese and meat toppings like pepperoni contribute the fat.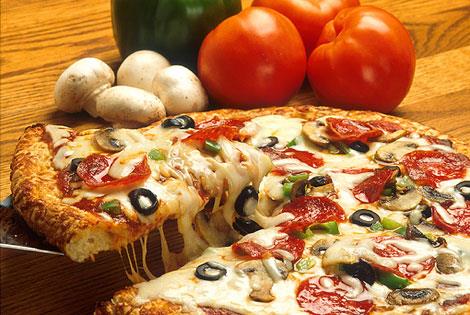 Frozen pizza is usually highly processed; it contains imitation cheese as well as food additives. It may be labeled as containing imitation cheese or cheese substitute. Nutrient content of one slice (120 g) of a typical cheese pizza made with vegetable shortening is: 290 calories; protein, 15 g; carbohydrate, 39 g; fiber, 2.2 g; fat, 9 g; cholesterol, 56 mg; calcium, 220 mg; sodium, 700 mg; thiamine, 0.34 mg; riboflavin, 0.29 mg; niacin, 4.2 mg.