Summary Article: Phonolite
From Rock and Gem
PHONOLITE IS A TYPE OF TRACHYTE (see here) that contains nepheline or leucite rather than quartz. They are commonly fine grained and compact, and split into thin, tough plates, which make a ringing sound when struck, hence the rock's name. The principal dark-colored mineral is pyroxene, usually in the form of aegirine or augite. Phonolites are common in Europe, especially on the Eifel plateau and the Laacher See, Germany; in the Czech Republic; and in the Mediterranean area, particularly in Italy. In the USA phonolites are found in Colorado, and the Black Hills, South Dakota. The spectacular Devil's Tower, Wyoming, is probably phonolite's most famous occurrence (see Trachyte).
Properties

Rock type

Intermediate, volcanic, igneous

Major minerals

Sanidine, oligoclase

Minor minerals

Feldspathoids, hornblende, pyroxene, biotite

Color

Medium gray

Texture

Fine to medium, porphyritic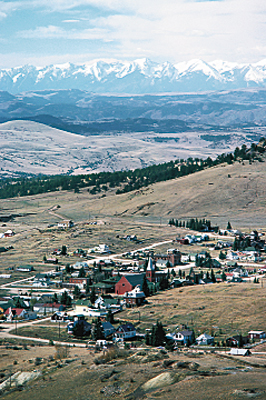 Related Articles
---
Cambridge Dictionary of Human Biology and Evolution
Fine-grained green lava that was a preferred material for later tools at Olduvai Gorge in Tanzania, because it held an especially sharp...
The Macquarie Dictionary
1. a fine-grained volcanic rock composed chiefly of orthoclase and nepheline, some nepheline varieties of which split into pieces which give a ri
Guide to Minerals, Rocks and Fossils
Color Dark green to grey. Colour index 0 to 30 Grain size Fine. Texture A rather dense (compact) texture; usually porphyritic. Has a...
See more from Credo