Topic Page: Pershing, John (1860 - 1948)
---
Definition:
Pershing, John Joseph
from
Philip's Encyclopedia
US general. Pershing led a punitive expedition against Pancho Villa in Mexico (1916) before being appointed to command the American Expeditionary Force (AEF) in World War 1 (1917-19). Returning a hero, he later served as army chief of staff (1921-24). A US surface-to-surface nuclear missile is named after him.
---
Summary Article: Pershing, John Joseph (1860–1948)
from 500 Great Military Leaders
General of the armies of the United States and commander of U.S. forces in France during World War I. Born in Laclede, Missouri, on September 13, 1860, John Joseph "Black Jack" Pershing worked odd jobs and taught school to support his family until receiving an appointment to the U.S. Military Academy, West Point, in 1882. Commissioned a second lieutenant on graduation in 1886, he joined the 6th Cavalry Regiment in New Mexico and saw limited action in the final subjugation of the Apache Indians. Pershing also participated in the campaign to quiet the Sioux in 1891 following the tragic confrontation at Wounded Knee.
Pershing became a professor of military science at the University of Nebraska in 1891, where he also studied law. He completed a law degree in 1893 and, frustrated by the lack of military advancement, considered a legal career. Pershing returned to the field in 1895 with the 10th Cavalry, an African American unit. Pershing joined the staff of Commanding General Nelson A. Miles in Washington in 1896 and then was an instructor of tactics at West Point in 1897. Here, cadets unhappy with Pershing's dark demeanor and rigid style labeled him "Black Jack," a derogatory reference to Pershing's 10th Cavalry posting.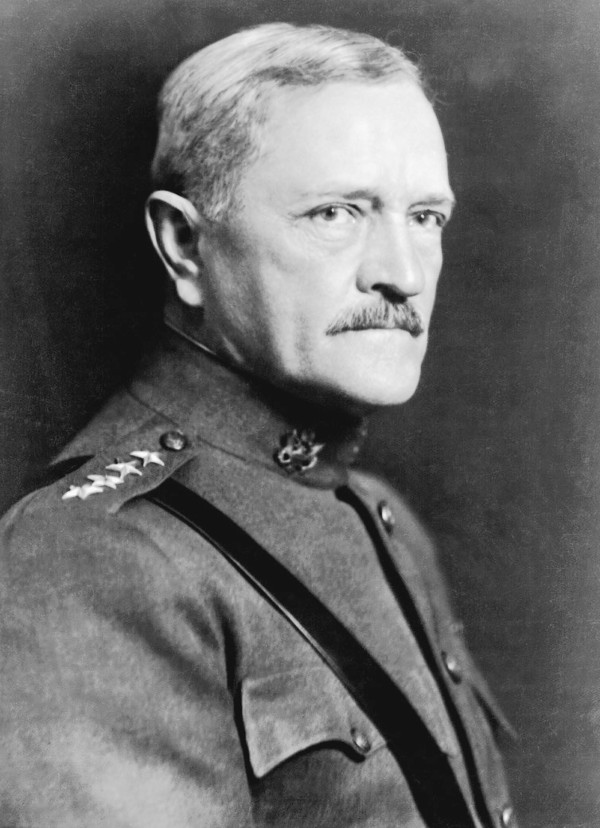 During the Spanish-American War (1898), Pershing rejoined the 10th Cavalry for the Cuba campaign. His men performed well during the fight for the San Juan Heights (July 1–3), and he drew praise for his own coolness and bravery under fire. Returning to the United States, Pershing oversaw the War Department's new Bureau of Insular Affairs. He was then assigned to the Philippines in September 1899 during the Philippine-American War (1899–1902). As a captain, Pershing successfully campaigned against the Moros in 1901, attracting further recognition.
Pershing returned to the United States for General Staff service and to attend the Army War College in 1903. As military attaché to Japan during 1905–1906, he became an official military observer of the Russo-Japanese War (1904–1905). Impressed with Pershing, President Theodore Roosevelt nominated him for direct promotion from captain to brigadier general in September 1906, vaulting him ahead of 862 more senior officers. Pershing spent most of the next eight years in the Philippines, where he continued to display superior leadership as military commander of Moro Province. Returning to the United States, he commanded briefly at the Presidio, San Francisco, before moving to Fort Bliss near El Paso, Texas, in 1914 to confront problems associated with the Mexican Revolution. His wife Frances Warren and their three daughters, who remained at the Presidio, died in a house fire in 1915.
Following the raid by Mexican revolutionary leader Francisco "Pancho" Villa on the small border town of Columbus, New Mexico (March 9, 1916), Pershing took charge of the Punitive Expedition of 10,000 men into Mexico, with orders to capture or kill Villa and his followers while avoiding conflict with Mexican forces. The incursion lasted 10 months, cut deep into northern Mexico, and threatened all-out war. Although Villa escaped, Pershing tested new technologies, including the machine gun, aircraft, motorized transport, and the radio.
Following the U.S. declaration of war on Germany of April 6, 1917, President Woodrow Wilson named Pershing, promoted to major general only in September 1916, to command the American Expeditionary Forces (AEF) in France on May 12, 1917. Promoted to full general in October 1917, Pershing refused to have his forces broken up in smaller units as fillers for British and French forces. However, during the crisis occasioned by Germany's Spring (Ludendorff) Offensives (March 21–July 18, 1918), Pershing offered individual U.S. divisions to the Allied command, and the Americans quickly proved their worth.
Pershing directed American forces in the Aisne-Marne Offensive (July 25–August 2, 1918) and the Saint-Mihiel Offensive (September 12–16). He hoped to follow up this latter victory with a drive on Metz and beyond, but Allied commander General Ferdinand Foch favored a broad-front strategy and refused. Pershing then redirected American efforts into the massive Allied Meuse-Argonne Offensive (September 26–November 11). He opposed the armistice of November 11, preferring to fight until Germany surrendered, but was overruled.
After overseeing the demobilization of American forces, Pershing returned to the United States a hero in 1919. Congress confirmed him as general of the armies in September. After service as army chief of staff (1921–1924), Pershing retired. Active in public life thereafter, he received the Pulitzer Prize for his memoir My Experiences in the World War (1931). Pershing died in Washington, D.C., on July 15, 1948.
A stern disciplinarian with high standards and a superb administrator with an ability to pick able subordinates, Pershing was also a military diplomat of high order and was among the most significant leaders in American military history.
Further Reading
Pershing and His Generals: Command and Staff in the AEF

. Praeger

Westport CT

, 1997.
.
Until the Last Trumpet Sounds: The Life of General of the Armies John J. Pershing

. Wiley

New York

, 1999.
.
Guerrilla Warrior: The Early Life of John J. Pershing

. Scribner

New York

, 1973.
.
Pershing: General of the Armies

. Indiana University Press

Bloomington

, 1986.
.
Black Jack: The Life and Times of John J. Pershing

.

2

vols. Texas A&M University Press

College Station

, 1977.
.
Related Articles
---
The Macmillan Encyclopedia
After the US entry into World War I (1917), he commanded the American Expeditionary Force (AEF) in France, independently...
See more from Credo