Topic Page: Owens, Jesse, 1913-1980
---
Definition:
Owens, Jesse
from
The Hutchinson Unabridged Encyclopedia with Atlas and Weather Guide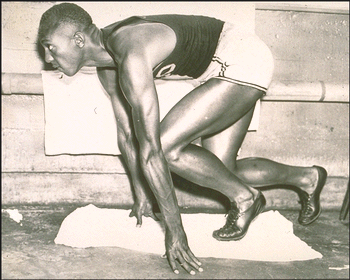 US athlete Jesse Owens. An outstanding athlete, Owens broke many world records, including a long jump record that stood for 25 years. His supremacy at the Berlin Olympics in 1936, in which he won four gold medals, dealt a blow to Adolf Hitler's attempts to use the Olympics as a demonstration of Aryan racial superiority.
(Image © Getty Images)
articles
Owens, Jesse
---

Summary Article: Owens, Jesse
From Gale Biographies: Popular People
Medal of Freedom, Living Legend Award, four gold medals at the 1936 Olympic games.
American track star Jesse Owens (1913-1980) became the hero of the 1936 Olympic Games in Berlin, as his series of victories scored a moral victory for black athletes.
James Cleveland Owens was born in Oakville, Alabama, on Sept. 12, 1913, the son of a sharecropper. He was a sickly child, often too frail to help his father and brothers in the fields. The family moved to Cleveland, Ohio, in 1921. There was little improvement in their life, but the move did enable young Owens to enter public school, where a teacher accidently wrote down his name as "Jesse" instead of J.C. The name stuck for the rest of his life.
When Jesse was in the fifth grade, the athletic supervisor asked him to go out for track. From a spindly boy he developed into a strong runner. In junior high school he set a record for the 100-yard dash. In high school in 1933 he won the 100-yard dash, the 200-yard dash, and the broad jump in the National Interscholastic Championships. Owens was such a complete athlete, a coach said he seemed to float over the ground when he ran.
A number of universities actively recruited Owens, but he felt college was a dream. He felt he could not leave his struggling family and young wife when a paycheck needed to be earned. Owens finally agreed to enter Ohio State University in Columbus after officials found employment for his father. In addition to his studies and participating in track, Owens worked three jobs to pay his tuition. He experienced racism while a student at Ohio State, but the incidents merely strengthened his resolve to succeed. At the "Big Ten" track and field championships (at the University of Michigan) in 1935, he broke three world records and tied another. His 26 foot 8 1/4 inch broad jump set a record that was not broken for 25 years.
Owens was a member of the 1936 U.S. Olympic team competing in Berlin. The African-American members of the squad faced the challenges not only of competition but also of Hitler's boasts of Aryan supremacy. Owens won a total of four gold medals at the Olympic games. As a stunned Hitler angrily left the stadium, German athletes embraced Owens and the spectators chanted his name. He returned to America to a hero's welcome, honored at a ticker tape parade in New York. However, within months, he was unable to find work to finance his senior year of college. Owens took work as a playground supervisor, but was soon approached by promoters who wanted to pit him against race horses and cars. With the money from these exhibitions, he was able to finish school.
In 1937 Owens lent his name to a chain of cleaning shops. They prospered until 1939, when the partners fled, leaving Owens a bankrupt business and heavy debts. He found employment with the Office of Civilian Defense in Philadelphia (1940-1942) as national director of physical education for African-Americans. From 1942 to 1946 he was director of minority employment at Ford Motor Company in Detroit. He later became a sales executive for a Chicago sporting goods company.
In 1951 Owens accompanied the Harlem Globetrotters basketball team to Berlin at the invitation of the U.S. High Commission and the Army. He was appointed secretary of the Illinois Athletic Commission (1952-1955), and was sent on a global goodwill tour as ambassador of sport for the United States. Also in 1955, he was appointed to the Illinois Youth Commission. In 1956 he organized the Junior Olympic Games for youngsters in Chicago between the ages of 12 and 17. Owens and his friend Joe Louis were active in helping black youth.
Owens headed his own public relations firm in Chicago and for several years had a jazz program on Chicago radio. He traveled throughout America and abroad, lecturing youth groups. Ideologically moderate, Owens admired Martin Luther King, Jr. Owens and his childhood sweetheart whom he had married in 1931, had three daughters.
Forty years after he won his gold medals, Owens was finally invited to the White House to accept a Medal of Freedom from President Gerald Ford. The following year, the Jesse Owens International Trophy for amateur athletes was established. In 1979, President Jimmy Carter honored Owens with a Living Legend Award.
In the 1970s Owens moved his business from Chicago to Phoenix, but as time progressed, his health deteriorated. He died of cancer on March 31, 1980, after a lengthy stay in a Phoenix hospital. He was buried in Chicago several days later.
The highest honor Owens received came a full ten years after his death. Congressman Louis Stokes from Cleveland lobbied tirelessly to earn Owens a Congressional Gold Medal. The award was finally given to Owens's widow by President Bush in 1990. During the ceremony, President Bush called Owens "an Olympic hero and an American hero every day of his life."
Owens's fabled career as a runner again caught public attention in the 1996 Olympic Games, and 60th anniversary of his Berlin triumph, as entrepreneurs hawked everything from Jesse Owens gambling chips (Sports Illustrated August 5, 1996) to commemorative oak tree seedlings (American Forests Spring, 1996) reminiscent of one he was awarded as a Gold Medalist in Berlin (Sports Illustrated February 20, 1995).
Racism at home had denied Owens the financial fruits of his victory after the 1936 games, but his triumph in what has been called "the most important sports story of the century," continued to be an inspiration for modern day Olympians such as track stars Michael Johnson and Carl Lewis. In Jet magazine (August 1996), Johnson credited Owens for paving the way for his and other black athletes' victories.
Related Articles
---
Great Lives: A Century in Obituaries
Memorable performance at the Berlin Olympics 30 march 1980 Jesse Owens, the great black American sprinter who won four gold medals at the...
African American Almanac
Track and Field Athlete James Cleveland "Jesse" Owens was born on September 12, 1913, in Danville, Alabama, Jesse and his family moved to Ohio
Freedom Facts and Firsts: 400 Years of the African American Civil Rights Experience
Born the tenth of eleven children to sharecropper Henry Owens and Emma Fitzgerald Owens in Oakville, Alabama, James Cleveland Owens experienced extr
See more from Credo