Topic Page: Owens, Jesse, 1913-1980
---
Definition:
Owens, Jesse
from
The Hutchinson Unabridged Encyclopedia with Atlas and Weather Guide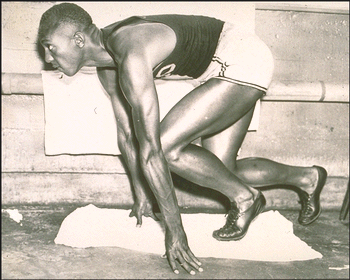 US athlete Jesse Owens. An outstanding athlete, Owens broke many world records, including a long jump record that stood for 25 years. His supremacy at the Berlin Olympics in 1936, in which he won four gold medals, dealt a blow to Adolf Hitler's attempts to use the Olympics as a demonstration of Aryan racial superiority.
(Image © Getty Images)
articles
Owens, Jesse
---

Summary Article: Owens, Jesse (1913–1980)
from Race and Racism in the United States: An Encyclopedia of the American Mosaic
James Cleveland Owens was born September 12, 1913, in Oakville, Alabama, and died March 31, 1980, in Tucson, Arizona. As the youngest of 10 children growing up in rural Alabama, Owens went by the nickname "J.C." When he was nine years old, his family moved to Cleveland, Ohio. While attending public school in an inner-city school, a teacher taking attendance for class misunderstood Owens's heavy Southern accent mistaking his reply "J.C." for "Jesse," and his new nickname stuck.
Owens attended Ohio State University after he graduated from high school in Cleveland. Despite his impressive record-setting performances (he tied the international record for the 100-yard dash and the long jump), he was not awarded a scholarship from the Columbus school. Owens lived off campus and worked a number of jobs including elevator operator and janitor to pay his way through school in Ohio. His performances in the Big Ten championships in 1935 caught the attention of U.S. Olympic officials as he set three world records and tied a fourth all in the span of 45 minutes.
The story of Jesse Owens's victories in the 1936 Olympic Games in Berlin in front of Nazi leader Adolf Hitler is arguably one of the best known in the annals of African American sports. Hitler and Nazi Germany Olympic organizers had chastised U.S. Olympic officials for including African Americans and Jews on the U.S. team. For Owens, the matter was moot: in his autobiography he wrote that he was largely apolitical; he just wanted to compete on the international stage.
There also is an enduring myth that Hitler refused to greet Owens after the American sprinter had won the 100-meter dash. Owens debunked that rumor in an interview: "Hitler had a certain time to come to the stadium and a certain time to leave. It happened that he had to leave before the victory ceremony for the 100 meters," Owens told journalists when he returned to the United States after the Berlin Games. "But before he left I was on my way to a broadcast and passed near his box. He waved at me and I waved back."
Undoubtedly the myth endures because Hitler did, in fact, meet with and congratulate a group of German athletes after an earlier event. International Olympic officials told the German leader that he would be required to meet with all winning athletes from all participating countries or none at all. Hitler chose to forego meeting with any group of champion athletes after that incident.
In addition, as Owens would later say, "Hitler didn't snub me—it was [FDR] who snubbed me. The president didn't even send me a telegram" (Schaap 2007).
Far from being scorned by Germans in general, Owens was celebrated by those Germans who appreciated his athletic prowess. In fact, before he ran his first race, athletic shoe maker Adolf (Adi) Dassler (founder of Adidas) persuaded Owens to wear his specially designed track shoes, making Owens the first African American to have a corporate sponsor.
Owens later pointed out that it was German long jump champion Luz Long who suggested a change in Owens's jumping technique, which allowed Owens to qualify for the long jump finals. The two remained close friends for the rest of their lives. Owens's leap of 26 feet, five and one-half inches stood as the Olympic record for more than 25 years.
German athletes were not necessarily Owens's main concern when he lined up for his first event, the 100-meter dash. His main rival was not a German athlete but rather fellow U.S. Olympian Mathew "Mack" Robinson, older brother of Jackie Robinson. Jackie Robinson, of course, would break the color barrier a decade later in Major League baseball. Owens edged out the elder Robinson in a time of 10.3 to set the first of three individual Olympic records; he also won gold in the 200 meter and the long jump. His fourth gold medal was in the 400 meter relay, where he and Robinson were last-minute replacements after German officials objected to two American Jews who were scheduled to run the relay.
Owens's athletic success did not pan out after he returned to the United States and the ticker-tape parades became distant memories. Movie deals, athletic equipment endorsements, and special appearances did not appear for him, and he filed for bankruptcy. Owens struggled to find financial success after the Olympics and owned a dry cleaning business and worked several odd jobs to earn a living.
Owens married his high school sweetheart, Minnie Ruth Solomon, with whom he had three daughters. A pack-a-day smoker for 35 years, Owens died of lung cancer in Tucson on March 31, 1980.
See also
Sports and Racism
Further Reading:
Jesse Owens—An American Life

. University of Illinois Press

Urbana

, 2006.
Jesse Owens Dies of Cancer at 66; Hero of the 1936 Berlin Olympics

." New York Times, April 1, 1980.

http://www.nytimes.com/learning/general/onthisday/bday/0912.html

.
"
Jesse: The Man Who Outran Hitler

. Random House

New York

, 1985.
; .
Pittsburgh Press. "

Owens Arrives with Kind Words for All Officials.

"

http://news.google.co.uk/newspapers?id=zsoaAAAAIBAJ&sjid=IkwEAAAAIBAJ&pg=1814,6536771&dq=jesse-owenshitler&hl=en

(accessed February 13, 2013).
The Single Greatest Athletic Achievement

." Forbes, November 18, 2005.

http://www.forbes.com/2005/11/18/athletic_performance_olympics_cx_lr_1118experts.html

(accessed February 4, 2013).
"
Triumph: The Untold Story of Jesse Owens and Hitler's Olympics

. Houghton Mifflin

Boston

, 2007.
Legends, Lies and Cherished Myths of American History

. William and Morrow Company

New York

, 1988.
Related Articles
---
Great Lives: A Century in Obituaries
Memorable performance at the Berlin Olympics 30 march 1980 Jesse Owens, the great black American sprinter who won four gold medals at the...
African American Almanac
Track and Field Athlete James Cleveland "Jesse" Owens was born on September 12, 1913, in Danville, Alabama, Jesse and his family moved to Ohio
Freedom Facts and Firsts: 400 Years of the African American Civil Rights Experience
Born the tenth of eleven children to sharecropper Henry Owens and Emma Fitzgerald Owens in Oakville, Alabama, James Cleveland Owens experienced extr
See more from Credo