Topic Page: Online dating

Summary Article: Cyberdating
from Encyclopedia of Gender in Media
Cyberdating, or online dating, has come to be understood as the use of particular Websites to find people for romantic or sexual encounters or relationships. These sites, commonly called dating Websites, allow users to search for others with whom they think they would be compatible. Dating Websites typically have users fill out a profile describing themselves for the benefit of other users who will come upon them while browsing or searching. New mobile technologies allow these and other technologies for dating and sex to be available wherever a mobile device travels and a network signal is available.
Dating Websites have their antecedents in the conceptions of cybersex, or computer dating on the early Internet. Even before users widely navigated through the online world through the World Wide Web, the Internet's architecture allowed for social uses of the medium. Multi-user dungeons, bulletin boards, chat rooms, Internet relay chat, and other ways for people to congregate and communicate on the early Internet allowed users to develop rapport with one another. Often, these interactions allowed users to develop computer-mediated attractions to or relationships with other users. The early Internet allowed people to experience relationships and sex virtually, without touch or physical intimacy.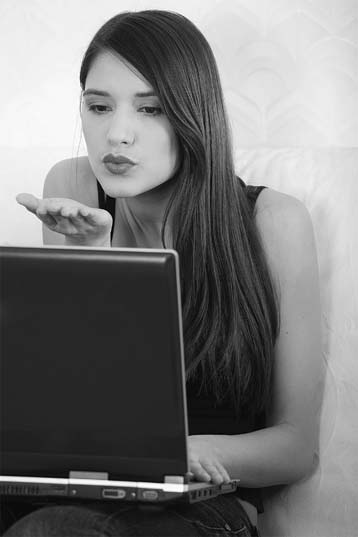 As the Web interface for the Internet became the standard way of experiencing the Internet, the medium began developing an emphasis on communicating information via visuality. Thus, cybersex has slowly eroded as the dominant way of thinking about the relationship between the Internet and dating and sex. Now, as social networking sites, scanning software, and amateur photography and videography allow people the opportunity to upload and share visual representations of themselves online, the dominant mode of social networking online is visually based.
Most dating Websites allow users to create a profile for themselves. Central to this is the profile picture, which is often part of a gallery of images that show the user in various situations and states. Dating Websites allow users to create profiles with pseudonyms, not unlike instant messaging handles or e-mail aliases. The dating Website profile usually allows users to describe themselves in a free-response section of the profile. Other fields may be available for users to describe more fully themselves, the type of relationship or sexual experience they are seeking, their ideal partner, their typical night out, or their favorite books, television programs, and movies. Often, there are questions that can be answered with predetermined choices, such as age, body type, height, marital status, sexual orientation, gender, smoking, drinking, attitude toward pets, "level" of relationship (long-term, friendship, or casual sex), and, sometimes, desired attributes in a mate. In the case of sites specifically designed for sexual pursuits, penis size, fetish types, human immunodeficiency virus (HIV) status, and other sex-related fields are made available. Often, these predetermined answers preclude the expression of bisexual and transgender identities.
Dating Websites, thus, are large databases of people looking for relationships or sex. Different sites allow these databases to be searched differently, and the database structures often are a symptom of what the perceived user wants out of the site and greatly affect the way that users browse or search for potential mates. Most sites allow for geographical searches based on gender and sexual orientation, but the other fields available for searching often differ from site to site.
Websites that have taken hold of the public imagination of dating and sex online are largely sites that charge for membership. Often this membership will allow for complete access to a site. Other times, membership will allow access only to most functions or simply the browsing functions of a site. For some sites, there is a fee to be able to contact other members, and membership will allow only greater search functionality and guaranteed placement of the member's profile in relevant search results.
As social networking and "connected" users are more accustomed to being constantly connected to a social network or, through mediated communication, with at least one other person at most times in their day, users on sites where nonmembers cannot communicate back are often misread as purposefully nonresponsive, when reasons for nonreply may be other than disinterest. The reason for this nonreply could be the relatively high cost of a membership for the user. The obvious ways to subvert this membership requirement for communication have led these sites to strip information from the free-response fields of user profiles that give other means of communication (such as e-mail) outright. Alternatively, the pay structures dividing members and nonmembers may differentiate how the database can be searched by the two groups, along with other limitations for nonusers, while communication possibilities remain intact.
Most sites present users with selections after using search parameters to limit the field of profiles to browse. When search results come back, they lead with a photo and some statistics. This is the model of sites like Match.com. The Internet classified ads megasite Craigslist.org allows for personal Websites that are chronologically arranged by time of posting and expire, similar to the personal ads in newspapers that allow users to place ads for limited amounts of times. The Craigslist personals allow users to attract other users with enticing headlines that encourage other users to click. On the ad's page, the user can upload photos. Ads are organized by gender of posting user and the type of responder the user is seeking, such as "long-term relationship." The site also lists "missed connections," which target specific people whom the posting user saw but did not follow through with in the physical world. Other sites, like eHarmony.com and Chemistry.com allow users to form a psychological profile. Users are connected based on the compatibility tests developed by psychologists. Other sites, like the database for online sex and relationships Nerve.com, are part of a syndicated dating Website network that allows one database to serve under a number of different domain-name banners.
As social networking sites like Myspace and Facebook began to take a hold of the market of online communication, both sites featured search mechanisms that allowed users, through an advanced search, to look for users with a relationship status, sexual orientation, or special interests that the searcher found desirable. As these social networking sites have matured, though, these advanced search features no longer allow for such easy uses of the search functions and database structures of these Websites. This does not mean that social networking sites are no longer used for purposes of finding people for dating or sex, only that meeting people outside one's network of social ties and specified interests has become more difficult.
Not all sites are marketed to a general clientele or user base. As Larry Gross and others have noted, the Internet has allowed for much community and identity formation among lesbian, gay, bisexual, and transsexual/transgender (LGBT) people. Dating sites allow users looking for gay and lesbian relationships and sex to do so. As many scholars of queer studies have noted, dating sites often serve as an online gay bar, where users can be sure they are approaching queer users. Although lesbian and gay users can use sites like Match.com, some sites, like eHarmony, which was established by a Christian psychologist, have not allowed gay members in the past. Many gay sites, especially those for gay men, are gay-exclusive, and these sites often include a more sex-oriented database organization, where nude photos often proliferate. Some dating sites target communities for whom dating within is important. Thus, ChristianMingle.com and Jdate.com serve the Christian and Jewish singles communities, respectively, and Shaadi.com allows South Asian users and those in the diaspora to find mates with an interface that allows users to be arranged by their families.
See also
Blogs and Blogging, Cyberspace and Cyberculture, New Media, Online New Media: GLBTQ Identity, Online New Media: Transgender Identity, Pornification of Everyday Life, Pornography: Gay and Lesbian, Pornography: Heterosexual, Pornography: Internet, Sexuality, Social Media, Social Networking Sites: Facebook, Social Networking Sites: Myspace, Virtual Sex
Further Readings
"'Quality Singles': Internet Dating and the Work of Fantasy."

New Media Society.
Getting It On Online: Cyberspace, Gay Male Sexuality, and Embodied Identity.

New York:

Routledge

, 2004.
"Relationshopping: Investigating the Market Metaphor in Online Dating."

Journal of Social and Personal Relationships.
; ;
Related Articles
---
Encyclopedia of Gender and Society
Online dating, or the initiation and development of romantic relationships by means of the Internet, has received a fair amount of criticism and...
Encyclopedia of Deception
Self-presentation, also called impression management, is typically used to achieve specific goals. The self-presentation process is integral to lyin
Electronic Services: Concepts, Methodologies, Tools and Applications
ABSTRACT Online dating continues to grow in popularity as a way for individuals to locate a potential romantic partner. Researchers have...
See more from Credo