Topic Page: Oklahoma City Federal Building Bombing

Summary Article: Oklahoma city Bombing
from The SAGE Encyclopedia of Terrorism
The 1995 bombing of the Alfred P. Murrah Federal Building in Oklahoma City, Oklahoma, is among the worst acts of domestic terrorism committed on U.S. soil. Although the two main suspects in the bombing, Timothy James McVeigh and Terry Lynn Nichols, were both tried and found guilty, questions about a larger conspiracy remain.
On April 19, 1995, at 9:02 a.m., a rented Ryder truck carrying a 4,000-pound fertilizer bomb exploded in front of the Murrah Building in Oklahoma City. The bomb destroyed over one-third of the nine-story building, including a day-care center located on the second floor. In all, 168 people, including 19 children and 8 federal employees, perished; over 500 more were injured.
Two days later, McVeigh, then 26, was charged in connection with the bombing. Amid throngs of spectators yelling "baby killer!" and "murderer!" authorities led McVeigh out of the Noble County Jail in Perry, Oklahoma, where he had been held on misdemeanor charges unrelated to the bombing. That same day, Nichols, then 39, turned himself in to the police in Herington, Kansas, where he was held as a material witness before being formally charged in connection with the bombing. A third possible suspect, identified only as John Doe No. 2 from a police sketch, remained at large.
Rescue workers and investigators continued to comb the rubble for nearly a month. On May 23, 1995, 150 pounds of dynamite were used to implode what remained of the building. By then, preliminary hearings had already begun. In late August 1995, a federal grand jury indicted McVeigh and Nichols on murder and conspiracy charges. Two years would pass before either would go to trial.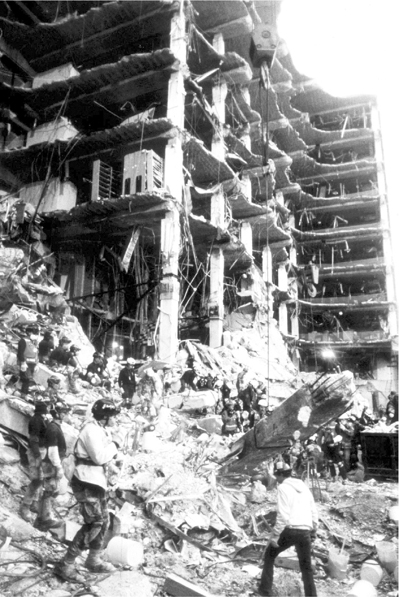 The Trial
Opening statements for United States v. McVeigh began on April 24, 1997, in a Denver, Colorado, courtroom. The government presented several points: McVeigh's antigovernment beliefs; his anger over the government-initiated sieges in Waco, Texas, and Ruby Ridge, Idaho; forensic evidence; telephone and rental records; John Doe No. 1 sightings; the facts of McVeigh's initial traffic arrest on Interstate 35; and key testimony from McVeigh's army buddy Michael Fortier, his wife, Lori, and McVeigh's sister, Jennifer. Jennifer McVeigh testified to Timothy's ascent from anti-government protest to "direct action," while Michael and Lori Fortier, who traded their testimony for lesser charges and immunity, respectively, told the court of McVeigh's plan, hatched, the government asserted, in September 1994, as well as their roles in aiding his efforts. The judge also allowed highly emotional testimony from survivors and victims' family members, which often brought the jury of seven men and five women to tears.
McVeigh's defense team, in the months preceding the trial, launched a large and expensive independent investigation focusing on the possibility that the conspiracy included many more individuals, not just McVeigh and Nichols. Stephen Jones, McVeigh's chief defense counsel, made an early assertion that the two men, if guilty, did not have the resources to carry off the bombing on their own. The defense suggested possible links with Islamic militants based in the Philippines, neo-Nazis, Iraq, and Elohim City, the nearby Christian Identity compound. Jones also claimed that the government, through its various agencies, was suppressing evidence that proved it knew of the planned attack beforehand and could have prevented it. These claims, which were suppressed in court but made known through public records and in Jones's book, Others Unknown (1998), have been the basis for the persistent conspiracy theories surrounding the Oklahoma City bombing.
The most alarming connections alleged by the defense's investigation, especially in light of the September 11, 2001, terrorist attacks, involved Nichols's repeated trips to the Philippines. Nichols first traveled to the Philippines in 1990 to meet his mail-order bride, Marife Torres. Nichols returned several times, ostensibly researching "business opportunities." Before his final trip, in November 1994, Nichols gave his former wife, Lana Padilla, a package to be opened in the event of his death. Padilla opened the package soon after Nichols departed, finding therein a significant amount of cash, stolen valuables, wigs, a life insurance policy, and a letter from Nichols to McVeigh. That letter urged McVeigh to "Go for it."
Terrorist Connection?
Further investigation into Nichols's Philippine trips revealed a meeting, in the early 1990s, between an American, known only as "the Farmer," and several now-imprisoned terrorists—including Ramzi Yousef, Wali Khan Amin Shah, and Abdul Hakim Murad—in which bomb-making and other terrorist activities were discussed. An incarcerated informant and former member of the terrorist group Abu Sayyaf identified "the Farmer" as Terry Nichols. Jones's investigation also placed Osama bin Laden in the Philippines in the early 1990s, and Nichols was also in the Philippines at that time. One of Jones's hypotheses was that McVeigh and Nichols took the fall for a larger conspiracy, much as the Arab men who rented the Ryder truck used in the 1993 World Trade Center bombings were convicted while Ramzi Yousef escaped.
The defense also made significant links between McVeigh and neo-Nazi elements in the United States, most of whom were connected to Elohim City, a white supremacist compound near the Oklahoma-Arkansas border. In the early 1980s, members of The Covenant, the Sword and the Arm of the Lord (CSA), including a man named Richard Wayne Snell, plotted to blow up the Murrah Building in retaliation for the death of Gordon Kahl, a member of the white supremacist group Posse Comitatus who was killed in a shootout with federal agents in 1983. This plot, however, was never implemented. Snell was later sentenced to death and executed for two separate, unrelated murders. His execution fell on April 19, 1995, the day of the Oklahoma City bombing, as well as the second anniversary of the raid on Waco. April 19 is also the date of the Battle of Lexington and Concord, where citizen militia groups attacked the English government in 1775, now celebrated as Patriot's Day.
The defense also made much of McVeigh's phone call to Andreas Carl Strassmeier, a German neo-Nazi living in Elohim City. Although McVeigh maintained, after his conviction, that he had met Strassmeier at a gun show and was calling to inquire about places to hide after the bombing, the defense claimed that the connections were much deeper. Strassmeier had roomed with a man named Michael Brescia, a member of the Aryan Republican Army, and was strongly suspected by the authorities of being John Doe No. 2. Strassmeier was also allegedly connected to Dennis Mahon, a Klansman who ran paramilitary training at Elohim City. Mahon was fervently antigovernment, had allegedly received money from the Iraqi government for several years following the Gulf War, and was identified by Interpol as an international terrorist.
Elohim City also produced a possible defense witness named Carol Howe, a paid informant for the Bureau of Alcohol, Tobacco and Firearms (ATF) who knew both Mahon and Strassmeier. Howe provided the ATF with information suggesting that both men had contemplated or threatened direct action against the government, including blowing up federal buildings in Oklahoma City and Tulsa. The prosecution, led by Beth Wilkinson, repeatedly asserted that neither Strassmeier nor Mahon was considered to be a suspect. Jones hoped to reveal FBI or government negligence for not pursuing these leads.
Inadmissible Evidence
Judge Richard P. Matsch eventually ruled that the evidence relating to Mahon, Strassmeier, Elohim City, and Howe was "not sufficiently relevant to be admissible," thus eliminating the basis of Jones's wider conspiracy argument. (Jones had abandoned the Philippines-based conspiracy argument when his main informant changed details of his story.) The defense team then focused on discrediting the Fortiers' testimony and revealing the holes in the FBI investigation, including an unidentified and unaccounted for leg found in the rubble, which Jones asserted was that of the "real" bomber, as well as suggestions that the FBI's forensic methods were insufficiently rigorous.
On June 13, 1997, McVeigh was sentenced to death by lethal injection. In August, after McVeigh's well-publicized complaints about Jones's competency, Jones stepped down as the lawyer for the appeals process. McVeigh would eventually decline to move forward with his appeals, and he was sent to a prison in Terre Haute, Indiana, to await execution.
Nichols on Trial
Terry Lynn Nichols went on trial in November 1997. He faced the same charges as McVeigh, and much of the same evidence and testimony was used in his trial. However, because Nichols was at home in Kansas when the bombing occurred, and because he lacked the motive that the prosecution had established for McVeigh, Nichols was found guilty on only one charge of conspiracy and on eight charges of involuntary manslaughter. In April 1998, Nichols rejected an offer of leniency in exchange for more information about the bombing because he could still be prosecuted by the state of Oklahoma for murder.
On December 31, 1998, after a year and a half of investigation, a grand jury discounted all theories presented by McVeigh's original defense team, including the existence of John Doe No. 2, wider foreign involvement, and speculation that the federal government had prior warning about the bombing and chose not to act.
McVeigh was executed on June 11, 2001. In 2004, Nichols was tried by the state of Oklahoma on 161 counts of murder, as well as conspiracy and arson charges. During his trial, He defense attorneys also alleged that he was set up to take the blame for the bombing, although the judge in the case refused to allow testimony linking the attack to Elohim City, ruling that there was no substance to such allegations. Nichols was convicted and sentenced to 161 consecutive life sentences without possibility of parole.
Today, a reflecting pool surrounded by 168 chairs, 149 for each of the adult victims and 19 smaller chairs for the children, is the memorial to those killed in the Oklahoma City bombing. The Survivor Tree, an American elm that somehow withstood the explosion, overlooks the scene. A nearby museum features evidence from the attack.
See Also:
April 19, Branch Davidian Compound Siege, Covenant, the Sword and the Arm of the Lord, The, McVeigh, Timothy James, Nichols, Terry Lynn, Snell, Richard Wayne, World Trade Center Bombing (1993), Yousef, Ramzi Ahmed
Further Readings
Rage on the Right: The American Militia Movement from Ruby Ridge to Homeland Security.

Lanham, MD:

Rowman & Littlefield

, 2003.
Apocalypse in Oklahoma: Waco and Ruby Ridge Revenged.

Boston:

Northeastern University Press

, 1997.
Simple Truths: The Real Story of the Oklahoma City Bombing Investigation.

Oklahoma City:

Oklahoma Heritage Association

, 2004.
, et al.
The Oklahoma City Bombing and the Politics of Terror.

Venice, CA:

Feral House

, 1998.
Others Unknown: The Oklahoma City Bombing Case and Conspiracy.

New York:

Public Affairs

, 1998.
American Terrorist: Timothy McVeigh and the Oklahoma City Bombing.

New York:

ReganBooks

, 2001.
, and .
Oklahoma City National Memorial and Museum.

http://www.oklahomacitynationalmemorial.org

.
One of Ours: Timothy McVeigh and the Oklahoma City Bombing.

New York:

Norton

, 1998.
House International Relations Committee.

The Oklahoma City Bombing: Was There a Foreign Connection? Chairman's Report: Oversight and Investigations Subcommittee of the House International Relations Committee, December 26, 2006.

http://rohrabacher.house.gov/UploadedFiles/Report%20from%20the%20Chairman.pdf

.
,
Patriots, Politics, and the Oklahoma City Bombing.

Cambridge, UK:

Cambridge University Press

, 2007.