Topic Page: Offshore Drilling
---
Definition:
offshore
from
Dictionary of Energy
Oil & Gas. 1. a general term for oil and gas industry operations taking place along a coastline (e.g., in Louisiana) or in open ocean waters (e.g., the North Sea field). Thus, offshore drilling, offshore lease, and so on. 2. Wind. situated in ocean waters as opposed to on land; one of the two basic classifications of wind farms.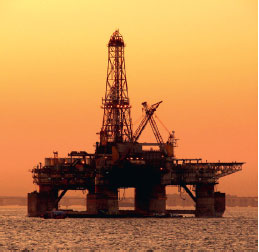 ---

Summary Article: Offshore Drilling
From Green Energy: An A-to-Z Guide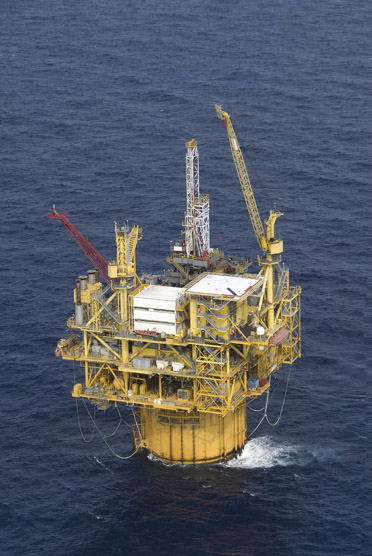 The term offshore drilling commonly refers to both exploratory boreholes and final producing wells accessing such underwater resource reservoirs of oil and gas deposits. Oil and gas analysts concur that natural limits place a predictable ceiling on the Earth's aggregate quantity of oil and gas. Roughly one-half of the remaining undiscovered crude oil and natural gas lies under the oceans and seas. Compelled by harsh conditions and demands for environmental protection, safety, and cost control, offshore drilling relies on continuous innovations in technology, management systems, and legal regulations.
Offshore-related matters often are framed in terms of water depth: shallow water starts at the water's surface, deepwater begins at a depth of 1,500 feet (456 meters), and ultradeepwater offshore drilling exceeds 1 mile (1,600 meters) in water depth. At this time, the deepest ultradeepwater production wells operate in water depths of just over 7,500 ft. (2,250 meters); exploratory boreholes have been drilled beneath 10,000 feet (3,000 meters) of water. The foremost infrastructural requirement in offshore drilling is a platform or rig for basing equipment and labor. In typical shallow water depths to about 500 feet (150 meters), self-erecting jack-up platforms stand on the seabed. The tallest fixed standing platforms reach about 2,000 feet (610 meters) in height, most of which remains underwater. In some shallow water, most deepwater, and all ultradeepwater, either drillships or semisubmersible structures serve as offshore drilling platforms. Both of these types of floating platforms can maintain precise locations via computer-aided dynamic positioning, but in production phases, semisubmersible platforms or floating production, storage, and offloading vessels are typically tethered to the seabed. In most locales, numerous production wells are drilled in extensive fields of offshore oil and/or gas. Such fields are populated by multiple wellheads and pumps connected by highly engineered cable and pipe that can reach more than a dozen miles (20 kilometers) to individual platforms; floating production, storage, and offloading vessels; or even land-based facilities.
Severe yet fragile conditions encountered in offshore drilling heighten the challenge of environmental protection throughout project lifetimes, from exploratory drilling to plugged and abandoned wellheads. Natural phenomena such as hurricanes and earthquakes threaten exploratory and production facilities, with spills and leaks being the most visible but not sole concerns. In arctic offshore settings, the sheer mechanical force of ice floes represents a major test for environmental protection, as do complicating factors of remote distances, lack of infrastructure, and frigid weather. Pushing the limits of human systems and technology increases probable contingencies and failures, which can result in ecological harm ranging from catastrophic blowouts to more subtle forms of degradation. For example, sonic seismology potentially stresses rare sea mammals, and most years witness the unplanned sinking of at least one platform or drillship, including those in transit. Even small spills can be locally catastrophic.
Between 2004 and 2008 in U.S. Gulf of Mexico waters, an aggregate 94 spills and leaks of oil or production chemicals occurred (50 barrels or more). Of these, 59 were caused by hurricanes. Drilling generates significant quantities of waste in the forms of discharged cuttings and over a dozen categories of industrial fluids including drilling mud, lubricants, and emulsifiers, which can contaminate the environment or resource reservoir. Among recent developments, environmental uncertainty surrounds the potential use of offshore reservoirs for carbon dioxide sequestration.
In light of these risks, in most jurisdictions, environmental regulations stipulate that offshore drilling projects must implement extensive controls and abatements. As a result, exploration activities have sought to mitigate the disturbance of sea mammals through measures such as underwater hydrophonic sensing and visual spotting from ship and sky. Emerging "smart" drilling systems combine computer-controlled drill-tip sensors and real-time pressure regulation of the borehole, which should dramatically reduce blowouts and damage to resource reservoirs. Separate cuttings barges have been employed to collect drilling waste, thereby protecting fragile coastal littorals. Newer-generation industrial fluids meet performance requirements while reducing likelihoods of contaminating resource reservoirs or surrounding environments. Gulf of Mexico hurricanes Katrina, Rita, and Ivan hastened efforts to plug and abandon unused offshore wells, thereby reducing risks of leaks and spills. Directional and extended-reach technologies enable drilling horizontally nearly 20,000 feet (6 kilometers), thus allowing onshore facilities to tap offshore fields and to overcome selected, although not all, environmental concerns in arctic settings.
Some of the most wide-reaching regulations regarding offshore drilling are by the United Nations Convention on the Law of the Sea (UNCLOS), whose original provisions began collecting member-state signatories in 1982 and became effective in 1994. UNCLOS has been ratified by 157 nations, with the United States and Venezuela being high-profile exceptions. Oil and gas, as well as undersea mining and fishing, were three primary concerns of the UNCLOS initiative. (Procedural codifications regarding the latter two industries became effective amendments in 1996 and 2001, respectively.) UNCLOS seeks to resolve an international hodgepodge of offshore territorial claims ranging from three miles to 200 miles and more. UNCLOS sets a new global standard by establishing an exclusive economic zone (EEZ) encompassing all waters, seabed, and subseabed up to 200 nautical miles (nm) beyond the breadth of each signatory nation's 12-nm territorial sea. This expansive realm for enterprise was offset by largely doing away with economic or territorial claims based on historical notions of the continental shelf, including those in the first (1958) United Nations Convention on the Law of the Sea. UNCLOS does allow coastal states with exceptional continental shelves to apply for relief, which if approved, extend their EEZs beyond the 200-nm baseline to either 350 nm or 100 nm from the 2,500-m (8,188-foot) depth, depending on demonstrable geographical and geological criteria. UNCLOS collects and redistributes a maximum 7 percent royalty on sales of any oil and gas recovered within these exceptions to the 200-nm EEZ baseline. U.S. offshore oil and gas claims remain based on historical notions of its outer continental shelf. Notably, these U.S. claims incorporate key UNCLOS definitions pertaining both to a 200-nm baseline as well as an extended zone of exclusive economic control.
See Also:
Arctic National Wildlife Refuge, Caspian Sea, Energy Policy, Hubbert's Peak, Natural Gas, Oil, Oil Majors