Topic Page: Ochoa, Ellen (1958 - )
---
Definition:
Ochoa, Ellen
from
The Hutchinson Unabridged Encyclopedia with Atlas and Weather Guide
US astronaut. Her four space shuttle flights include the Discovery mission in May 1999 for the first docking with the International Space Station (ISS), and the April 2002 Atlantis flight to the ISS, where she operated the robotic arm. She has logged more than 978 hours in space. She went on to become the deputy director of the Flight Crew Operations Directorate at the Johnson Space Center. Ochoa was chief of the Intelligent Systems Technology Branch at NASA's Ames Research Center when selected as an astronaut in 1991.
images
Ochoa, Ellen
---
Summary Article: Ochoa, Ellen
From Britannica Concise Encyclopedia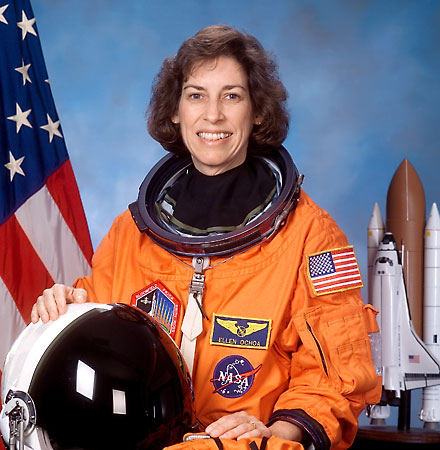 (born May 10, 1958, Los Angeles, Calif., U.S.) U.S. astronaut. She earned a master's degree (1981) and a doctorate (1985) in electrical engineering at Stanford University. Specializing in the development of optical systems, she later helped create several systems and methods that were awarded patents. In 1990 Ochoa was selected to participate in NASA's astronaut program, and the following year she completed her training to become the first Hispanic female astronaut. In April 1993 she served as mission specialist aboard the shuttle Discovery. Ochoa's later missions included traveling to the International Space Station in 1999 and 2002.
Birth Place: Los Angeles, California, United States
Name: Ochoa, Ellen or Ellen Ochoa
Gender: female
Nationality: American, Hispanic American
Activity: American astronaut and administrator
Keywords: "Atlantis", engineering, American, space shuttle, Hispanic American, Ochoa, Ellen, Ellen Ochoa, International Space Station, optical system, space exploration, space station, "Discovery", Los Angeles, astronaut, California