Topic Page: Oakley, Annie, 1860-1926
Summary Article: Oakley, Annie (1860-1926)
from Guns in American Society: An Encyclopedia of History, Politics, Culture, and the Law
Annie Oakley was the first American high-profile female sharpshooter. In a time when women's place was most assuredly in the home, subordinate to the men who ruled the roost as well as society at large, Oakley rose to prominence as a show-business phenomenon and world-class competitive shooter. A woman of independent means who had worked her way up from childhood poverty, she became a role model for a younger generation of increasingly free-spirited American girls. In her later life, she advocated female firearm use for health, recreation, and self-protection. Although she did not identify with the suffragist movement of her time, Oakley would today be regarded as a feminist. Her life story provided the raw material for an American legend.
Phoebe Ann Moses (or Mosey, the preferred spelling and pronunciation of several family members, Annie among them) was born on August 13, 1860, in Woodland, Darke County, Ohio. She was the fifth surviving child in a family that lived in a one-room farm cabin. Her father's death in 1866 left the family destitute. At age six, Annie began fashioning traps to capture birds and small game to help feed her mother and sisters. When she was eight, she wrestled her father's 40-inch cap-and-ball Kentucky rifle down from its perch above the fireplace, managed to load it with enough powder "to kill off a buffalo," and although she had never fired a gun before, proceeded to shoot her first squirrel through the head. Thereafter, despite the fact that her Quaker mother "thought my prowess with a gun was just a little tomboyish" (Wilson and Martin 1998, 48), she honed her shooting and trapping skills to the point where, by the time she reached her teens, she was not only feeding her family, but also deriving enough income from the sale of game to local restaurants that she saved the family farm by paying off the mortgage.
Dating some events in Annie's life is difficult because Buffalo Bill's publicity changed her birth date to 1866, a fiction with which she colluded. Whether it happened in 1875 or 1881 (and there is evidence to support either date), it is clear that Annie bested traveling sharpshooter Frank Butler, 10 years her senior, in a 25-round shooting match in or near Cincinnati. The following year, they married, and she adopted the stage name Annie Oakley (her source for the name remains a mystery). After touring the vaudeville and circus circuit as Butler and Oakley, the couple in 1885 signed with Buffalo Bill's Wild West Show. Annie—"The Peerless Wing-Shot," and the first Caucasian woman to appear in the show—was billed second only to William Cody himself, and husband Frank served as her manager and assistant. The great chief Sitting Bull, who toured briefly with the Wild West Show, gave her the Lakota name Watanya Cicilia, "Little Sure Shot."
Although prior to linking up with Cody she had never been farther west than her western Ohio birthplace, Oakley was celebrated as the "Maid of the Western Plains," a persona she cultivated, developing expertise as a horsewoman and with a lariat in addition to shooting. Unlike other "crack shots" (male and female) of the period, she and Butler never resorted to subterfuges in their act; each trick was a legitimate demonstration of her shooting skill and accuracy. Typical tricks included shooting a dime out from between Frank's thumb and forefinger, shattering multiple glass balls from the air while standing on her galloping horse, using the slender blade of a pocket knife as a mirror when shooting backward over her shoulder, and shooting a cigarette from its smoker's mouth at 30 paces—the most celebrated instance of the latter trick being when the smoker in question was Crown Prince Wilhelm of Prussia, the future kaiser. Oakley reportedly lamented years later that, had her aim only been worse that one time, a world war might have been averted.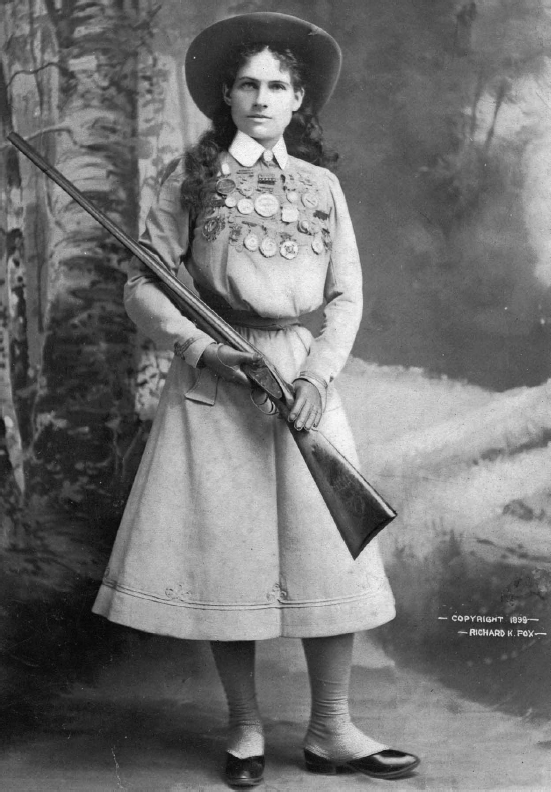 During her 17 years of performing in the United States and Europe with Buffalo Bill, Oakley became the first bona fide female "superstar" on the international stage. She left the Wild West Show to focus her energies on professional competitive shooting (she earned over $100,000 in prizes during her lifetime) and on occasional show-business ventures like the mildly successful stage play The Western Girl (1902). Butler helped finance some of her show-business projects with income he derived from working as a representative for the Union Metallic Cartridge Company and Remington Arms. Around 1908, Oakley and Butler entered into semiretirement in Pinehurst, North Carolina, though they continued to travel and to engage in exhibition and competitive shooting.
Retirement did not suit Oakley particularly well after a life on the road, and she welcomed the opportunity to contribute to the war effort during World War I by touring military camps with Butler, entertaining the troops for free. After the war, she attempted a comeback, touring with Fred Stone's "Motor Hippodrome and Wild West Show," a charitable enterprise that raised money for disabled war veterans, and doing some exhibition shooting. But a November 1922 automobile accident left her with severe injuries from which she never fully recovered.
Oakley died on November 3, 1926. Her death certificate lists the cause as pernicious anemia, though some believe it may actually have been lead poisoning from her lifelong exposure to lead shot (Oakley herself estimated she had shot 40,000 rounds a year for 30 years—a lifetime expenditure of 1.2 million rounds.) Butler, himself too ill to be at his wife's bedside, died 18 days after she did. They are buried together—her ashes, legend has it, deposited in a silver loving cup she had won in a competition in France—in the Moses family plot in Brock, Ohio.
Throughout her public career, Oakley took pains to present herself as a lady, embodying all the late-Victorian qualities of refinement and gentility that had been lacking in her rural youth and were so unexpected in a stage performer and world-class shooter. She was, in this regard, quite distinct from a Western "wild woman" like Calamity Jane, with whom she has often and erroneously been confused in popular mythology. Wielding her guns as dexterously as her embroidery needles, Oakley had special appeal as a role model of female independence in the age of the "Gibson Girl." Yet, perhaps owing to an intimation that she had crossed enough gender boundaries as it was, Oakley did not define herself as a "new woman," and she took umbrage whenever contemporaries saw her in that light.
Although she did not identify herself with the suffragist cause, she certainly shared its concerns and arguably was living some of the goals her feminist sisters were fighting for. As a child, Oakley had been abused by a sometime employer; whether the abuse included sexual molestation is unclear, but in any event she became a lifelong advocate of the rights of the socially downtrodden, particularly children. She was also an early supporter of Native American rights.
Oakley championed women's equality, especially regarding equal employment opportunities in sports and entertainment. She was a vigorous backer of outdoor exercise for women, and of shooting as the best form of exercise: in 1919, she wrote in Arms and the Man (the predecessor of American Rifleman): "[I]f women and girls would take up the practice and gain the skill, which requires but little effort, they would add to their happiness by falling in love with one of the finest of outdoor sports." Oakley estimated that during her lifetime, she personally taught 15,000 women to shoot, and emphasized that "sex makes no difference Individual for individual, women can shoot as well as men" (Oakley 1919, 84).
A lifelong passionate hunter, Oakley also firmly supported women's hunting—with their husbands and sons, of course. "Any woman," she said in 1901, "who does not thoroughly enjoy tramping across the country on a clear, frosty morning with a good gun and a pair of dogs does not know how to enjoy life. God intended women to be outside as well as men, and they do not know what they are missing when they stay cooped up in the house with a novel." Indeed, guns and hunting were both great equalizers: women who joined men afield approached "nearest to the highest development of the modern woman" (Riley 1994, 142-43).
Equally important as hunting and physical exercise, Oakley emphasized the importance of women arming themselves with guns for self-protection. She enjoined women to carry revolvers tucked in their umbrellas (more convenient, in her experience, than their purses) when out, and to keep them in their bedside tables at home. In part, this advice apparently owed to a rise in urban crime during her lifetime. However, her reasoning regarding self-defense also arose from her experience of the Great War: Oakley believed the women who kept the home-fires burning should also be capable of taking up arms in defense of their homes, if need be. In fact, she had volunteered during the Spanish-American War and again during World War I to train a company of 50 female sharpshooters for armed service—an offer President Woodrow Wilson (like President William McKinley before him) refused, as he did her subsequent offer to volunteer her skills for training soldiers in firearm use.
In later years, Oakley recalled that while entertaining the troops had made her "the happiest woman in the world," she would have much preferred being on the front lines herself. In historical fact—far more than in the subsequent fictions that arose about her, like the musical Annie Get Your Gun— Oakley was a woman quite literally generations ahead of her time.
See also: Cody, William "Buffalo Bill"
Further Reading
Annie Oakley and the World of Her Time

. Macmillan

New York

, 1979.
Annie Oakley: Woman, Legend and Myth

." Journal of the West

37

(1998):

11-18

.
"
The Colonel and Little Missie: Buffalo Bill, Annie Oakley, and the Beginnings of Superstardom in America

. Simon and Schuster

New York

, 2005.
.
Women as Shots

." Reprint, 1994.

American Rifleman

42

(1919):

84

.
. "
The Life and Legacy of Annie Oakley

. University of Oklahoma Press

Norman

, 1994.
.
Gun Women: Firearms and Feminism in Contemporary America

. New York University Press

New York

, 2000.
;
Annie Oakley Was More Than a 'Crack Shot in Petticoats.' " Smithsonian

21

(1990):

131-43

.
. "
Little Miss Sure Shot

." American Rifleman

146

(1998):

46-49

,

58-59

.
; "