Topic Page: O'Keeffe, Georgia, 1887-1986
Summary Article: Georgia O'Keeffe (1887-1986)
From Encyclopedia of Creativity
Painter
Paintings include Evening Star (1917), Radiator Building—Night New York (1927),
Summerdays (1936), An Orchid (1941), Ladder to the Moon (1958),
Sky Above Clouds IV (1965), Black Rock with Blue Sky White Clouds (1972)
GEORGIA O'KEEFFE was a quintessential American painter. Born in the Midwest, she moved to New York City and became a central part of the New York art scene with her husband, the art dealer and photographer Alfred Stieglitz. She then established her home in New Mexico, becoming one of the founding artists in the Southwest art world.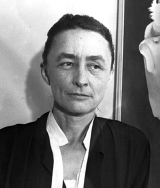 The Early Years
On November 15, 1887, Georgia O'Keeffe was the second of seven children and the oldest girl born to Ida Totto O'Keeffe and Francis Calyxus O'Keeffe, owners of a prosperous 640-acre farm in Sun Prairie, Wisconsin. The O'Keeffe family was musical and encouraged creativity; there was a strong interest in reading and her mother promoted education.
Although O'Keeffe preferred her fun-loving father to her stern mother, it was her mother, grandmothers, and unmarried aunts Lola, a school teacher, and Ollie, who worked for a newspaper, who became her role models as capable, assertive, and focused women. Intense drive, independence, and a strong will characterized O'Keeffe since childhood. As she grew older, they formed the strengths necessary to maintain an artistic career, but in childhood they made her appear domineering to her siblings. Referring to a family photograph of the children where O'Keeffe was partly blurred, her sister Catherine, as noted by Robinson, said it was "probably because Georgia was giving orders."
O'Keeffe, who began drawing at an early age, was given art lessons on Saturday afternoons from a woman in Sun Prairie along with her younger sisters. Between lessons, O'Keeffe would practice at home and by the age of 12 had decided to become a painter. At 13, she was sent to a Dominican Boarding School and then to a public high school in Madison. At both places, O'Keeffe concentrated on art, but it was a high school art teacher who made her aware of the details of nature through examining the structure of a jack-in-the pulpit.
Later, flowers became an important aspect of her iconography. When O'Keeffe was 15, the family moved to Williamsburg, Virginia, and she attended the Chatham Episcopal Institute, whose principal, Elizabeth Willis, was also an art teacher. It was Willis who encouraged O'Keeffe to apply to the Art Institute of Chicago, where in 1905–1906 she studied anatomy with John Vanderpoel. Afterward, she attended the Art Students League from 1907 to 1908, winning a prize in William Merritt Chase's still life class. During this period she began going to the 291 Gallery owned by Alfred Stieglitz (1864–1946) and saw shows by Rodin and Matisse. To help her family with its financial difficulties, O'Keeffe worked as a commercial artist until 1910 when she began a career teaching art in high schools and colleges in Texas and Virginia. During her time as an art teacher, she continued her own education, studying at the University of Virginia with Alon Bement and then from 1914 to 1916 at Columbia Teachers College with Arthur Wesley Dow. At Columbia, O'Keeffe became friends with Anita Pollitzer, a fellow art student, and continued to visit the 291 gallery, seeing shows by Braque and Picasso. When she left New York and returned to teaching art in college, O'Keeffe reviewed her work. Realizing that she needed to break away from her academic training, she decided to eliminate influences from previous teachers and make art she could call her own. Living and teaching first in South Carolina and then in Texas, O'Keeffe abstracted her impressions of nature and began creating works, such as Special, No. 15 (1916), Blue Lines (1916), and the 1917 watercolor series entitled Evening Star, in what would become her mature style. O'Keeffe's independence and originality extended to her way of dressing. In a time when women wore ruffles, corsets, and pointed shoes, O'Keeffe wore simple dark garments, no corsets, and men's shoes. Interested in comfort and mobility, she said women's shoes pinched her feet. Looking at photographs of the young O'Keeffe, she appears contemporary, but when her style is compared to other women of her time, the contrast is marked. O'Keeffe also avoided jewelry but later in life wore a broach with her initials made by the sculptor Alexander Calder.
The New York Years
O'Keeffe had been corresponding with Anita Pollitzer, and sent her friend works of art to critique. In 1916, Pollitzer showed several pieces to Alfred Stieglitz, the photographer and owner of the 291 Gallery. He was extremely impressed and presented O'Keeffe's art in two group shows that year. In 1917, just before closing his gallery, Stieglitz gave her a solo show. When O'Keeffe arrived in June just after the exhibition was taken down, Stieglitz rehung it for her to see. It was at this time that O'Keeffe began to model for Stieglitz. Returning to her teaching job in Texas, O'Keeffe kept up her correspondence with Stieglitz and in June of 1918, at his urging came to New York to paint. Stieglitz moved in with her in the 59th street studio and later that year they vacationed at the Stieglitz family summer home at Lake George. O'Keeffe and Stieglitz, who were married in 1924, made annual trips to Lake George until the 1930s when the family home was sold. It was there that O'Keeffe painted her studio, My Shanty, Lake George (1922).
Living together on 59th street, Stieglitz continued photographing O'Keeffe, a process that over the years generated an enormous variety of images. O'Keeffe was shown in different costumes, as facial portraits, as erotic nudes, and as a series of hand portraits. O'Keeffe said her hands had been admired ever since she was a child but 60 years later looking back at the variety of images of herself, she said she wondered who that person was; it seemed to her that in one life she had lived many lives.
O'Keeffe painted intensely and Stieglitz promoted her career, speaking to critics, walking with them through her exhibitions, and explaining the work. She showed at the Anderson Gallery in New York along with other well-known artists of the period such as Arthur Dove, Marsden Hartley, Charles Demuth, John Marin, and Paul Strand. In 1925 Stieglitz opened The Intimate Gallery and in 1930 The American Place Gallery, continuing to exhibit O'Keeffe's work.
In 1925, when O'Keeffe and Stieglitz moved to rooms on the 30th floor of the Shelton Hotel, O'Keeffe was so taken with the view of New York that she began to paint images of skyscrapers and industrial docks. The male artists in the gallery thought women incapable of doing cityscapes, but O'Keeffe, used to competition with her older brother, was also competitive in the gallery. In works such as East River from the Shelton (1927–1928) and Radiator Building—Night New York (1927) she demonstrated that a woman could successfully paint the City.
It was during this period that she also began exhibiting her large flower series containing works such as Black Iris III (1926) and Two Calla Lilies on Pink (1928). Although New York was an exciting place, O'Keeffe longed for the countryside; she said "distance has always called me" (Hogrefe, 1992, p. 369). In 1920 O'Keeffe began taking yearly trips to Maine and in 1929 made her first trip to the Southwest.
The Southwest
As a child, O'Keeffe's favorite stories were about the West, and visiting New Mexico was like an experience of coming home. On her second trip there, she sent back a barrel containing bones and fabric flowers, which enabled her to produce Western themes such as Cow's Skull: Red, White, and Blue (1931) and Summerdays (1936) when she painted in the East. Eventually O'Keeffe divided her year between living with Stieglitz in Lake George and New York and her time in the Southwest. During her early trips to New Mexico, O'Keeffe stayed at Ghost Ranch, a dude ranch in the eastern part of the Jemenez Mountains where the Mesozoic rock formations derive their intense color from iron oxide. In 1940, O'Keeffe bought Rancho de los Burros and in 1945 bought a second house in Abiquiu. She spent the summer and fall at Rancho de los Burros and the winter and spring at Abiquiu, which O'Keeffe considered to be her main residence.
Although she continued to make flower paintings, such as An Orchid (1941), the New Mexico desert was a constant source of inspiration both in its landscape and in the objects she found there. Walking in the desert the artist took pelvic bones bleached by the sun and used them in a series of paintings, such as Pelvis With Moon (1943) and Pelvis III (1944), where their holes let in the sky. After the death of Stieglitz in 1946 O'Keeffe settled his estate, delegating his large collection of art to museums. She was also active in organizing two exhibits of his collection, first at the Museum of Modern Art in 1947 and then at the Art Institute of Chicago in 1948. Beginning in 1949 the artist lived in New Mexico throughout the year.
O'Keeffe's career continued to expand. Even in the Depression she had sold work, but during the 1940s her fame increased. She had retrospectives at the Art Institute of Chicago in 1943 and at the Museum of Modern Art in 1946, and received an honorary doctorate from the University of Wisconsin in 1942. Later, in 1973, O'Keeffe received a second honorary doctorate from Harvard.
The 1950s were a decade of travel for O'Keeffe, who had until then spent her entire life in the United States except for brief forays into Canada. In 1951, she made her first trip to Mexico and in 1953 made her first trip to Europe, to which she returned in 1954. In 1956 she traveled to Peru and in 1959 took a three and a half month excursion around the world. Although O'Keeffe continued to paint images of the Southwest, such as Ladder to the Moon (1958), a new imagery entered her art as the result of her travels. O'Keeffe became interested in the cloud formations she saw from airplane windows and began her series of cloud paintings, which included the largest canvas of her life, the 8 × 24-ft Sky above Clouds IV (1965).
The Final Years
O'Keeffe remained active and retained good health until close to the end of her long life. She made her first rafting trip down the Colorado river when she was 74, her second one at 82, and her final trip in 1970 at 83.
In addition to rafting, she also returned to Colorado to paint. Eventually O'Keeffe's failing eyesight necessitated a change of medium in order for the artist to remain creative. Juan Hamilton, a potter and her studio assistant, showed her how to construct hand-coiled pots and O'Keeffe turned to pottery. Her pots echoed the shapes found in her late paintings such as Black Rock with Blue III (1972) and Black Rock with Blue Sky and White Clouds (1972). Before her death on March 6, 1986, at the age of 98, O'Keeffe had become the most celebrated woman artist in America. She was elected to the American Academy of Arts and Letters in 1962, given the M. Carey Thomas Award from Bryn Mawr College in 1971, and in 1979 received the Medal of Freedom from President Gerald Ford. It is the nation's highest honor awarded to a civilian.
Georgia O'keeffe and the Creative Process
Her Quest for Originality
After she finished school, O'Keeffe had an intense desire to find her personal method of expression, saying "I decided I wasn't going to spend my life doing what had already been done." She hung all her recent work on the wall and observed that each piece reflected the influence of one or another of the teachers with whom she had studied. Wanting to find her own voice, O'Keeffe (1976) said,
I have things in my head that are not like what anyone has taught me—shapes and ideas so near to me—so natural to my way of being and thinking that it hasn't occurred to me to put them down. I decided to start anew—to strip away what I had been taught—to accept as true my own thinking. … I was alone and singularly free, working into my own, unknown—no one to satisfy but myself.
Painting from Nature
One of her favorite ways to work from nature was by painting in her car. For this O'Keeffe said the Model A Ford was best. Its high windows let in the light and she could take out the passenger seat, and after unbolting the driver's seat, turn it around and have the car as her studio. This ingenious solution shows O'Keeffe used her capacity for what Ruth Richards calls "everyday creativity" in the service of her creativity in art. Sitting in the swiveled driver's seat, she could prop a canvas up to a size of 30 × 40 in. on the back seat and paint until about four in the afternoon when bees would invade the car. At that point, she had to close the windows and eventually the car became too hot to continue working. A very keen observer of nature, O'Keeffe would often remember events and images so clearly that she was also capable of painting them from memory. [See EVERYDAY CREATIVITY.]
Visual Memory
Artists are known for their excellent visual memories and O'Keeffe demonstrated the capacity at a very early age. She remembered, when she was 8 or 9 months old, sitting on a patchwork quilt and seeing her Aunt Winnie, accurately describing her aunt's blond hair and the details of her dress. Years later she told her mother, who also remembered that day. Her mother was at first incredulous, but then had to admit that O'Keeffe's visual memory was accurate.
O'Keeffe, who was very physically active, always liked the outdoors. All her life, she took long walks, and her observations formed the basis for later work. Her paintings From the Plains I (1919) and Orange Streak (1919) were memories of Texas, but created months later in New York. The habit of working from memory lasted her entire life. In her sixties, O'Keeffe began her Cloud Series, images of the world seen from the window of an airplane. She did small charcoal drawings on the plane but filled in all the details for the large works from memory.
Early Evidence of Creative Ability
Evidence of early creative ability, common among artists, is also found in the life of O'Keeffe. She began to draw as a young child, first making images of her dolls. Because she sewed well, O'Keeffe made them clothing and then also built them a house. When she and her sisters were given art lessons as children, they learned by copying pictures of their choice in the teacher's collection. At home, O'Keeffe practiced by copying a picture of a lighthouse from her geography book. When she was unsatisfied with her first effort, she made another variation, this time with greater success. She then made a landscape drawing of the night view from her window, again working until it was made to the best of her ability. Writing in her late eighties, O'Keeffe noted that the two paintings—the lighthouse with the cloudy sky and the night with the bare trees and snow—must have been important to her because she kept them for a long time.
Abstraction versus Realism
For O'Keeffe even if a painting was realistic, it was not successful unless it worked as an abstract arrangement of color and form. She never separated the objective from the abstract and did not believe that subject matter alone produced a good work of art. For her it was the way lines and colors came together that formed the expressive basis of a painting. She altered the forms she saw in nature to heighten the abstract drama of her work, saying, "the abstraction is often the most definite form for the intangible thing in myself that I can only clarify in paint" (1976).
It was not her intention to copy reality exactly as she saw it, but rather to convey her response in the hopes that the viewer would share her impression about a place or object. She said, "the color used for the paintings had little to do with what I had seen—the color grew as I painted" (1976).
Positive and Negative Space
A strong point in O'Keeffe's work is the balance of positive and negative space. An example of positive space may be a wall, while negative space may be an open door in that wall through which a vista or other intimation of depth might be seen. Walls and doorways form a repeated graphic element in her work and it was a specific adobe wall with a doorway that made O'Keeffe want to buy the house at Abiquiu.
A further example of positive and negative space is found in her depiction of pelvic bones within whose holes the sky shines through. Speaking about the pelvic bones and her emphasis on their holes, O'Keeffe (1976) said that she was always the kind of child "that ate around the raisin on the cookie and ate around the hole in the doughnut either saving the raisin or the hole for the last and the best." She said that it was the holes in the bones that held her interest—the way they framed the blue sky in their contours. For O'Keeffe, the blue sky represented her idea of the eternal, lasting beyond the time of humans and bones.
Focus on Work
What characterizes successful artists is not only talent but their ability to work and their interest in working as a way of life. As O'Keeffe said,
One works because I suppose it is the most interesting thing one knows to do. The days one works are the best days … (you) can get at the paintings again because that is the high spot—in a way it is what you do all the other things for. … The painting is like a thread that runs through all the reasons for all the other things that make one's life.
Even with advancing years, O'Keeffe continued working and made efforts to break new ground. When she was 78 years old, she painted the largest canvas of her life, the 8 × 24-ft Sky Above the Clouds IV (1965). Because of its enormous size, the painting could not fit in her studio, so O'Keeffe worked on it in the garage. She mixed the paints in her kitchen Mixmaster and then brought them outside. Painting from 6 in the morning until 9 at night, she wanted to finish the canvas by winter because there was no heat in the garage. Still, in evening because the garage was warmer than the surrounding desert, O'Keeffe was afraid that rattlesnakes attracted by the warmth would come in behind her as she worked.
Painting Technique as Language
Early in her life O'Keeffe spoke about the various techniques, such as pastel, watercolor, and oil paint, as being languages. She saw the artist becoming proficient in the language of a given media and then being able to express herself creatively in that language. When she grew old and her eyesight failed, O'Keeffe could no longer see well enough to paint. She turned to pottery, saying "it could become still another language for me" (1976).
Symbolism and Communication
O'Keeffe insisted that her work was not symbolic, saying it just was what it was and that was an aspect of the world. Her flowers have been compared to female genitalia, but O'Keeffe admitted no such connection. When a seashell that she painted was also seen as sexual, O'Keeffe said it brought the ocean to her and that was its meaning.
Artists work on conscious and unconscious levels. An artist who consciously may not be aware of the symbolic content of a work may nonetheless be using symbolism on an unconscious level. For example, in her repeated imagery of skulls and flowers, there may have been an unconscious symbolism of death and rebirth, but O'Keeffe insisted on reading her work on a conscious level only. She saw her art not as symbolic, but rather as a depiction of the landscape of her world, an image of her perception and her method of communication. In speaking about the objects she painted—the flowers, rocks, trees, shells, pieces of wood, and bones—O'Keeffe said she had used these things to describe the wideness and the wonder of the world as she experienced it. And it is through these objects and her paintings that O'Keeffe transmits her world to us.
Further Reading
O'Keeffe: The life of an American legend

1992

Bantam Books

New York.

Foreword in Georgia O'Keeffe: A portrait by Alfred Stieglitz

1978/1997

Metropolitan Museum of Art

New York.

Georgia O'Keeffe

1976

Viking Press

New York.

Georgia O'Keeffe

In The Metropolitan Museum of Art Bulletin

42

2

1984.

Georgia O'Keeffe

1989

Harper&Row

NewYork.