Topic Page: Newman, Paul, 1925-2008

Summary Article: Newman, Paul
from Movies in American History: An Encyclopedia
Rejected from Naval pilot training during World War II because of his color-blindness, Paul Newman, born January 26, 1925, instead served as a radioman and gunner in the Pacific theater before returning to school in Ohio. He soon relocated to the northeast, studying drama at Yale and under Lee Strasberg at the Actors Studio. He acted on Broadway—including the original Broadway production of Sweet Bird of Youth, which he would return to for the film version—before gravitating to Hollywood. He was never proud of his first film role, as Basil, a Greek artist commissioned to cast the Holy Grail in silver in The Silver Chalice (1952), and when it aired on television in 1966—at a point when the movie had no life except to capitalize on his fame—he took out an advertisement apologizing for it. He received considerably more acclaim for Somebody Up There Likes Me (1956), in which he took over the role of middleweight boxer Rocky Graziano after the death of intended star James Dean. He had already substituted for Dean in a live color television broadcast of Our Town, with Eva Marie Saint and Frank Sinatra.
Roles came his way quickly, including The Long Hot Summer (1958), based on short stories by William Faulkner. The movie co-starred Joanne Woodward, who had previously understudied in a Broadway production of Picnic that Newman starred in. The two fell in love and were married after the film, not long after his divorce from his first wife, Jackie Witte (with whom he had three children, Scott, Susan, and Stephanie). Joanne would costar with Newman in nine more movies: Rally Round the Flag, Boys! (1958), From the Terrace (1960), Paris Blues (1961), A New Kind of Love (1963), Winning (1969), WUSA (1970), The Drowning Pool (1975), Harry & Son (1984), and Mr. and Mrs. Bridge (1990). They had three daughters, Elinor, Melissa, and Claire.
By the 1960s, Newman was undeniably a movie star, known as much for his ability to take on complex roles as for his blue eyes and matinee-idol charm. Cat on a Hot Tin Roof (1958), which paired him with the equally photogenic Elizabeth Taylor as Maggie the Cat, was his first blockbuster hit; The Hustler (1961) followed not long after. He later reprised his Hustler role as Fast Eddie Felson in The Color of Money, for which he won his only Oscar. Movie after movie cast him in especially masculine roles—pool sharks, gunslingers and other cowboys, spies, detectives, racecar drivers, and the title character in Cool Hand Luke (1967). At the same time, especially in the 1970s with movies like WUSA (about a radio station's role in a right-wing conspiracy) and Robert Altman's 1976 Buffalo Bill and the Indians (in which Sitting Bull refuses to play out revisionist history for Newman's Buffalo Bill Cody), the actor showed a vital interest in social and political concerns, shared by his wife and by Robert Redford, his co-star in the George Roy Hill movies Butch Cassidy and the Sundance Kid (1969) and The Sting (1973). The Redford collaborations, Buffalo Bill, and Slap Shot (1977, also by Hill) showed off the actor's comedic chops, something too rarely on display in his earlier work.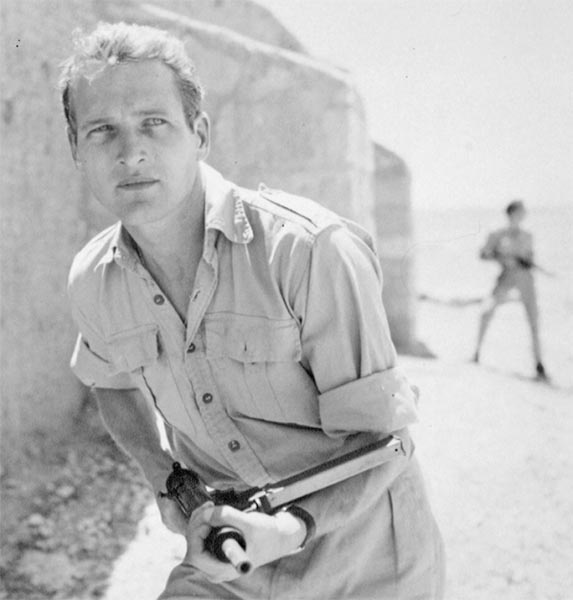 The 1980s saw Newman's career slow down, though he received Oscar nominations for Absence of Malice (1981) and The Verdict (1982), and again in 1994 for Nobody's Fool, a character study of aging rambunctious construction worker Sully. That same year, he chewed the scenery in the Coen brothers' broad screwball comedy The Hudsucker Proxy, as the unscrupulous industrial tycoon Sidney Mussburger.
His last big-screen role (save for Cars, in which he did voice work) yielded his 10th Oscar nomination: in 2002's Road to Perdition, based on the Max Allan Collins graphic novel, Newman played Irish American crime boss John Rooney, whose foster son (Tom Hanks) pursues a vendetta against his biological son (Daniel Craig). Newman was director Sam Mendes's first choice for the role.
A prolific actor, Newman's directorial output was considerably slimmer—but also more focused on those things that were personal to him and of less commercial interest than many of his movies. He directed Woodward in Rachel, Rachel (1968), an adaptation of Margaret Laurence's Jest of God, the story of a woman's "second adolescence" when she discovers romance one summer; The Effect of Gamma Rays on Man-in-the-Moon Marigolds (1972), which adapted Paul Zindel's play; and The Glass Menagerie (1987), an adaptation of the Tennessee Williams play. Sometimes a Great Notion (1970) starred Newman as Ken Kesey's strong-willed logger, while Harry & Son (1984), adapting Don Capite's novel The Lost King, cast him as the working-class father who doesn't understand his sensitive son (Robby Benson), who wants to be a writer.
After Sometimes a Great Notion, Newman, Barbra Streisand, and Steve McQueen co-founded First Artists, a production company modeled after United Artists and meant to let actors produce their own projects.
In 1982, Newman co-founded Newman's Own with writer A. E. Hotchner, starting with a line of salad dressings and expanding to other products, with an emphasis on quality ingredients. After taxes and expenses, all profits are donated to charity. Newman's oldest daughter with Joanne, Elinor, acted under the name Nell Potts (in both Rachel, Rachel and The Effect of Gamma Rays), before founding Newman's Own Organics in 1993, an extension of the brand. In the wake of her father's death—of lung cancer on September 26, 2008, at age 83—she now heads the company.