Topic Page: Newman, Barnett, 1905-1970
---
Definition:
Newman, Barnett
from
Philip's Encyclopedia
US painter, associated with abstract expressionism. He developed a distinctive kind of mystical abstraction, expressed in its earliest form in Onement (1948). This painting consists of a single tone of dark red with a narrow stripe of lighter red running vertically across the middle. With Mark Rothko, Newman pioneered monochromatic colour field painting and the use of huge canvases.
---

Summary Article: Barnett Newman (1905–70), painter, sculptor, and printmaker.
from Artists of the American Mosaic: Encyclopedia of Jewish American Artists
A central Abstract Expressionist contemporaneous with Mark Rothko and Adolph Gottlieb, Barnett Newman most famously painted large canvases with vertical stripes (termed by Newman himself as "zips") running down fields of monochromatic color. By purging his paintings of past artistic associations and creating work devoid of objective imagery, Newman aimed to design an intellectual art composed of limited elements that conveyed the universal rather than the particular. As he wrote in 1947: "It is only the pure idea that has meaning. Everything else has everything else" (O'Neill, 108). For years, scholars have described and analyzed Newman's art as "Jewish," an interpretation the artist took pains to distance his work from in his lifetime. In a 1975 exhibition catalog for the Jewish Museum's landmark show Jewish Experience in the Art of the Twentieth Century, Avram Kampf wrote: "If there were a Jewish art, Newman's work would be regarded as its most authentic and classic expression" (46).
Born on New York's Lower East Side to Eastern European immigrant parents, Newman grew up in a Jewish and Zionist environment. He studied philosophy at the City College of New York (1923–27) while taking classes at the Art Students League (1922–24), where he first met Gottlieb. This early intellectual training served Newman well, as he was extremely verbal about his artistic ideas, producing copious essays, notes, and other documents, many now collected in a book of his writings. Newman's paintings from the 1930s, destroyed by the artist, have been described as expressionist in conception. For several years Newman stopped painting, but in the mid-1940s he renewed his artistic aspirations and worked in a Surrealist, biomorphic style until he reached his signature mode.
The first painting that employed a "zip" in the manner that would dominate his mature work is Onement I (Museum of Modern Art, New York), completed in January 1948. On a small canvas, a thin, orange, vertical zip runs down a reddish-brown color field. In Onement I, the color field is variegated, but later the color fields become solid and flat. Basing his analysis on mystical interpretations of scripture and other Jewish concepts—known as Kabbalah and material that Newman was familiar with—scholar Thomas Hess interpreted Onement I as "a complex symbol, in the purest sense, of Genesis itself. It is an act of division, a gesture of separation, as God separated light from darkness, with a line drawn in the void. The artist, Newman pointed out, must start, like God, with chaos, the void: with blank color, no forms, textures or details. Newman's first move is an act of division, straight down, creating an image. The image not only re-enacts God's primal gesture, it also presents the gesture itself, the zip, as an independent shape – man – the only animal who walks upright, Adam, virile, erect " (56). Hess continues, describing the color field as the earth based on Newman's hue, and explains that Adam, the first man created by God, derives from adamah, the Hebrew word for earth. What Hess says here is that Newman acts as God, the ultimate creator, in his choice of color and form.
Building on Hess' discussion of Newman's interest in Kabbalah, Matthew Baigell further suggests that Newman's Kabbalistic knowledge assisted his abstract conception, one that rejected all art that came before his zip canvases: "With his [Newman's] readings both in and about the Kaballah [sic], he decided to act like God by creating, in effect, forms out of nothing, out of the chaos before human creation and before Creation Itself, as in his stripe paintings" (Jewish Artists in New York, 130, 137). Six more Onement paintings followed Newman's initial conception; the second canvas in the "Onement" series was nearly titled atonement, in reference to Yom Kippur (Day of Atonement), the holiest day of the year during which Jews repent for their sins.
Newman had his first solo exhibition in 1950 at the Betty Parsons Gallery. Reviews of the show were not good and only one painting sold—to a friend of Newman's wife. At a second solo show at the Betty Parsons Gallery the following year, Newman exhibited one of his best-known paintings, Vir Heroicus Sublimus (1950–51, Museum of Modern Art, New York), and his first sculpture, the wood and plaster Here I (1950, Los Angeles County Museum of Art), which he subsequently cast in bronze. Five zips, carefully placed on the pure red surface of the extremely large (8 × 18 feet) Vir Heroicus Sublimus (Man, Heroic and Sublime), help to modulate the vast expanse of color. Each vertical affects the way the viewer perceives sections of the painting, making it impossible for the beholder to perceive the canvas in a single glance. Here I consists of two zips, one textured and the other smooth, translated into three-dimensions. Once more, the show was not well received, and until 1955 Newman did not again exhibit his works publicly. Several years later, when the artist garnered recognition, his hard-edge color proved an important influence on Minimalist artists of the 1960s, such as Frank Stella.
The year 1958 was a turning point for Newman; he enjoyed a one-man show at Bennington College in Vermont, accompanied by a catalog with an essay by the influential art critic Clement Greenberg, and he began what some scholars view as his most important paintings: The Stations of the Cross (1958–66). Subtitled "Lema Sabachthani," Aramaic for "Why have You forsaken me?," the words uttered by Jesus from the cross to God (Matthew 27:46), this series of fourteen, identically sized canvases retains the raw white canvas, which is bisected by expressive black zips. Within the rigid confines of a restricted palette, the zips in the series vary remarkably in hue and tonality, demonstrated even in individual canvases such as First Station (1958, National Gallery of Art, Washington, D.C.) (see figure). The subject of much scholarly debate, Mark Godfrey reads The Stations of the Cross as a Holocaust memorial, understanding the cry of "lema sabachthani" as referring to the ultimate Jewish question of why God forsook the Jews during the Holocaust. When the series hung at the Solomon R. Guggenheim Museum in 1966, Newman's first solo museum exhibition, many critics panned the show.
In 1963, Newman designed a synagogue model for a Jewish Museum exhibition, titled "Recent Synagogue Architecture." The only nonarchitect included in the show, Newman created a model that invoked a baseball field, with the bema (the platform where the rabbi conducts services) rendered as a pitcher's mound. Newman explained his design: "Here in this synagogue, each man sits, private and secluded in the dugouts, waiting to be called, not to ascend a stage, but to go up on the mound, where, under the tension of that 'Tzim-Tzum' that created light and the world, he can experience a total sense of his own personality before the Torah and His Name" (O'Neill, 181).26 Ann Temkin observes that Newman's concept "articulated the ongoing negotiation of joint identities as Americans and Jews" (64).
All conceived with a zip-color field formula, several of Newman's paintings are titled with biblical names, such as Abraham (1949, Museum of Modern Art, New York)—both his father's name (his father died two years before the painting's conception) and the name of the first Jew—and Eve (1950, Tate Gallery, London). Other titles clearly indicate a Jewish origin, such as Covenant (1949, Hirshhorn Museum and Sculpture Garden, Washington, D.C.) and Day One (1951–52, Whitney Museum of American Art, New York).
During his final decade, Newman embarked on several projects that explored new modes of expression. For example, he painted four canvases with rich fields and zips of primary colors titled Who's Afraid of Red, Yellow and Blue?, and he also made a portfolio of eighteen color lithographs, 18 Cantos (1963–64), and several etchings (e.g., the Notes series from 1968). While Newman's work did not receive the recognition that it deserved in his lifetime, since then he has been acknowledged as a pivotal twentieth-century painter. In 2002, the Philadelphia Museum of Art and the Tate Modern in London organized a major exhibition of Newman's work.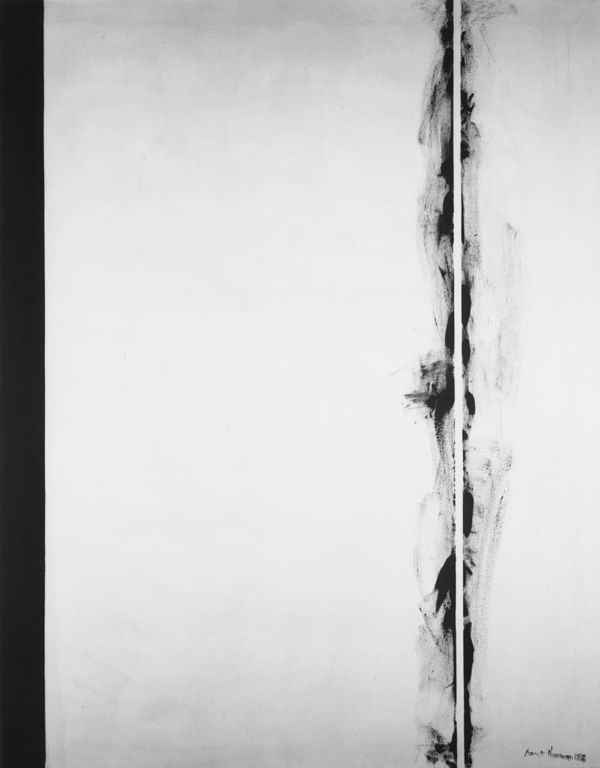 Selected Public Collections
Art Institute of Chicago
Dallas Museum of Art
Hirshhorn Museum and Sculpture Garden, Washington, D.C.
Museum of Modern Art, New York
San Francisco Museum of Modern Art
Tate Gallery, London
Wallrof Richartz Museum, Koln, Germany
Whitney Museum of American Art, New York
Bibliography
"Barnett Newman's Stripe Paintings and Kabbalah: A Jewish Take."

American Art

8

, no.

2

(Spring 1994):

32-43

.
.
Jewish Artists in New York: The Holocaust Years.

New Brunswick, NJ: Rutgers University Press, 2002.
.
"Newman's The Stations of the Cross: Lema Sabachthani, A Jewish Take."

Art Criticism

19

, no.

1

(2004):

52-64

.
.
"Barnett Newman: Iconoclasm, Heilsgeschichte and the 'Modern Mythology.'"

Cesnur International Conference (2001):

1-9

.
.
"Anxious Embodiments: Remnants of Post-WWII American Jewish Masculinities in Barnett Newman's Stations of the Cross."

Ph.D. dissertation, University of Chicago, 2004.
.
"Barnett Newman's Stations and the Memory of the Holocaust."

October

108

(Spring 2004):

35-50

.
.
Barnett Newman.

New York: Museum of Modern Art, 1971.
.
Ho, Melissa

, ed.

Reconsidering Barnett Newman.

New Haven: Yale University Press, 2005.
Jewish Experience in the Art of the Twentieth Century.

New York: The Jewish Museum, 1975.
.
O'Neill, John P

, ed.

Barnett Newman: Selected Writings and Interviews.

Berkeley: University of California Press, 1990.
Barnett Newman.

New York: Harry N. Abrams, Inc., Publishers, 1978.
.
Shiff, Richard

,

Mancusi-Ungaro, Carol C.

, and

Colsman-Freyberger, Heidi

, eds.

Barnett Newman: A Catalogue Raisonné.

New Haven: Yale University Press, 2004.
Temkin, Ann

, ed.

Barnett Newman.

Philadelphia: Philadelphia Museum of Art in association with Yale University Press, 2002.
26
"Tzim-Tzum," or "Zim Zum," is a Kabbalistic idea that refers to God's process of making space for creation, as described in Genesis. Newman made a Cor-ten steel sculpture titled Zim Zum I in 1969 (San Francisco Museum of Modern Art). "The Name" is a reference to God, as observant Jews refer to God as The Name. Newman titled several canvases "The Name."
Related Articles
---
Chambers Biographical Dictionary
1905-70 US painter He was born in New York City. Until c.1948 his art was Biomorphic in style, and he was always interested in the primitive, and in
A Biographical Dictionary of Artists, Andromeda
The American painter Barnett Newman was, with Mark Rothko, one of the leading New York painters of the 1950s. He moved away from...
The Thames & Hudson Dictionary of Art and Artists
U.S. painter, a founder of New York Abstract Expressionism . He shared the group's interest in mythological themes, e.g. Pagan...
See more from Credo