Topic Page: Gaiman, Neil (1960 - )

Summary Article: Gaiman, Neil
from Icons of the American Comic Book: From Captain America to Wonder Woman
No other creator can be credited more for expanding the mythic scope and enchanting sway of the American comic book than Neil Gaiman. From his groundbreaking mainstream work on DC Comics' Sandman series to his epic reimagining of the Marvel Universe in 1602, Gaiman has done nothing but deepen and broaden the comics-reading experience for a generation of readers who came of age in the era of the direct market (comics sold in specialty shops) and who sought out his graphic novels in bookstores. Gaiman built upon this already significant audience to expand his influence in a variety of formats and media, including fantasy novels, radio plays, animated Hollywood films, and children's literature. He is perhaps the best example of the idea that comics writers are authors first and foremost, and deserve to be taken seriously no matter the arena in which they choose to work. Gaiman's vast knowledge of ancient literature, religion, and the occult serves to establish him as not only an American comics icon, but also among the greatest prose writers of the late 20th and early 21st centuries.
HISTORY
Born in 1960 in Portchester, in Hampshire County, UK, to a pharmacist mother and a Polish-Jewish real-estate-developing father, Gaiman also has two younger sisters. At age five, he and his family moved to East Grinstead in West Sussex, where his parents began studying Dianetics and eventually became Scientologists while still retaining strong ties to Judaism. According to his sister Lizzy, interviewed as part of a 2010 Gaiman profile in the New Yorker, the Gaiman family's social life centered on Scientology or their Jewish faith, making for an interesting hybrid. On top of all this, Gaiman attended Church of England schools, which are deeply Christian. Little wonder, then, Gaiman would end up inventing vast cosmologies for a living as he did with his landmark Sandman comics series. Indeed, Gaiman, who claims he is not a Scientologist though his sisters are, admits if he hadn't become a writer he would have liked to design religions. "I'm terribly good at believing things, but I'm really good at believing things when I need them," he told the New Yorker's Dana Goodyear (2010, 52).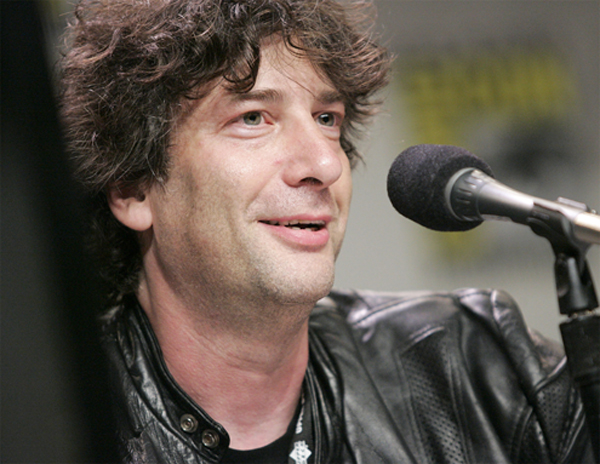 His religious and spiritual flexibility serves him well. Gaiman was a precocious child, learning to read at age four. Appropriately, the first book he ever read was a school library copy of J.R.R. Tolkien's epic The Lord of the Rings. For his seventh birthday, Gaiman received C. S. Lewis's The Chronicles of Narnia. He also enjoyed Lewis Carroll's Alice's Adventures in Wonderland, the works of Roger Lancelyn Green, Bram Stoker's Dracula, the fantasy writings of G. K. Chesterton, and Batman comics. When he was five, Gaiman's father mentioned there was a Batman TV show in America. Since the only bat Gaiman had heard of then was a cricket bat, he thought the program might be a little odd. He told Wired magazine in 2009: "Months later, the series hit the U.K., and I remember watching and being affected by it. Really worrying, genuinely worrying, on a deep primal level, 'Will he be OK?' If I missed the end of an episode, I'd get my friends to tell me he was OK." He persuaded his bar mitzvah instructor to teach him biblical stories of "secret" Jewish folklore (the story of Lilith, for instance). Much to his father's irritation, Gaiman then spent his bar mitzvah funds on U.S. comic books—ultimately, a very shrewd investment.
He took a pass on college, choosing instead to launch his writing career as a freelance journalist. He authored a "clip-job" (a book relying on newspaper clippings) or hack biography of English New Wave rock band Duran Duran and, later, a companion to the universe of the late English fantasy humorist Douglas Adams. Gaiman reviewed books for the British Fantasy Society and wrote film reviews for and published his first professional short story in Imagine, a monthly magazine published by TSR U.K. and dedicated to the Dungeons & Dragons role-playing game—yet another epic universe Gaiman explored. Meanwhile, it was in East Grinstead that Gaiman met his first wife, Mary McGrath. They married in 1985 and had three children. Lured to the United States by American mainstream comics publisher DC, Gaiman and McGrath moved to Minneapolis in the early 1990s. (DC Comics paid Gaiman in dollars, which were then weak against the British pound.) The couple became estranged and divorced in 2008. Gaiman is currently married to American goth-rock musician Amanda Palmer.
Gaiman's foray into comics began in the early 1980s, when he started interviewing writers he admired at fantasy conventions. At these, he met Alan Moore, who was already transforming the intellectual landscape of American comics with his unforgettable Swamp Thing tenure. Moore took the time to sit down with Gaiman and showed him how to write a script. As a result, Moore's dense style of scriptwriting heavily influenced Gaiman's own approach. Though his scripts are nowhere near as massive as what Moore typically submits to artists and editors—well over 100 pages for a single issue—Gaiman says his average script runs to 50 pages, a hefty manuscript for, on average, a 24-page published comic. Moore even encouraged Gaiman to submit his own Swamp Thing story for DC's editors to consider, but it was rejected. Meantime, Moore left the Eclipse series Marvelman (known in the United States as Miracleman for legal reasons related to Marvel Comics) in Gaiman's creative hands. Gaiman also penned "Future Shocks" stories for British sci-fi comics anthology 2000 AD. When Eclipse went bankrupt, Gaiman's Marvelman storyline remained unfinished. Yet by this time his work, especially the graphic novel Violent Cases (Escape Books, 1987) he did with his friend Dave McKean, had so impressed DC that they hired him to write a limited series, Black Orchid, about an obscure superheroine with the powers of strength, flight, invulnerability, and disguise. Gaiman provided the character's definitive origin, making her a human-plant hybrid, much like Moore's earlier take on the Swamp Thing character. More importantly, Black Orchid marked the mainstream debut of a lasting creative relationship with celebrated comics artist McKean.
Gaiman and McKean collaborated on several acclaimed mainstream, albeit edgy, graphic novels in the late 1980s and early 1990s, including the fantasy series Cages (a meditation on creativity involving a trio of artists living in the same apartment building), the dark Signal to Noise (about a terminally ill filmmaker's final movie that he completes in his mind), and the strangely compelling Mr. Punch (about a Punch-and-Judy seaside carnival show that causes a boy to sift through his memories for images of and experiences with his family—some nice, others disturbing). The latter was adapted as a stage play in California and even inspired synth-pop band Future Bible Heroes to write and record the song "Mr. Punch," which appeared on the 2006 Gaiman-tribute compilation CD, Where's Neil When You Need Him? featuring Tori Amos.
Gaiman relaunched The Sandman for DC Comics in 1988, and it is the comic-book series with which his name is synonymous. Instead of basing his series on the most recent version of the Sandman superhero character created in 1974 by Joe Simon and Jack Kirby, Gaiman created a character from an entirely different cloth. Dream (a.k.a. Morpheus, Sandman, Oneiros, the Shaper, the Shaper of Form, Lord of the Dreaming, the Dream King, Dream-Sneak, Dream Cat, Murphy, Kai'ckul, and Lord L'Zoril), the protagonist of Gaiman's series, is a tall, thin, pale figure with a mop of black hair. Dream is one of seven dysfunctional siblings—Destiny, Death, Destruction, Despair, Desire, Delirium—called The Endless, who spend most of their time embodying their namesakes. For instance, Dream manages the arena of dreams and imagination. His sister, Death, leads the souls of the dead away from the realm of the living. Sandman is known for its loose, intuitive, dreamlike storytelling, and its enormous layering of mythology, folklore, religion, allegory, and parable. No other comic book before or since has matched Gaiman's success in weaving together grand-scale ideas and story arcs regarding authorship, imagination, and belief. What begins as a horror-edged fantasy comic takes on vast symbolic heft as Gaiman chronicles the adventures of Dream as he sets out to rebuild his fallen-into-disrepair kingdom after being imprisoned for 70 years by an occult ritual. Gaiman summarizes the overarching plot of Sandman (in the foreword to The Sandman: Endless Nights) thusly: "The Lord of Dreams learns that one must change or die, and makes his decision" (2003, 12). In the end, however, Sandman is the story of a tragic hero, Dream, who attempts to fix things he has done wrong in the past, which includes mercy-killing his own son. For this, he dies at the hands of the Furies, the deities of vengeance. Sandman would move to DC's Vertigo imprint, where it became the flagship title until Gaiman concluded the series in 1996. The series, which comprised 75 issues, has been collected in 10 volumes. Gaiman would return to the Sandman character in 1999 with an illustrated prose novel, Sandman: The Dream Hunters, with art by Yoshitaka Amano, and in 2003 with the seven-chapter anthology Endless Nights.
Sandman's American awards are many, starting with Sandman #19, "A Midsummer Night's Dream," which won the World Fantasy Award in 1991 for Best Short Fiction. Since Sandman is a comics work, this caused a minor controversy, after which the rules were immediately rewritten so that comics stories are ineligible. This rule has so far remained in place, making Sandman the first and last comic book to win a World Fantasy Award. Sandman and its spin-off titles have won 26 Eisner Awards—three for Best Continuing Series, one for Best Short Story, four for Best Writer (Gaiman), seven for Best Lettering (Todd Klein), and two for Best Penciller/Inker (one each for Charles Vess and P. Craig Russell). The Dream Hunters was nominated for the 2000 Hugo Award for Best Related Book. The Dream Hunters and Endless Nights won Bram Stoker Awards for Best Illustrated Narrative in 2000 and 2004 respectively. Gaiman himself won the Comics Buyer's Guide Award for Favorite Writer for the years 1991, 1992, and 1993. Sandman is one of the few graphic novels to appear on the New York Times Best Seller list (along with Watchmen and The Dark Knight Returns). It was one of five graphic novels to make Entertainment Weekly's "100 best reads from 1983 to 2008," ranking at No. 46. Literary giant Norman Mailer characterized Sandman as "a comic book for intellectuals."
During his Sandman run, Gaiman also wrote The Books of Magic, a popular four-issue comics miniseries published by DC, which later became an ongoing Vertigo title. The Books of Magic tells the story of a 12-year-old boy, Timothy Hunter, who sets out to become a master magician after being given an extensive tour of the DC magical universe by supernatural characters Phantom Stranger, John Constantine, and more. The massive popularity of Sandman also resulted in a slew of spin-off titles, most written by other authors. But Gaiman did write the most successful of these—a pair of three-issue limited series drawn by Chris Bachalo and starring Dream's elder sister, Death: The High Cost of Living (1993) and Death: The Time of Your Life (1996). Comics Buyer's Guide honored the former with a Fan Award for Favorite Limited Comic-Book Series for 1993. Gaiman and Death editor Karen Berger also received Eisner Awards in 1994 for Best Writer and Best Editor. Gaiman also moonlighted for other, smaller companies on occasion. In 1993, Spawn creator and Image Comics cofounder Todd McFarlane invited Gaiman to write issue 9 of Spawn. In this issue, Gaiman introduced the characters Angela, Cogliostro, and Medieval Spawn into the Spawn universe. However, this resulted in a lawsuit filed against McFarlane, as McFarlane used the characters without Gaiman's permission or royalty payments. The case was resolved in Gaiman's favor in 2010.
Sandman ended with issue 75, but the series continued to inspire, through the end of the early 2000s, a torrent of Vertigo-produced, award-winning comics, novels, and spin-offs that rely on Gaiman's universe. These include, just to offer a sampling, ongoing series like The Dreaming (1996–2001) and Lucifer (2000–2006); miniseries like Sandman: The Dead Boy Detectives (2001); one-shots and specials like the bookend The Children's Crusade (1993–1994); the artwork collection A Death Gallery (1993); and a manga-style graphic novel written and drawn by Jill Thompson, Death: At Death's Door (2004).
Since Sandman, Gaiman's comics work has ebbed, taking a back seat to his straight prose works. However, he continues to contribute significantly to the comics medium. In the mid-1990s, he created concepts and characters for three positively reviewed titles for short-lived Tekno Comix (1995–1997): Lady Justice, Mr. Hero the Newmatic Man, and Teknophage. In 2003, Gaiman and artist Andy Kubert collaborated on a project for Marvel Comics called Marvel: 1602, which transplants characters like the X-Men, Fantastic Four, and Spider-Man into the Elizabethan era as they settle the American wilderness. 1602 won several awards, including a Quill Book Award for Graphic Novels, and the series' first issue won the 2003 Diamond Distributors "Comic of the Year" Gem Award. The success of 1602 resulted in three sequels, none of which Gaiman wrote.
Interestingly, Gaiman had agreed to write a series for Marvel in August of 2001, but after the 9/11 attacks occurred, Gaiman opted for a different tack. "I didn't want it to be a war story, and I didn't want to write a story in which might made right—or in which might made anything," he wrote in the afterword for the collected 1602 (2004, 201). He chose the Elizabethan era to set the story because "it was a nice place to set the story. It gave me America and it gave me a lot of things that I wanted in terms of the way the world was changing. It also gave me the sense of wonder and magic" (201). In 2006, Neil Gaiman and artist John Romita, Jr., brought Jack Kirby's 1970s creation the Eternals, about a fictional race of godlike superheroes, into the modern Marvel Universe up-to-date with a limited series called The Eternals. In 2009, Gaiman wrote a two-part Batman story for DC titled Whatever Happened to the Caped Crusader?, a play on Alan Moore's now-classic Superman story "Whatever Happened to the Man of Tomorrow?" He also contributed a 12-page Metamorpho story drawn by Mike Allred for Wednesday Comics, a weekly newspaper-style series published by DC.
Asked in 2007 by Wild River Review as part of the PEN World Voices Festival, why he prefers comics over other storytelling forms, Gaiman said: "One of the joys of comics has always been the knowledge that it was, in many ways, untouched ground. It was virgin territory. When I was working on Sandman, I felt a lot of the time that I was actually picking up a machete and heading out into the jungle. I got to write in places and do things that nobody had ever done before." Because of his early-on triumph with Sandman, Gaiman has managed to write outside the parameters in which other creators are forced to work. "Continuity isn't actually something that I ever worry about," he said in an interview with Wired magazine's "Underwire" blogger Scott Thill, posted on April 21, 2009. "It's not something I find terribly important." Sandman's incredible success also enabled Gaiman to negotiate his rights as the character's creator so that he was able to end the title without DC hiring a replacement writer. (Assigning someone else to continue to write Sandman would have been the standard practice then.)
IMPACT ON COMICS
Even though his peers include such cerebral and subversive creators as Alan Moore and Grant Morrison, it is Gaiman more than any other writer who is directly responsible for bringing a desperately needed subtlety to storytelling in American comic books—particularly from the mid-1980s to the mid-1990s when the T&A-emphasizing, women-unfriendly trend of bodacious, hyperviolent "bad girl" narratives infested the industry. Not to mention, of course, the fact that, in America, the meaning of the phrase "comic book" is virtually synonymous with the word "superhero." Mainstream readers picking up an issue of Sandman at their local comics shop would find few, if any, outlandish fight scenes in its pages. Clearly, the series aligned itself with the supernatural side of the DC Universe. "Long-underwear" characters rarely made appearances in Sandman, unless the company was instigating some kind of crossover issues to drum up publicity for another title. Indeed, Dream himself favored a wardrobe of a grey T-shirt and dark pants and is very often drawn to resemble Gaiman as he looked in his twenties.
But Gaiman did more than simply infuse fantasy themes into comics; he turned upside down and backwards commonplace notions about fantasy and myth, inverting clichés and bringing a fresh perspective to centuries-old plots. If the storylines of most popular tales involve valiant heroes, beautiful maidens, evil villains, and gruesome monsters, Gaiman would often completely upend this formula. His heroes might be visually repugnant, his villains quite alluring, and so on. Take, for instance, his Sandman-universe character Death, Dream's older sibling. Like Western culture's anthropomorphic personification of Death, she ferries the recently deceased to their new existence. But in Gaiman's hands, Death is presented as a pale young goth woman dressed casually in black attire, rather than as, say, a hooded, skull-faced, scythe-wielding reaper.
Surface symbolism and superficial inversions aside, consider Gaiman's incredibly rendered and emotionally resonant stories, which also tend toward the deconstruction of formula. Sandman's central plotline involves Dream's process of becoming human. Since The Epic of Gilgamesh, one of the earliest known works of literature, the human hero has sought godlike status via (mainly physical) exploits. Gaiman installs a new paradigm by having an otherworldly figure strive to find his essential humanity. In this sense, Dream is a hero because he seeks to shrug off his heroic status and become one of us, a messy human, albeit a soul now capable of compassion, of relating to others in a deeper and more profound way. Thus, Gaiman's godlike hero only matters because he longs to be a non-god, to join our lower ranks. Sure, Superman sometimes wishes and even attempts to transform himself into a vulnerable human—to become a full-time rather than a part-time Clark Kent—for the sake of his romantic relationship with Lois Lane. And yes, the boundary between plant and animal life had all but been erased by Moore's haunting and groundbreaking run on Swamp Thing. But never before had the construct of humanity been so dissected, so thoroughly discussed, against a mythic background, in the pages of an American comic book. In the same way that Dante fused different mythologies and religions (biblical, Greek, Roman) and drew upon theology, philosophy, and ancient literature to forge a single, unified, and breathtaking cosmology, so did Gaiman fashion a limitless universe that DC Comics can dip into seemingly forever and that academics and literary critics can return to time and again for their dissertations and scholarly papers. In sum, Gaiman's Sandman can be deemed the American comic book's first real literary masterpiece, and has the best chance of surviving into the next millennia as Exhibit A of what the medium, at its best, can accomplish.
IMPACT ON AMERICAN CULTURE
Gaiman's impact on American culture has only increased since he (more or less) abandoned comics in favor of writing novels and screenplays. His first novel, Good Omens (1990), marked a comedic-fantasy collaboration with Discworld author Terry Pratchett. Good Omens spoofed the horror film The Omen, about the birth of Satan's son, and won a 1991 Locus Award for Best Fantasy Novel.
In conjunction with his BBC Two-produced teleplay for the urban fantasy TV series Neverwhere (1996), Gaiman wrote the BBC Books novelization, which enjoyed greater success than the television program. Neverwhere was also adapted for stage productions in the United States and published as a Vertigo comic book. (Gaiman penned neither.)
His third novel, Stardust, a pre-Tolkien British fantasy epic with illustrations by Charles Vess, appeared in 1999. Published by Avon Books in the United Kingdom and by Vertigo in the United States, Stardust tells the story of half-faerie boy Tristran Thorn and his efforts to retrieve a fallen star for his sweetheart from the other side of a wall, where faeries live. The book received a 2000 Alex Award from the American Library Association for being among the "Top 10 books written for adults that have special appeal to young adults."
American Gods, published in 2001 by William Morrow in the United States, remains to this day a tremendous critical and commercial success. This dark blend of Americana, fantasy, and on-the-road narrative, about a loser ex-convict thrust into the middle of a war between old and new deities, won the 2002 Hugo, Nebula, Locus, SFX Magazine, and Bram Stoker Awards, all for Best Novel. American Gods has been translated into 22 languages, with a million copies in print. The 10-year anniversary edition, published in 2011, is billed as the "author's preferred text," boasting 12,000 more words than the original.
Harper Collins published Coraline, a novella aimed at a young adult audience, in 2002. Coraline relates the tale of a girl who finds a hidden door in her house that leads to an alternate and creepier version of her life. Coraline has been adapted into a film, a musical, a graphic novel, and a videogame. The book won the 2003 Hugo Award for Best Novella, the 2003 Nebula Award for Best Novella, and the 2002 Bram Stoker Award for Best Work for Young Readers. Often compared favorably to Lewis Carroll's Alice's Adventures in Wonderland, Coraline was adapted into a 2009 stop-motion 3D film directed by Henry Selick. Grossing more than $120 million worldwide, the Coraline movie earned Academy Award and Golden Globe nominations for Best Animated Feature. It is the second highest grossing stop-motion movie ever made.
Anansi Boys arrived in 2005, an American Gods spinoff story that debuted at No. 1 on the New York Times Best Seller list and won a Locus Award and British Fantasy Society Award. Anansi Boys, about a London character named "Fat Charlie" Nancy who discovers his family in America is made up of trickster gods, was adapted into a BBC World Service radio production.
In 2008, Gaiman released a children's book, The Graveyard Book, about a boy named Bod who is brought up in a graveyard full of ghosts and other creatures after his parents are murdered. Indeed, Gaiman's first proper children's book narrative (published in the United States by Harper Collins) owes a literary debt and pays generous homage to Rudyard Kipling's The Jungle Book. The Graveyard Book remained on the New York Times Bestseller children's list for 15 weeks, winning major children's literature awards, including the Newbery, the Carnegie Medal, and the Locus Award for Best Young Adult Novel, as well as the Hugo for Best Novel. (He is the first author to win a Newbery and Carnegie for the same work.) The idea for The Graveyard Book came to Gaiman in 1985 in East Grinstead. His toddler son had nowhere to ride his tricycle in their cramped apartment complex, so Gaiman took him to a nearby graveyard, where there was room to ride. Watching his son pedaling around and in between headstones, the story of a child raised by ghosts began to take shape. But he felt he should wait to approach the story until he was a better writer, which is why the story was not completed until 20 years later.
SUMMARY
In sum, Gaiman is an icon who has done more to stretch and redefine the imaginative contours of the American comic book than any other creator. His comics-writing peers—Moore, Morrison, Frank Miller—have each successfully pushed the formal, metatextual, and realist boundaries of the medium, but Sandman, the crown jewel of American comics and often cited as the bestselling comic-book series of all time, stands alone in its awe-inspiring synthesis of religion, myth, folklore, and faith.
Furthermore, unlike his peers, Gaiman has truly and deeply expanded comics readership in the United States, particularly in the demographic of gender. As Gaiman told the New Yorker in 2010, "Sandman is sexually transmitted. Guys who wanted their girlfriends to read comics would give them Sandman. They'd break up, and the girl would take the Sandmans and infect the next guy. It grew on a vector" (53). Gaiman's editor at DC, Karen Berger, has noted that easily more than half of Gaiman's readers are women.
Projecting an image that is somehow darkly mysterious yet academically bookwormish, Gaiman dresses all in black, with a predilection for heavy coats. He has blogged regularly since 2001 and maintains a close relationship with his fans by posting at minimum a few times each and every week. He is also an effective self-promoter via social media like Twitter, where he tweets his followers to buy his books when they slip off the bestseller lists. On top of describing his day-to-day writing, revising, publishing, and promotion schedule, Gaiman regularly posts e-mailed questions from readers and answers them. With such direct and immediate interaction with fans, it is no wonder his writing star continues to climb. Asked why he remains so committed to blogging and engaging his many readers, Gaiman stated on his blog on February 11, 2008: "Because writing is, like death, a lonely business."
In sum, Gaiman is an iconic mainstream comics author who has managed to write edgy, compelling, and boundary-pushing works that have benefited not just the comics industry but American letters in general. Literary yet distinctively gothic, he is arguably the most significant comics and prose fantasist of the last 30 years, and while not a household name à la Stephen King, one suspects that Gaiman's popularity will continue to surge.
See also DC Comics; Moore, Alan; Sandman
About the Author
Jarret Keene (PhD, English, Florida State University, 2001) is a regular book critic for Tucson Weekly and Vegas Seven magazine, and his reviews have appeared in publications like the Denver Post and Spin. His essays and scholarship on pop culture, especially comic books, have been published in academic journals and fanzines. In 1995, he began teaching at FSU one of the very first classes devoted to alternative comics, assigning his students stories like Grant Morrison's eerie homage to the Warner Brothers–produced Wile E. Coyote/Road Runner cartoons, "The Coyote Gospel." His course packet was consistently jammed with Fantagraphics, Drawn & Quarterly, and Alternative Comics material, as well as mainstream works by Morrison, Alan Moore, Garth Ennis, and Neil Gaiman. Currently, Keene serves on the editorial board of Popular Culture Journal, published by the English department at the University of Nevada, Las Vegas. He shops for comics in the greatest specialty shop on Earth-One, Alternate Reality Comics in Las Vegas.
ESSENTIAL WORKS
The Absolute Sandman, Volumes 1-4

. DC Comics

New York

, 2006-2008.
, et al.
Death: The High Cost of Living

. DC Comics

New York

, 1994.
; ; .
Batman: Whatever Happened to the Caped Crusader?

DC Comics

New York

, 2009.
; ; .
Related Articles
---
Gale Biographies: Popular People
Worked as a freelance writer, 1983-87; wrote television episode "Day of the Dead," Babylon 5, TBS, 1984; full-time writer, 1987-; wrote The Sandman
The Hutchinson Unabridged Encyclopedia with Atlas and Weather Guide
English writer of novels, graphic novels, and short stories in the fantasy and science fiction genres. He is best known for his comic book series The
The Ashgate Encyclopedia of Literary and Cinematic Monsters
The Sandman is an imaginary character who sprinkles magic sand into the eyes of good children to bring them pleasant dreams. He is also a bogeyman u
See more from Credo