Topic Page: Navajo Indian Reservation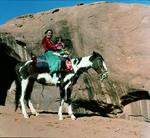 Summary Article: Navajo Nation
from Pop Culture Places: An Encyclopedia of Places in American Popular Culture
The Navajo Nation is the largest Native American reservation in the United States. Covering some 25,000 miles (16 million acres), the Navajo Nation is located in the Southwest region of the nation, occupying parts of Arizona, New Mexico, and Utah. Its capital is in Window Rock, Arizona. The population of the Navajo Nation is more than 250,000 (Navajo Nation Government).
The Navajo people and the land on which they live are famous throughout the world. The Navajo are also known for their unique language, a language that played a significant role in America's victory in World War II (1941–1945). Tourism plays a large role in the lives of the Navajo today, not least because their land is around or near stunning landscapes such as Monument Valley, Canyon de Chelly, the Painted Desert, Window Rock, and Petrified Forest. Silver and turquoise jewelry, along with handwoven blankets, are eagerly sought by tourists and aficionados of the Navajo culture.
The Navajo Nation was not always a place of serene beauty and tranquility. Despite centuries of struggle, conflict, oppression, and acculturation, its people have emerged into the 21st century with an enduring sense of unity, culture, identity, and place.
Related Articles
---
Encyclopedia of Anthropology
The Navajo have an amazingly rich history and cultural background. One of the best known Native American groups because of their weaving and...
Encyclopedia of Politics of the American West
Hoshkaisith "Peter" MacDonald (1928–) was one of the most progressive yet notorious Navajo tribal chairs. First elected in 1970, he served four term
Gale Encyclopedia of Multicultural America
OVERVIEW The Navajo are a Native American people whose traditional lands are the region of the American Southwest that is today known as the Four
See more from Credo