Topic Page: Mondale, Walter F., 1928-
---
Definition:
Mondale, Walter Frederick
from
The Columbia Encyclopedia
(Fritz Mondale), 1928–, Vice President of the United States (1977–81), b. Ceylon, Minn., LL.B., Univ. of Minn., 1956. A liberal Democrat, he was active in the Minnesota Farmer-Labor Party and served as state attorney general (1960–64). When Hubert Humphrey became vice president in 1964, Mondale was appointed to replace him in the U.S. Senate; he served until 1977. In 1976 Jimmy Carter chose Mondale to be his vice president; Mondale subsequently became one of the first vice presidents to be significantly involved in an administration. Carter and Mondale ran for reelection in 1980, but lost to the Republican ticket of Ronald Reagan and George H. W. Bush. In 1984 Mondale, as the Democratic presidential nominee, became the first major-party candidate to choose a woman, Geraldine Ferraro, as a running mate. The Mondale-Ferraro ticket lost to the incumbents. Mondale was U.S. ambassador to Japan from 1993 to 1996. After the death of Minnesota Senator Paul Wellstone shortly before the 2002 vote, Mondale was nominated to run in his place but failed to win the election.
---

Summary Article: Mondale, Walter F.
From American Government A to Z: The Presidency A to Z
Walter Frederick Mondale (1928–) served as vice president under Jimmy Carter from 1977 to 1981. After Carter and Mondale failed to win reelection in 1980, Mondale received the Democratic nomination for president in 1984. However, he was defeated in a landslide by popular Republican president Ronald Reagan.
Mondale, who was nicknamed "Fritz," grew up in Minnesota. His father was a Methodist minister. After graduating with honors from the University of Minnesota in 1951, he enlisted in the army. He was discharged after two years with the rank of corporal. Mondale returned to the University of Minnesota, where he earned his law degree in 1956. That same year he was admitted to the Minnesota bar and began practicing law.
Mondale became a follower of Democrat Hubert H. Humphrey in 1946 when Humphrey was mayor of Minneapolis. In 1948 Humphrey ran successfully for the Senate, with Mondale managing Humphrey's campaign in one of Minnesota's congressional districts. Ten years later, Mondale worked as campaign manager for Gov. Orville Freeman's successful bid for reelection. Freeman then appointed him special assistant to Minnesota's attorney general. When the attorney general resigned in 1960, Mondale served out the remaining eight months of the term. He was elected to the post in 1960 and reelected in 1962.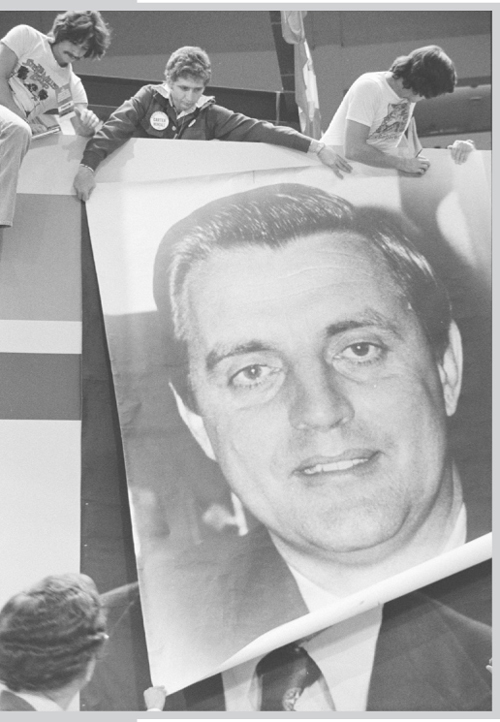 When Humphrey resigned from the Senate in 1964 after being elected vice president, Mondale was appointed to Humphrey's seat. He was elected to a term of his own in 1966 and reelected in 1972. In the Senate Mondale compiled a liberal voting record. He became a leading advocate of civil rights, Lyndon B. Johnson's Great Society social programs, and bills benefiting farm workers, Indians, children, and the elderly. He supported U.S. military involvement in Vietnam until 1968. He then sided with those members of Congress who sought to limit U.S. participation in the war.
Mondale campaigned for the 1976 Democratic presidential nomination, but he abandoned his candidacy when he failed to attract early, significant support. Jimmy Carter, the eventual Democratic presidential nominee, selected Mondale to be his running mate. Carter and Mondale defeated President Gerald R. Ford and Robert J. Dole, 297–240, in the Electoral College.
As vice president, Mondale was deeply involved in the Carter administration's policy making. He helped to choose cabinet officers and draft policy proposals. He also met alone with Carter at least once a week and had an open invitation to attend any White House meeting. In 1980 Carter and Mondale were renominated, but a sagging economy and the Iran hostage crisis weakened their chances for reelection. They were easily defeated by Republicans Ronald Reagan and George H. W. Bush.
In 1984 Mondale was the front-runner of a pack of Democrats seeking the party's presidential nomination. He overcame early primary successes by Sen. Gary Hart of Colorado to win the nomination. Mondale chose Rep. Geraldine A. Ferraro of New York as his running mate. She was the first woman to be nominated for vice president by a major political party. Mondale faced Reagan, who was running for reelection during a period of economic prosperity. The Democrats won only Minnesota and the District of Columbia in an election that was a landslide victory for the Republicans. After the election, Mondale retired from politics and returned to Minnesota. In 1993 he was appointed U.S. ambassador to Japan by President Bill Clinton. He resigned from that post in late 1996 to return to private life.
In the fall of 2002 Mondale was drafted into a whirlwind Senate campaign after Democratic senator Paul Wellstone of Minnesota, in the midst of a heated reelection battle, was killed in a plane crash. Mondale lost the election to Republican Norm Coleman.
Related Articles
---
Dictionary of American Government and Politics
Walter 'Fritz' Mondale has been an active figure in national politics for several decades, becoming an influential figure within the leadership of t
Chambers Biographical Dictionary
1928- ♦ US politician and lawyer Born in the small town of Ceylon, Minnesota, he was the son of a Methodist preacher of Norwegian extract. After grad
Rourke's Complete History of Our Presidents Encyclopedia
Even as Jimmy Carter stood and watched the inauguration of his successor, Ronald Reagan, he was still at work on the most important mission of his p
See more from Credo