Topic Page: Molière (1622-1673)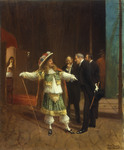 Summary Article: Molière
from Encyclopedia of Humor Studies
Molière, born Jean-Baptiste Poquelin in 1622, bears the unchallenged mantle of France's greatest comic dramatist. Supported by a wealthy bourgeois family, he was educated in a Parisian Jesuit college that introduced him both to classical literature (Terence and Plautus strongly influenced certain plays) and, doubtless, to acting. Shunning the family trade of tapestry weaving, and the law, which he studied in Orléans, he formed in his early 20s the Illustre Théâtre, a company whose success was soon quashed by debts that remained unresolved for decades and even caused his imprisonment. On release, he led his troupe to the provinces where he toured long and widely, also gaining important noble patrons, before returning to Paris in 1658.
His own plays figured frequently in their established repertoire, many deriving from the standard traditions of farce and commedia dell'arte, and several no doubt lost: He only began publishing his work in 1660. However, in L'étourdi (The Giddy-Pate) and Le dépit amoureux (The Love-Tiff), he had already set the pattern of five-act comedies composed in alexandrines, later applied in various major works that helped cement his fame. One also notes the plot structure generally favored during his career whereby, prior to wedlock, pairs of young lovers overcome difficulties mounted by parental opposition. Meanwhile, doctors and pedants form stock butts for ridicule, while considerable comic energy derives from the clown Mascarille, whose cynicism, misfortunes, and counter-morality help undercut the love-plot.
Once reinstalled in the capital, Molière quickly acquired both royal patronage and a permanent site for his company, while success and notoriety followed rapidly on his landmark comedy Les précieuses ridicules (The Affected Ladies), a brief satire in prose of salon society and its pseudo-intellectuals that would help springboard a much later masterpiece, Les femmes savantes (The Learned Ladies). Otherwise, given Louis XIV's predilection for theater, it is unsurprising that Molière should receive royal commissions for court performance, sometimes at embarrassingly short notice, but the resultant so-called comédies-ballets combined theater, music, and dance to a spectacular degree. He continued to compose briefer farces such as Sganarelle, which was in fact the work produced most often during his lifetime, whereas the two plays L'école des maris (The School for Husbands) and L'école des femmes (The School for Wives) exploit his standard themes of young love frustrated by parental power, although now treated with a psychological depth that has encouraged long-standing critical attention.
In the discussions following the success of the latter play in particular, Molière claimed, in a deliberate flout of 17th-century critical consensus, that comedy was a more problematic genre than tragedy. However, still greater controversy followed his Tartuffe, a satire on religious hypocrisy, and Dom Juan, a spectacular but highly ambiguous treatment of the career and death of the womanizing anti-hero Don Juan. The former work, judged impious, was banned for some years, and the author never presented the latter following its first run, yet modern directors have often chosen them in preference to the remainder of Molière's works. Meanwhile, the playwright never lost royal favor, enjoying, by the mid-1660s, both wealth and fame.
Nevertheless, and despite illnesses that possibly sharpened his anti-medical lampoons, his output continued in a variety of works, including Le misanthrope, a fascinating if morally disturbing treatment of social alienation; Amphitryon, whose subject derived from classical mythology; Monsieur de Pourceaugnac, an anti-provincial satire; and Le bourgeois gentilhomme (The Bourgeois Gentleman), a comédie-ballet mocking the nouveaux riches. Alternatively, in plays like Georges Dandin and Le médecin malgré lui (The Doctor in Spite of Himself), he resorted to stock themes of marital disharmony and the professional dishonesty of doctors.
Comedies such as L'avare (The Miser) or his final work, Le malade imaginaire (The Imaginary Invalid), propound a favored pattern whereby monomaniac fathers (miserly in the first play, hypochondriac in the second) threaten to destroy the younger generation's happiness by pursuing their own obsession: Harpagon (the avare) has chosen a (for him) financially advantageous match for his daughter, while Argan (the malade imaginaire) seeks to wed his child to an idiotic young doctor. Naturally the youngsters win out, although sometimes via contrivances so artificial as to amount to self-parody, and one notes an additional intriguing feature whereby, even though family harmony is restored, the protagonists' obsessions ultimately remain intact.
This pattern, although not universal among Molière heroes, helps question the socially corrective force of humor that several of his prefaces propound in order to refute charges of immorality. Actors and directors in fact remain free to exploit the comical glamour of protagonists like his Dom Juan, if not Monsieur Jourdain, his ignorant would-be gentleman, or even Tartuffe, his outrageous and libidinous religious hypocrite; meanwhile, valet characters such as Mascarille, Sganarelle, and Scapin provide a carnivalesque inversion of responsible values that one indulges at one's leisure. One notes, accordingly, that those figures seeking to instill moderation and reason in his comic heroes rarely, if ever, achieve their aim, Molière remaining supremely committed to theatrical performance and experiment rather than the development of a philosophy.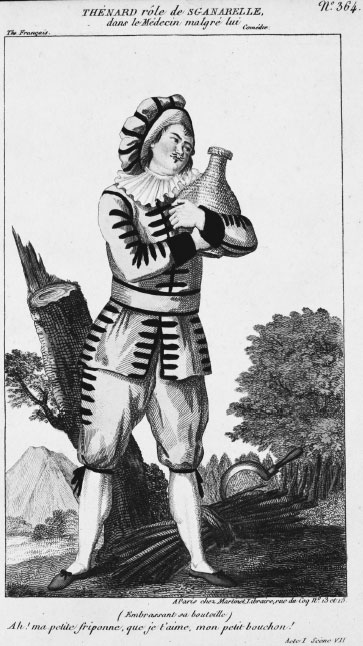 Even the pretentious females of Les précieuses ridicules have enjoyed positive readings, particularly among feminists, while a character such as Agnès, ingénue heroine of L'école des femmes, reveals an ambiguity sufficient to permit manifold interpretations: Arnolphe, her controlling guardian, has sealed her from society while grooming her for marriage with himself, but her naïveté need not mask a demanding libido that Horace, her successful suitor, might one day have trouble satisfying. Meanwhile, a particular and related poignancy lies in Molière's own marriage in 1662 to Armande Béjart, an actress greatly his junior and whose alleged infidelities reflect Arnolphe's anxious fears of cuckoldry.
A scarcity of documents renders biographical interpretations of Molière problematic, and rightly so, since his theater's vitality depends on the exploitation of comic types rather than authorial self-examination. Nonetheless, it is strikingly ironic that as a sick man, he should die in 1673 just after performing as Argan in one of his supreme attacks on charlatanry in the medical profession.
See also Comedy; Commedia dell'Arte; Plautus; Tragicomedy