Topic Page: Mitchell, Margaret (1900 - 1949)
---
Definition:
Mitchell, Margaret
from
Chambers Biographical Dictionary
1900-49
US novelist
Born in Atlanta, Georgia, she studied at Smith College, Northampton, Massachusetts, for a medical career, but turned to journalism. After her marriage in 1925, she began the ten-year task of writing her only novel, Gone with the Wind (1936), which won the Pulitzer Prize, sold over 25 million copies, was translated into 30 languages and was the subject of a celebrated film in 1939.
---
Summary Article: Mitchell, Margaret
From Encyclopedia of American Studies
Margaret Mitchell, author of Gone With the Wind, was born in Atlanta, Georgia, in 1900 to an old Southern family whose social and economic standing had, like that of many other families, suffered a blow during Reconstruction; tales of the good old days were frequent as Mitchell was growing up. In 1922 she married Berrian "Red" Upshaw, who was to be the inspiration for the character of Rhett Butler in Gone With the Wind (GWTW), but the marriage was unhappy and the two separated shortly afterward. Later that year, Mitchell, with the aid of John Marsh, Upshaw's best man, became a feature writer for the Atlanta Journal Sunday Magazine. In 1925, Mitchell divorced Upshaw and married Marsh. The following year, she left the magazine and began researching the Civil War and writing a novel of a Southern woman's tangled love life lived out amid changing family fortunes during the Civil War and Reconstruction.
The novel was completed by 1929 but lay unread until 1935, when Mitchell met Harold Latham of Macmillan Publishing, who was immediately taken with the novel. GWTW was published in 1936 and sold more than one million copies its first year. In 1937, GWTW won the Pulitzer Prize.
Critical responses to the work were and have remained divided and intense. Publisher's Weekly hailed it as "very possibly the greatest American novel," and comparisons with War and Peace were frequent. On the other side, Malcolm Cowley of The New Republic was the first to castigate the book for racism and glorification of the Old South, calling it an "encyclopedia of the plantation legend." Despite frequent criticism, however, sales of GWTW have continued strong.
The novel's tremendous initial popularity has been explained as an escapist response to both the Great Depression and the World War II, but reasons for its lasting appeal have received little serious attention. Mitchell's detractors claim that the novel deserves none, being not so much a novel as a "literary Act of God," as one reviewer put it, and explain its wide readership as a symptom of widespread simplemindedness and entrenched racism; her supporters argue that only the novel's popularity and female authorship have prevented its canonization.
The novel's sales quickly attracted the attention of Hollywood, and prominent motion producer David O. Selznick acquired film rights. Despite the inevitable difficulties of adapting a thousand-page novel to the screen, the movie version of GWTW premiered in Atlanta in 1939 to popular acclaim. The film garnered seven Academy Awards (including the first Academy Award to an African American actor, Hattie McDaniel) and remains one of the top-grossing movies of all time.
Critical responses to the film were divided; some called it the "mightiest achievement in the history of the motion picture"; others lambasted it as favorably presenting the Ku Klux Klan and portraying black characters as happy in slavery and violent in freedom. Most today view the film as unfortunately flawed by the assumptions of the time, although some continue to see it as deliberately nostalgic for racism and others as a universal epic of survival transcending historical setting.
Mitchell never wrote another novel, a fact that has led to some unresolvable speculation as, following her death in an automobile accident in 1949, her husband and brother destroyed most of her papers. In the 1990s the manuscript of an early novella of Mitchell's surfaced, but GWTW remains her only mature work. The novel continues to attract legions of devoted fans around the world; GWTW has sold more than thirty million copies and been translated into twenty-seven languages.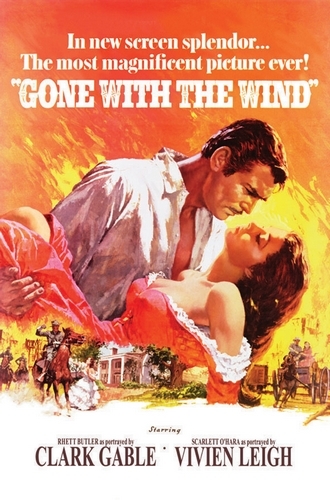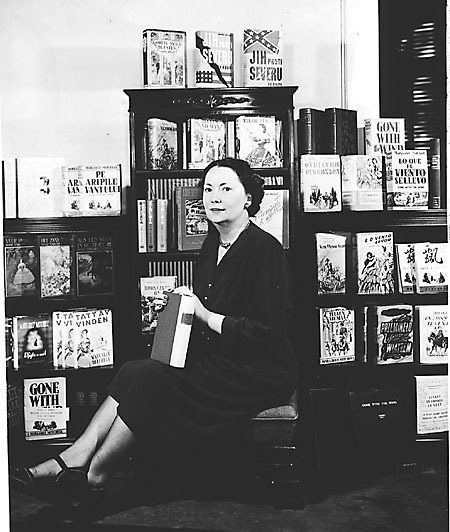 Bibliography
Margaret Mitchell's Gone With the Wind: A Bestseller's Odyssey from Atlanta to Hollywood

(

Taylor

2011).
; ,
Road to Tara: The Life of Margaret Mitchell

(

Ticknor & Fields

1983).
,
Harwell, Richard

, ed.,

Gone With the Wind as Book and Film

,

2

nd ed. (

Univ. of S.C. Press

1987).
Frankly, My Dear: Gone with the Wind Revisited

(

Yale Univ. Press

2009).
,
Gone With the Wind

(

Macmillan

1936).
,
Lost Laysen

, ed. by

Freer, Debra

(

Scribner

1996).
,
Margaret Mitchell's Gone With the Wind Letters, 1936-1949

, ed. by

Harwell, Richard

(

Macmillan

1976).
,
Southern Daughter: The Life of Margaret Mitchell

,

3

rd ed. (

Oxford

2004).
,
Scarlett's Women: Gone With the Wind and Its Female Fans

(

Rutgers Univ. Press

1989).
,
相关 Credo 文章
---
The Penguin Biographical Dictionary of Women
Now he disliked talking business with her as much as he had enjoyed it before they were married. Now he saw that she...
Bloomsbury Biographical Dictionary of Quotations
Until you've lost your reputation, you never realize what a burden it was or what freedom really is. Gone with the Wind ...
查看来自 Credo 的更多信息