Summary Article: Microfinance
From Encyclopedia of New Venture Management
Microfinance is the collective term used to describe the process of providing funding to poor people who have no access to traditional finance institutions, such as credit unions and banks. Microfinance was championed by Muhammad Yunus with his revolutionary experiment in the early 1970s of providing finance to poor people, initially only women in Bangladesh. He later founded the Grameen Bank in 1983. Microfinance institutions (MFIs) can be characterized as banking or financial institutions for the poor, since they provide small loans and small savings programs. Numerous institutions have emerged dedicated to providing credit to poor entrepreneurs, especially in developing countries. According to a report by the World Bank, about 160 million people benefit from the services of microfinance providers.
In 2006, Brigit Helms categorized microfinance providers as follows:
Informal financial service providers, such as moneylenders and savings collectors

Member-owned organizations, such as self-help groups and credit unions

Nongovernmental organizations (NGOs)

Formal financial institutions, such as some commercial banks, state banks, agricultural development banks, savings banks, rural banks, and nonbank financial institutions
Since Helms identified these MFIs, technology has revolutionized their reach and scalability. Today, for example, ordinary mobile phones can be used to process transactions.
A study compiled by the Consultative Group to Assist the Poor (CGAP) suggested that MFIs have provided positive contributions to very poor households by allowing them to attend to basic needs. The increasing use of microfinancing also indicates an improving economic climate for this segment of the economic strata and in particular has been vital to improving the lives of women and bringing about gender equality. The CGAP study stated that
empirical evidence shows that, among the poor, those participating in microfinance programs who had access to financial services were able to improve their well-being—both at the individual and household level—much more than those who did not have access to financial services. In Bangladesh, Bangladesh Rural Advancement Committee (BRAC) clients increased household expenditures by 28 percent and assets by 112 percent. The incomes of Grameen members were 43 percent higher than incomes in nonprogram villages. In El Salvador, the weekly income of FINCA clients increased on average by 145 percent. In India, half of SHARE clients graduated out of poverty. In Ghana, 80 percent of clients of Freedom from Hunger had secondary income sources, compared to 50 percent for nonclients. In Lombok, Indonesia, the average income of Bank Rakyat Indonesia (BRI) borrowers increased by 112 percent, and 90 percent of households graduated out of poverty. In Vietnam, Save the Children clients reduced food deficits from three months to one month.
The World Health Organization studied the impact of microfinance institutions from a macro perspective and reported that
thousands of microfinance workers travel to poor communities to provide microfinance services, often to groups of women convening on a regular basis over months and years to repay loans and deposit savings. Many microfinance institutions in Africa, Asia, and Latin America already successfully offer services beyond microfinance, including training in business and financial management. An increasing number also offer health-related services, such as education, clinical care, health financing (loans, savings, and health insurance) and establishing linkages to public and private health providers to facilitate access to healthcare. This is a vast, privatesector infrastructure of service delivery that is mostly self-financed by interest on loans.
There have been several criticisms about the impact of MFIs. Some assert that MFIs and their success have helped absolve governments of their responsibility for developing adequate infrastructures in public health, social welfare, and education. As noted by Microfinanceinfo.com, some doubt that microfinance really has an impact on poverty. Others describe microcredit as a privatization of public safety-net programs. There are also concerns that some microfinance institutions have charged excessive interest rates. Some studies of microfinance programs have found that women are used as collection agents for their husbands and sons, such that the male relatives enjoy the proceeds while the women bear the credit risk. In some cases borrowers become dependent on micro loans rather than investments for regular living expenses.
A report by Microfinanceinfo.com surmised that the key debate about microfinance is whether it should focus on improved welfare or financial sustainability. The two different approaches are usually named as "poverty lending" or "the welfarist approach" and "the institutionist approach" or "financial system approach." The welfarist approach might, for example, supply the customer with education and health, whereas the institutionists focus primarily on financial services, reasoning that only with a total focus on financial sustainability can the huge demand be met. MFIs that take the welfarist approach include the Grameen Bank and Women's World Banking. Examples of institutionists are ACCION International and BRI Unit Desa.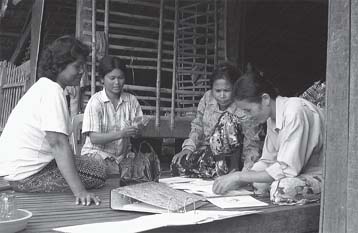 See also
Debt, Equity- and Debt-Based Financing, Gender and Acquiring Resources, Gender and Industry Preferences, Gender and Performance, Globalization, Home-Based Businesses, Motivation and Gender, Social Capital, Social Entrepreneurship, Social Intelligence, Social Networks, Sustainable Development, Women's Entrepreneurship, Women's Entrepreneurship: Best Practices
Further Readings
The Economics of Micro finance.

Cambridge, MA:

MIT Press

, 2005.
and
Consultative Group to Assist the Poor.

http://cgap.org

(Accessed February 2011).
http://Forbes.com.

http://www.forbes.com

(Accessed February 2011).
Access for All: Building Inclusive Financial Systems.

Washington, DC:

World Bank

, 2006.
Microfinance.

New York:

Palgrave

, 2006.
and
http://Microfinanceinfo.com.

http://www.microfinanceinfo.com

(Accessed February 2011).
Microfinance.

Northampton, MA:

Edward Elgar

, 2008.
World Health Organization.

http://www.who.int/bulletin/volumes/88/6/09-071464/en/index.html

(Accessed February 2011).
Building Social Business: The New Kind of Capitalism That Serves Humanity's Most Pressing Needs.

New York:

Public Affairs

, 2010.