Topic Page: Medicaid
---
Definition:
Medicaid
from
Black's Medical Dictionary, 43rd Edition
A joint state and federal health insurance scheme in the United States that provides cover for poorer people but whose coverage varies across the country depending on the attitude of the particular State legislature, although it has been significantly enlarged by the passage of the Affordable Care Act ('Obamacare'). Medicaid has been in the forefront of innovations such as community health centres, experiments in delivering care and the community home movement (see also MEDICARE).
---

Summary Article: MEDICAID
from Poverty and the Government in America: A Historical Encyclopedia
Medicaid is a government-funded health insurance program for the poor that started in 1965, as part of President Lyndon Johnson's Great Society initiative. It was added, along with Medicare (health insurance for the elderly), as an amendment to the Social Security Act.
The federal government first got involved with health care for the needy when it began providing health care to the poor under the Sheppard-Towner Maternity and Infancy Act of 1921, which set up 3,000 clinics across the country for poor women and children. Funding for this program expired in 1929, and in 1935, the Social Security Act included funding for a similar program of health clinics: Maternal and Child Health Services. However, poor people who lived far from these clinics still had to struggle to pay for health care and still could not afford hospitalization. By 1965, the federal government was providing health care to the poor through Head Start preschool children, Cuban refugees, migrant farmworkers, and people who lived in the poor regions of the Appalachian Mountains (David 1985, 54-55; Andrew 1998, 96; Engel 2006, 31-37).
In 1964, President Lyndon Johnson set up a panel of health care experts that revealed that many Americans could not afford basic medical care. A number of different health insurance bills were proposed, emphasizing health care for the elderly. The Medicare plan passed in July 1965. Title XIX of this law created Medicaid, which provided medical care to poor children who did not have support from their parents, and those children's caretakers, as well as to the blind, people with disabilities, and poor elderly people who could not afford to pay Medicare's co-payments. The original Medicaid program provided federal money to states if they wished to create a Medicaid program, but states did not have to do so. In addition, Medicaid excluded families with working fathers, even if the family's income was below the poverty line. Advocates for children pointed out that because Medicaid's requirements were so strict, many families still would not be able to afford basic health care for their children (Engel 2006, 48-51).
By 1972, all states had set up Medicaid programs. Over the years, Medicaid has been expanded to include more people. In 1986, pregnant poor women and infants under one year became eligible for Medicaid, if their states chose to offer this program. In 1987, states were allowed to cover women and infants with incomes of up to 185 percent of the federal poverty line. In 1989, states were required to cover poor pregnant women below 133 percent of the poverty line and children under six years old. Young people between six and eighteen who lived below the poverty line became eligible for Medicaid starting in 1990. In 1994, the federal government passed the Vaccines for Children program, which provides free childhood vaccines (Gruber 2003, 17-19). States are required to include the Vaccines for Children program in their state Medicaid plan.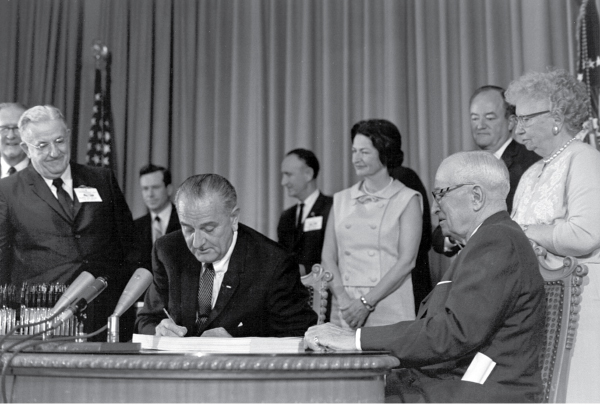 According to Jonathan Gruber, Medicaid is really "four public insurance programs in one." Medicaid offers insurance for four different populations: poor women and children; poor elderly (for health care expenses not covered by Medicare); poor people who are disabled; and poor elderly people who are in nursing homes (2003, 15-16).
Until 1996, Medicaid was linked to Aid to (Families with) Dependent Children (AFDC): when families stopped receiving AFDC payments, they also automatically stopped being eligible for Medicaid. This discouraged low-income families from seeking jobs, because the jobs they were likely to get were low paid and usually did not offer health insurance. So by opting for a job, a family might have found itself worse off financially. When AFDC was replaced with Temporary Assistance to Needy Families (TANF) in 1996, families still could be eligible for Medicaid even if they did not receive TANF payments (CMS, "Key Milestones in CMS Programs").
In 1997, the State Children's Health Insurance Program (SCHIP) was created to offer health care to children whose families had a low income but were not poor enough to be eligible for Medicaid. This program provides coverage to children whose families have an income of up to 200 percent of the federal poverty line. Some states have chosen to cover entire families and not just the children in those families. According to the SCHIP Web site, this program is "the single largest expansion of health insurance coverage for children since the initiation of Medicaid in the mid-1960s" (State Children's Health Insurance Program Web site).
Medicaid has helped the poor to live healthier lives. According to Jonathan Engel, "poor people are in better health today, and receive better health care, than had Medicaid not been created" (2006, 249). Still, Engel points out that because some doctors and hospitals refuse to take Medicaid patients (because Medicaid generally pays lower fees to doctors and hospitals), some poor people have trouble finding doctors (2006, 250).
In 1973, Medicaid covered 21 million people. By 2000, Medicaid covered almost 43 million people. About half of the people covered under Medicaid are children (CMS, Medicaid Facts and Figures).
See also: Great Society; Head Start; Health Care for the Poor; Johnson, Lyndon; Maternal and Child Health Services; Medicare; National Health Insurance; Poverty Line; Sheppard-Towner Maternity and Infancy Act of 1921; Social Security Act
Sources
Lyndon Johnson and the Great Society.

Chicago, IL: Ivan R. Dee, 1998.
.
Sick: The Untold Story of America's Health Care Crisis—and the People who Pay the Price.

New York: HarperCollins, 2007.
.
With Dignity: The Search for Medicare and Medicaid.

Westport, CT: Greenwood Press, 1985.
Poor People's Medicine: Medicaid and American Charity Since 1965.

Durham, NC: Duke University Press, 2006.
.
"Medicaid."

in Means-Tested Transfer Programs in the United States, ed. Robert A. Moffit. Chicago, IL: The University of Illinois Press, 2003.
.