Topic Page: Mary, Queen of Scots, 1542-1587
---
Definition:
Mary Queen of Scots
from
The Hutchinson Unabridged Encyclopedia with Atlas and Weather Guide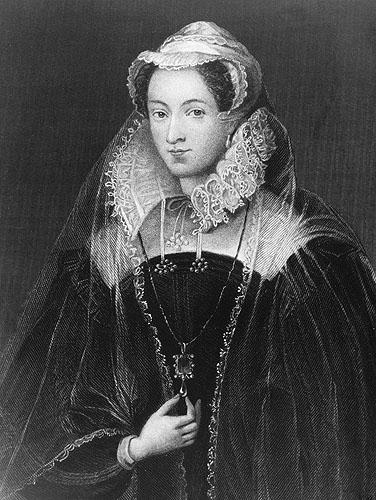 Scottish monarch Mary Queen of Scots, who was crowned in infancy and later imprisoned and executed by her cousin Elizabeth I of England. Regarded by some as the pawn of the people who surrounded her, she remains a powerful figure in history and literature. Her life is portrayed in the tragedy Maria Stuart (1800) by Schiller and in Walter Scott's popular historical novel The Abbot (1820).
(Image © Billie Love)
articles
Scotland
Mary Queen of Scots
Scotland: history 1513 to 1603
---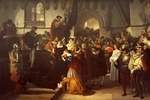 Summary Article: Stuart, Mary, Queen of Scots (1542–1587)
from Encyclopedia of Tudor England
Mary Stuart, Queen of Scots, was the only surviving child of James V of Scotland and his French wife, Marie de Guise. Although queen within a week of her birth, Mary's personal rule lasted only from 1561 to 1567. Because Mary was a great-granddaughter of Henry VII, she was also an important figure in the English succession.
Mary's accession in December 1542 began a long royal minority marked by competition between England and France for dominance in Scottish affairs and between Catholics and Protestants for control of the Scottish Church. The succession of an infant girl prompted Henry VIII to initiate the policy of Rough Wooing, an aggressive attempt to compel the Scots to accept Prince Edward as husband for their queen. Although the marriage was arranged by the 1543 Treaty of Greenwich, Henry's arrogant behavior convinced the Scottish regency government, led by James Hamilton, Earl of Arran, to repudiate the treaty and ally with the pro-French party, led by Mary's mother and Cardinal David Beaton. In 1547, the head of Edward VI's regency government, Edward Seymour, Duke of Somerset, continued Henry's policy, winning the Battle of Pinkie but failing to reinstate the Greenwich agreement or curb French influence in Scotland. In 1548, the Scottish government concluded the Treaty of Haddington, which betrothed Mary to the eldest son of Henri II and sent her to France to be raised a Catholic by her Guise relatives.
In 1554, Mary's mother replaced Arran as regent. In April 1558, Mary wed the dauphin and thus became queen of France on her husband's accession in July 1559. In Scotland, Marie de Guise died in June 1560, and her Catholic, pro-French policy was repudiated by the Protestant Lords, who concluded the Treaty of Edinburgh with England and presided over the transformation of the Scottish Church into a Calvinist body. When the death of Francis II widowed Mary in December 1560, the queen, rather than return to Scotland, spent some months seeking to make a new marriage that would allow her to stay in France or somewhere on the Continent. When this attempt failed, Mary sailed to Scotland in August 1561 to begin her personal rule.
Although a staunch Catholic, Mary accepted the Scottish Reformation and ruled with the advice of her Protestant half brother, James Stuart, Earl of Moray, an illegitimate son of James V. As a granddaughter of Margaret Tudor, Mary had a strong claim to the English Crown, and she unsuccessfully pressed her cousin Elizabeth I to recognize her as heir to the throne, an effort that may in part explain the unusual refusal of a Catholic queen to restore a Catholic Church within her realm. In 1565, Mary wed Henry Stuart, Lord Darnley, another cousin with a claim to the English throne. Darnley proved weak, devious, and arrogant, and soon alienated Mary, who denied him any part in the government. Although Darnley connived at the murder of Mary's Italian favorite, David Rizzio, Mary enlisted her husband's support against the Protestant nobles who committed the murder and was able to regain control of the government.
In June 1566, Mary gave birth to a son, but Darnley continued his provocative and reckless behavior, making himself a serious political liability. In early 1567, when Darnley fell ill with syphilis, Mary convinced him to recuperate at Kirk o'Field, a house outside Edinburgh, where Darnley was murdered in February 1567. In May, Mary gave substance to charges that she was party to the murder by marrying the suspected murderer, James Hepburn, Earl of Bothwell. A confederation of nobles led by Moray defeated the forces of Mary and Bothwell in June 1567 and forced the queen to abdicate in favor of her son. In May 1568, Mary escaped from captivity, but her forces were again defeated; she then fled to England, where she was confined by Elizabeth for 19 years. In February 1587, Mary's frequent plotting with English and foreign Catholics finally led to her execution. Raised a Protestant, Mary's son, James VI of Scotland, whose only response to his mother's execution was a formal protest, eventually succeeded Elizabeth as James I of England.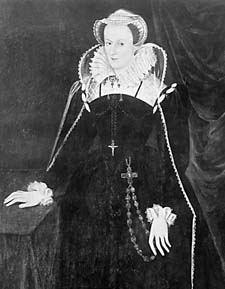 See also Babington Plot; Calvinism, English; Carberry, Battle of; Darnley Murder; Guise Family; Landside, Battle of; Ridolfi Plot; Stuart, House of
Further Reading
Elizabeth and Mary: Cousins, Rivals, Queens

. Knopf

New York

, 2004.
.
Queen of Scots: The True Life of Mary Stuart

. Houghton Mifflin

Boston

, 2004.
.
Mary Queen of Scots

. Routledge

London

, 2006.
Mary, Queen of Scots: Pride, Passion and a Kingdom Lost

. Rev. ed. I. B. Tauris

London

, 2001.
.