Topic Page: Marx Brothers
---
Definition:
Marx Brothers
from
Philip's Encyclopedia
US team of vaudeville and film comedians. The Marx Brothers consisted of Chico (Leonard, 1891-1961), Harpo (Arthur, 1893-1964), Groucho (Julius, 1895-1977) and Zeppo (Herbert, 1901-79), the latter withdrew from the group in 1935. Marx Brothers' riotous, wisecracking comedies include Animal Crackers (1930), Duck Soup (1933), and A Night at the Opera (1935).
---
Summary Article: Marx Brothers, The
from Movies in American History: An Encyclopedia
If you have never seen one of the Marx Brothers' movies, then stop reading and find a way to watch one—now. Not one of the tired later pictures like Go West (1940) when the brothers worked under the formulaic thumb of MGM, but an early MGM delight like A Night at the Opera (1935) before the formula had calcified. Or better yet one of their anarchic Paramount productions like Horsefeathers (1932), which will prove to you that the movies have lost their capacity to be this strange, this mad, and this funny.
If you have laughed at the Marx Brothers, then the only question that matters is what is your favorite Marx Brothers movie? For many it is Duck Soup (1933): Groucho as Rufus T. Firefly, leader of Freedonia, leading the whole cast as he sings "to war, to war/ to war we gotta go/ hi-dee hi-dee/ hi-dee hi-dee/ hi-dee hi-dee ho": it's one of the transcendent moments in the movies. If you are ever lucky enough to see it in a theater, stand in the back of the house and wait until the laughter rolls toward the screen in an explosive wave of joy that at times drowns the punch lines.
There were four of them (yes, brothers in real life), and then there were three when deceptively funny straight man Zeppo was shed after the brothers moved from Paramount to MGM in 1934. Their act could only have grown from vaudeville. Chico (Leonard by birth), the oldest, affected an Italian accent and played piano in a swaggering, finger-pointing style; Harpo (Adolph), mute (in the act, not in life), donned a curly wig, played the harp, and chased scantily clad women (not in life), behavior lewd enough in the pre-Code Paramount Pictures to lead some of the audience in repertory screenings in the 1930s to hiss the screen. Groucho (Julius Henry) used greasepaint to smear a huge mustache and eyebrows on his face and delivered a steady mixture of deadpan sarcasm, caustic insults, and brilliant wordplay; but if any of his jokes was worth a groan, he always let the audience know he knew it. By 1925, they had a Broadway hit, The Cocoanuts, written by George S. Kaufman with help from Morrie Ryskind and songs by Irving Berlin, and it ran 375 performances; it was turned into a dreadfully stagy early sound film in 1929. It was followed by another Broadway show, Animal Crackers, also by Kaufman and Ryskind, and it became their second dreadfully primitive and stagy early sound film in 1930. Small matter: the Marx Brothers could survive bad sound, and they thrived on clunky supporting acting; it was the slick studio work in their later MGM films that they couldn't overcome.
Irving Thalberg, chief of production at MGM, tried to shape their act by making them appear lovable to everyone except themselves and the tiffany studio's safely snooty villains. His meddling had mixed artistic and financial results: receipts for the Marx Brothers MGM films, even their most successful ones, indicate they never attained the box-office success of, say, Charlie Chaplin, or even the later Abbott and Costello. And the most loving fans will admit that of the 13 movies they made together, the 4 that were produced after 1940 are depressing. The old fizz flattened, exhaustion haunts the proceedings.
But as Clifton Fadiman put it in his rave review for A Night at the Opera, "the Marxes are quite funny enough to be taken seriously"; and while he flatly vowed not to construe "their impertinent treatment of the social properties … as a revolt against the constrictions of American life, or as proletarian propaganda" (1935, 322)—a vow all true Marxists are willing to take—it's clear the Marx Brothers have shown to nearly every comic who has been influenced by them (and that includes Woody Allen and Jerry Seinfeld and Chris Rock and Jon Stewart) that the only way to combat the restrictions, class absurdities, and ethnic barriers of American life is to find a way to reiterate Groucho's declaration in Duck Soup: "This is war!"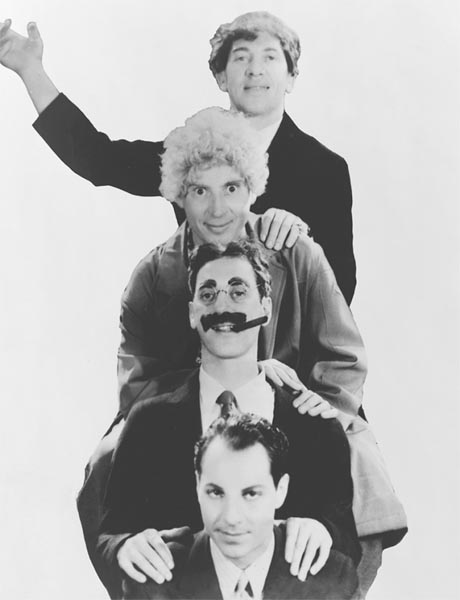 References
Lion of Hollywood: The Life and Legend of Louis B. Mayer

. Simon and Schuster

New York

, 2005.
.
"A New High in Low Comedy."

In

Kauffmann, Stanley

, ed. American Film Criticism: Reviews of Significant Films at the Time They First Appeared. Liveright

New York

, 1972:

322-28

.
.
Groucho: The Life and Times of Julius Henry Marx

. Vintage

New York

, 2001.
.