Topic Page: Marshall, George (1880 - 1959)

Summary Article: Marshall, George Catlett (1880–1959)
from 500 Great Military Leaders
U.S. Army general, chief of staff of the army, secretary of state, and secretary of defense. Born in Uniontown, Pennsylvania, on December 31, 1880, George Catlett Marshall graduated from the Virginia Military Institute in 1901. Commissioned in the infantry in 1902, he then served in a variety of assignments, including in the Philippines. Marshall attended the Infantry and Cavalry School, Fort Leavenworth, in 1906 and was an instructor in the Army Service Schools during 1907–1908.
After the United States entered World War I, Marshall went to France with the American Expeditionary Forces as operations and training officer of the 1st Division in June 1917. A temporary major, he was promoted to lieutenant colonel in 1918. Marshall became deputy chief of staff for operations of the U.S. First Army in August and was the principal planner of the Saint-Mihiel Offensive (September 12–16, 1918). He earned admiration for his logistical skills in directing the quick repositioning of hundreds of thousands of men across the battlefront after that success for the Meuse-Argonne Offensive (September 26–November 11).
After working on occupation plans for Germany, Marshall reverted to his permanent rank of captain and during 1919–1924 became aide to General John J. Pershing, who served as chief of staff of the army during 1921–1924. Marshall was promoted to major in 1920 and to lieutenant colonel in 1923.
Marshall served in Tianjin (Tientsin), China, with the 15th Infantry Regiment during 1924–1927. He was assistant commandant in charge of instruction at the Infantry School, Fort Benning, Georgia (1927–1932), where he helped to train many officers who would serve as generals during World War II. Promoted to colonel in 1932, he served in various assignments in the continental United States, including instructor with the Illinois National Guard (1933–1936). Marshall advanced to brigadier general in 1936 and assumed command of the 5th Infantry Brigade.
Marshall became head of the War Plans Division in Washington, D.C., with promotion to major general in July 1938 and then to deputy chief of staff in October. President Franklin D. Roosevelt advanced Marshall over many more senior officers to appoint him chief of staff of the army on September 1, 1939, the day that German armies invaded Poland. Marshall was promoted to major general and simultaneously to temporary general the same day that he became chief of staff.
As war began in Europe, Marshall worked to revitalize the American defense establishment. Supported by pro-Allied civilian senior leaders, such as Secretary of War Henry L. Stimson, Marshall instituted and lobbied for programs to recruit and train new troops; expedite munitions production; assist Great Britain, China, and the Soviet Union in resisting the Axis powers; and coordinate British and American strategy. After the United States entered the war (December 7, 1941), Marshall presided over an increase in the U.S. Army from a mere 200,000 troops to a wartime maximum of 8.1 million men and women. Marshall stressed the tactical basics of firepower and maneuver, and he supported mechanization and the most modern military technology. For all this he became known as the "Organizer of Victory."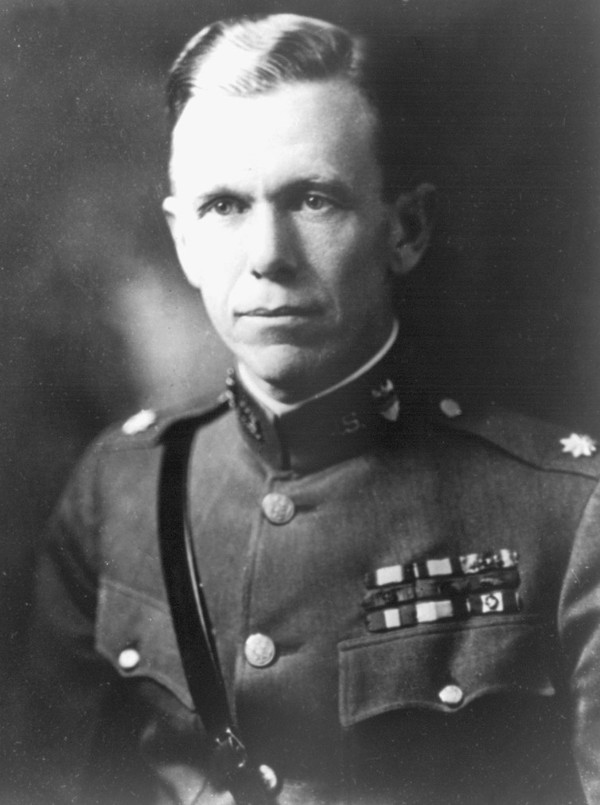 Marshall was a strong supporter of opening a second front in Europe as early as possible, a campaign that was deferred by strategic necessity until June 1944. Between 1941 and 1945 he attended all the major Allied wartime strategic conferences, including those at Placentia Bay, Quebec, Cairo, Tehran, Malta, Yalta, Potsdam, and Washington, D.C. Marshall was the first to be promoted to the newly authorized five-star rank of general of the army in December 1944. Perhaps his greatest personal disappointment was that he did not hold field command, especially that of the European invasion forces. Roosevelt and the other wartime chiefs wanted Marshall to remain in Washington, and Marshall bowed to their wishes. He was a major supporter of the U.S. Army Air Forces, and he advocated employment of the atomic bomb against Japan in August 1945.
On the urging of President Harry S. Truman, Marshall agreed to serve as special envoy to China (1945–1947). He was secretary of state during 1947–1949, when he advanced the Marshall Plan to rebuild Europe, and president of the American Red Cross during 1949–1950. Truman persuaded Marshall yet again to return to government service as secretary of defense in September 1950. Marshall worked to repair relations with the other agencies of government that had become frayed under his predecessor and to build up the U.S. military to meet the needs of the Korean War (1950–1953) and commitments in Europe, while at the same time maintaining an adequate reserve. Marshall opposed General Douglas MacArthur's efforts for a widened war with China and supported Truman in his decisions to fight a limited war and to remove MacArthur as commander of United Nations forces.
Marshall resigned in September 1951, ending 50 years of dedicated government service. Awarded the Nobel Prize for Peace in 1953 for the Marshall Plan, he was the first soldier so honored. Marshall died in Washington, D.C., on October 16, 1959.
If not America's greatest soldier, Marshall was one of the nation's most capable military leaders and statesmen and certainly one of the most influential figures of the 20th century.
Related Articles
---
The Macmillan Encyclopedia
As army chief of staff (1939-45), and President Roosevelt's strategic adviser, he organized the build-up of US forces,...
Philip's Encyclopedia
1880-1959 US general and statesman. Marshall served as a staff officer during World War 1 and, after various commissions including service in...
See more from Credo