Topic Page: Marshall, George (1880 - 1959)
---
Definition:
Marshall
from
Collins English Dictionary
n
1 Alfred. 1842–1924, English economist, author of Principles of Economics (1890)
2 George Catlett. 1880–1959, US general and statesman. He was chief of staff of the US army (1939–45) and, as secretary of state (1947–49), he proposed the Marshall Plan (1947): Nobel peace prize 1953
3 John. 1755–1835, US jurist and statesman. As chief justice of the Supreme Court (1801–35), he established the principles of US constitutional law
4 Sir John Ross. 1912–88, New Zealand politician; prime minister (1972)
---

Summary Article: Marshall, George Catlett (1880–1959)
From Encyclopedia of War and American Society
Military and Diplomatic Leader, Nobel Peace Prize Winner
As head of the U.S. Army between September 1939 and November 1945, George C. Marshall played a leading role in mobilizing the ground and air forces for World War II, conducting a two-front, multitheater coalition war against the Axis powers, arranging for demobilization, and designing a postwar military establishment. A man of great public stature and considerable diplomatic skill, Marshall was selected by Pres. Harry S. Truman in late 1945 to attempt to mediate the civil war in China. As secretary of state, he proposed and vigorously lobbied for the massive congressional foreign aid package that became known as the Marshall Plan. Beginning in September 1950, shortly after the start of the Korean War, he spent a year as head of the Defense Department.
Early Career
Marshall was born in Uniontown, Pennsylvania, on the last day of 1880 to parents with extensive family roots in Kentucky and Virginia. He matriculated at the Virginia Military Institute in September 1897 and attained the highest cadet rank available to him every year. Scholastically, he finished in the middle of his class, graduating in 1901 with a degree in civil engineering. The Spanish–American War convinced him to seek a career in the Army; and he served in the Philippines from 1902 to 1903. In 1906, he was chosen to attend the Army school at Fort Leavenworth, Kansas. Having been the top student for two years, he was made an instructor for two more years. He served as instructor for various National Guard units (1907–12 and 1933–36), earning a reputation as a friend of the Guard that would prove useful during the mobilization of 1940 to 1942.
In June 1917, he became the First Division's chief of operations and training. In July 1918, he moved to the headquarters of the American Expeditionary Forces as assistant chief of planning. He planned the first independent American raid at Cantigny, France (May 1918), and was head of the team planning the St. Mihiel and Meuse–Argonne offensives that were carried out from September through November of 1918. He drew important lessons from his World War I experiences that influenced the conduct of the 1940 to 1942 mobilization and the planning for the post–World War II military.
Between May 1919 and June 1924, Marshall was an aide to Gen. John J. Pershing. In the mid-1920s, he was stationed for three years in Tientsin, China. Between 1927 and 1932, he served as chief of instruction at the Infantry School at Fort Benning, Georgia, where he gradually reformed the school's faculty and methodology to emphasize simplicity, individual initiative, and the leader's need to operate under conditions of mobile warfare with imperfect knowledge of the battlefield and the enemy. During the 1930s, Marshall headed three Civilian Conservation Corps (CCC) districts, where he espoused greater use of reserve officers to assist the Army and sought to facilitate educational programs for CCC men.
In July 1938, Marshall returned to the War Department as head of the War Plans Division, and in October he was made deputy chief of staff. Marshall became friends with Harry L. Hopkins, Pres. Franklin D. Roosevelt's key adviser, and Frank M. Andrews, who commanded GHQ Air Force. They, together with Henry H. Arnold, chief of the Army Air Corps, undertook to educate Marshall in air power ideas and values. Later, Marshall would make certain that airmen were chosen for significant General Staff positions.
Role as Army Chief of Staff
In April 1939, Roosevelt chose Marshall to be Army chief of staff, effective September 1. The U.S. Army (which included the air forces) was small—about 190,000 plus reserves, roughly 20th in size in the world—and mainly equipped with World War I–era weapons and ideas. Roosevelt was more concerned with matériel production and the Navy than with the Army, and he did not wish to create the more than 200 division ground force that Marshall believed necessary to defeat the German Army. After a number of reevaluations, in early 1944 Marshall decided to gamble that 90 combat divisions would be sufficient for victory. He was correct, as it turned out.
A firm believer in civilian control of the military, Marshall was loyal to the commander in chief and unwilling to seek to overturn administration policies with which he disagreed by secretly going to Congress or the press. Marshall's rapport with Congress was excellent, but he made little headway within its chambers with getting significantly larger funding for mobilization until the fall of France.
Marshall favored a strategy of defeating Germany first while trying to hold the line against Japan in the Pacific. The U.S. Navy preferred a more aggressive policy in the Pacific, and Marshall tended to follow the Navy's strategic lead in that theater. In 1942, he believed that the Allies should prepare for a 1943 invasion of northwest France, fearing that a move into the Mediterranean, as the British desired, would delay the cross-Channel invasion, involve U.S. forces in a peripheral theater, and divide Allied resources. Roosevelt agreed with the British on a North African invasion in 1942. Marshall continued to insist that the buildup in Britain for the cross-Channel invasion was the key to Anglo–American strategy, but he overestimated the quality of the training and experience his ground forces had acquired by 1942, and events demonstrated that the North African campaign was a necessary precondition to the campaign in Western Europe.
By mid-1943, British prime minister Winston Churchill and Roosevelt were generally agreed that Marshall would lead the 1944 cross-Channel invasion and Marshall's protégé, Dwight D. Eisenhower, would return to become chief of staff. Marshall, however, refused to ask for the job, insisting that the president do what he thought best. At the second Cairo Conference in early December 1943, Roosevelt told Marshall that he "could not sleep at night with you out the country." (Bland and Stevens, 3:195.) Eisenhower became supreme Allied commander in Europe while Marshall continued to run the majority of the military effort from the Pentagon.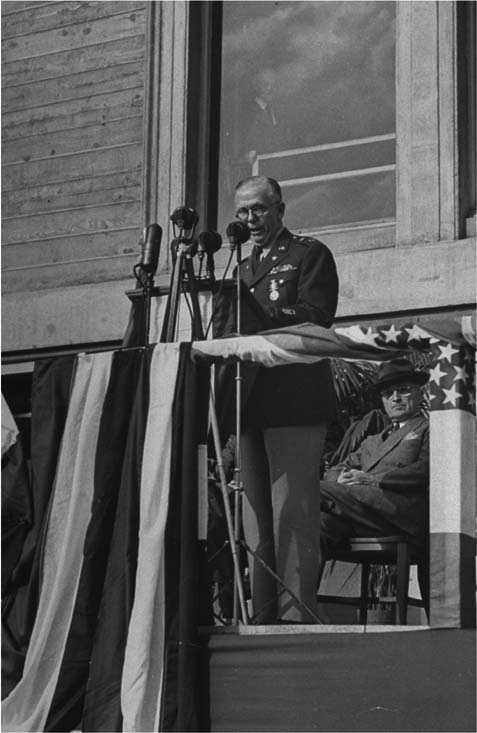 As Army chief of staff, Marshall oversaw the Manhattan Project, which developed the nuclear bomb. His normal method of operating was to secure superior subordinates to run specific projects—e.g., Oveta Culp Hobby for the Women's Army Corps or Leslie R. Groves for the atomic bomb—and then to avoid micromanaging them while protecting them politically and administratively. Determined to end the war quickly and keep U.S. casualties as low as possible, Marshall supported the strategic bombing campaigns and the use of atomic bombs on Japan.
Marshall's Roles after 1945
In December 1945, President Truman sent Marshall to China to attempt to negotiate a settlement to the civil war between nationalists and communists, which threatened to destroy China and to encourage Soviet interference. To everyone's surprise, Marshall negotiated a cease-fire on January 10, 1946, and a February 25 agreement to demobilize and reorganize the military forces in the country. Both sides believed that fighting was in their interests, however, and the agreements broke down in April and May. Marshall repeatedly warned China's leader, Chiang Kai-shek, that governmental and military reforms were necessary, because the nationalists could not defeat the communists by military action alone. Marshall left China on January 8, 1947, to take the job of secretary of state on January 21.
Republican Party domination of both houses of Congress necessitated Marshall adopting a nonpartisan approach to foreign policy. He reorganized the State Department's bureaucracy and returned the department to a prominent role in policy making. He supported Truman's efforts to contain the military's tendency to expand its funding and the number of its overseas bases. Marshall encouraged West European nations in their self-defense efforts and considered himself one of the instigators of the North Atlantic Treaty Organization. He is best remembered, however, for his proposal of the European Recovery Program, an aid program designed to reconstruct the economies of postwar Europe. He was so influential in the program's development and administration that it came to be known as the Marshall Plan.
After a brief retirement and a stint as head of the American Red Cross (1949–50), Marshall became secretary of defense in September 1950. His chief job was to complete the mobilization for the Korean War. He sided with the president in his clash with theater commander Gen. Douglas MacArthur over the latter's belief in widening the war and the issue of military subordination to civilian authority. MacArthur was relieved of command in April 1951. Once the allied position in Korea had stabilized, Marshall retired from public office for the last time in September 1951.
Marshall's last major public appearance was in December 1953, when he accepted the Nobel Peace Prize for America's Marshall Plan efforts. He died on October 16, 1959, and was buried in Arlington National Cemetery.
George C. Marshall was one of the most important soldier–statesmen of the 20th century. Winston Churchill called him the true organizer of Allied victory in World War II. His ability to pick good subordinates—and willingness to listen to and trust them—was exceptional. He consistently demonstrated a willingness to take a historically informed view of contemporary developments, to consider the other person's situation and viewpoint, to strive for organizational balance and efficiency, and to emphasize the primacy of civilians in civil–military relationships. He disliked war and was a vigorous proponent of collective security and the United Nations. Marshall was a soldier of peace.
Related Entries

Arnold, Henry Harley; Civil–Military Relations; Cold War; Eisenhower, Dwight D.; Joint Chiefs of Staff; Korean War; MacArthur, Douglas; Manhattan Project; Marshall Plan; National Guard; Roosevelt, Franklin Delano; Truman, Harry S.; Virginia Military Institute
Bibliography
Johns Hopkins University Press

,

1981-

.
; , eds. The Papers of George Catlett Marshall. Baltimore, Md.:
3rd ed

. Edited by . Lexington, Va.:

George C. Marshall Foundation

,

1996

.
George C. Marshall Interviews and Reminiscences for Forrest C. Pogue.
Houghton Mifflin

,

1976

.
Memoirs of My Services in the World War, 1917-1918. Edited by Boston:
Viking

,

1963-87

.
George C. Marshall. 4 vols. New York:
Further Reading
Tupper & Love

,

1946

.
. Together: Annals of an Army Wife. New York:
William Morrow

,

1989

.
. Roosevelt and Marshall, Partners in Politics and War: The Personal Story. New York:
University of North Carolina Press

,

2000

.
Allies and Adversaries: The Joint Chiefs of Staff, the Grand Alliance, and U.S. Strategy in World War II. Chapel Hill:
Twayne

,

1989

.
George C. Marshall: Soldier-Statesman of the American Century. Boston:
Related Articles
---
The Macmillan Encyclopedia
As army chief of staff (1939-45), and President Roosevelt's strategic adviser, he organized the build-up of US forces,...
Philip's Encyclopedia
1880-1959 US general and statesman. Marshall served as a staff officer during World War 1 and, after various commissions including service in...
See more from Credo