Topic Page: Malay language

Summary Article: MALAY, INDONESIAN AND MALAYSIAN
From Dictionary of Languages
PERHAPS 35,000,000 SPEAKERS
Indonesia, Malaysia, Singapore, Brunei, Thailand
For at least a thousand years Malay has been the principal lingua franca of 'insular southeast Asia', of the great Malay Archipelago which is now politically divided between Indonesia and Malaysia.
The lands on either side of the Straits of Malacca have been called the Malay country for all this time. The origin of the name is uncertain, though it may possibly come from a Dravidian word by way of Sanskrit Malaya 'mountain'. Malay is locally known as bahasa Melayu 'Malay language' (bahasa deriving from Sanskrit bhāsah 'language'); its speakers are orang Melayu 'Malay people'.

For the designated national language of independent Indonesia the old name, redolent of the British-controlled Malay peninsula, was thought inappropriate. So this form of Malay is called bahasa Indonesia 'Indonesian language', a term introduced around 1930. In due course independent Malaysia followed suit with bahasa Malaysia 'Malaysian language'. Malay is still a term that we cannot do without – for Singapore and Brunei, and for the many regional and non-standard varieties of the language.
Malay is one of several related AUSTRONESIAN LANGUAGES that originate in the are between western Sumatra and eastern Bomeo: they are now believed to have come here, three thousand years ago or more, as the result of gradual, prehistoric migration from the Philippines, and ultimately from Taiwan.
Two other members of the group are MINANGKABAU and IBAN. These two, also, have spread as vehicles of trade and water travel – but Malay itself, from its early homeland on either side of the Straits of Malacca, has spread much further.
Old Malay is first recorded in the early inscriptions of the kingdom of Śrīvijaya. They are found near Palembang in southem Sumatra and on the nearby island of Bangka, and are dated to 683–6. Later inscriptions come also from the Malay peninsula, just across the straits. Singapore's history might have begun with a 12th-century inscription – but the British, frightened that it would excite anti-colonial feeling, destroyed it before it had been deciphered. By the 12th century 'Malaya' – perhaps the same kingdom, under a different name – was well known to Arabic and Chinese travellers, from whom even Marco Polo heard of it. Its language had certainly already become a lingua franca of trade in the archipelago. In a different form, 'Classical Malay', it was to be a language of literature, rich in historical texts.
In the Malay peninsula the great trading city of Malacca, founded in 1403, was briefly dominant throughout the region. It retained some importance even when ruled by European powers, successively Portuguese, Dutch and British. In Java the old capital of Jakarta fell to the Dutch in 1619 and for more than three centuries was renamed Batavia after a Latin name sometimes used for the Netherlands. It was in the early 19th century that the British made inroads into Dutch influence in the archipelago. The position of both colonial powers was undermined by Japanese occupation in the early 1940s. Indonesia became independent in 1945 and Malaysia in 1957. Thus the long term result of British–Dutch competition is the modern divide between Malaysia, formerly a group of British territories and protectorates, and Indonesia, formerly the Dutch East Indies.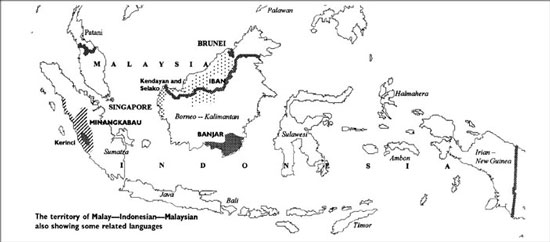 Malay, in slightly different forms, became the national language of both states.
In Malaysia it is the majority language, though there is also a large Chinese-speaking population and some significant indigenous linguistic minorities. In Indonesia the number of regional and local languages is very large indeed. Javanese is actually the largest linguistic community, but Malay, or rather bahasa Indonesia, is the only language with the potential to draw the country together, a potential that has been energetically tapped by the resolutely nationalistic policies of Indonesian governments.
The Śrīvijaya inscriptions are in an Indian script. With the arrival of Islam, Arabic (jawti) script was being used for Malay by the 14th century. Under British and Dutch influence Latin script has now become standard.
Malay at the crossroads
Malay is a spectrum of many dialects and registers. There are the formal, official languages of Indonesia, Malaysia and Brunei; the varieties used in the press, broadcasting, schools and religion in these three countries and in Singapore; the everyday colloquial of great cities including Kuala Lumpur and Jakarta (whose local speech is sometimes called Batawti); the lingua franca used in towns and markets by people with different mother tongues, Bazaar Malay; the local speech of scattered trading ports and colonies, most of them bilingual, from Ambon Malay to Sri Lankan Creole Malay (which alone has 50,000 speakers); major regional varieties including Banjar of eastern Kalimantan and Patani Malay of southern Thailand; local varieties spoken by peoples far from the mainstream of Malay culture, including the 'aboriginal' Malay of inland districts of the Malay peninsula. Tinminers of Malaya traditionally used a 'secret language', a special form of Malay with arcane vocabulary, to avoid offending the spirits that guard the ore. Baba Malay is a term sometimes used for the pidginised Malay, strongly influenced by Min (see CHINESE), that is spoken by communities of southern Chinese origin in Malacca and other Malaysian cities.
Malay is a language of state education throughout Indonesia and Malaysia. It is also the traditional language of religious education for some Muslim peoples of the archipelago and for the CHAM Muslims of Cambodia.
Malay is still quite recognisably a member of the Malayic group of Austronesian languages: but in some ways it is now rather different from the rest. A lingua franca needs to be easy to grasp, and Malay has a more approachable structure than its relatives. It has undergone extremely varied external influences, with loanwords from many local languages of the archipelago (notably Javanese), from Sanskrit, Chinese, Arabic, Portuguese, Dutch and English. Ketam 'crab' comes from an Austroasiatic language, cf. Khmer ktam, Mon gatam. Pasar 'market' comes from Persian bāzār, which has been borrowed into many languages of the world. A 'fair' is picturesquely called pasar malam, 'night market', in Malay. The black market is pasar gelap, 'dark market'.
Local forms of Malay have other loanwords. In Larantuka Malay nyora 'woman' comes from Portuguese senhora; om 'uncle' comes from Dutch oom.
As the one essential language for trade and administration in the archipelago, Malay has contributed many loanwords to English. They include compound, which with the meaning of 'yard, enclosure' comes from Malay kampong 'enclosure, quarter of a city'; gong, rattan; sago; orang utan, literally 'people of the forest'.
The Malayic languages
Standard MINANGKABAU is based on the dialect of Padang. Four dialect groups are usually distinguished: Tanah Datar, Limapuluh Kota, Agam, Pasisir.
Kerinci has 300,000 speakers in inland Sumatra, on the slopes of mount Kerinci.
Banjar, the major eastern Kalimantan dialect of Malay, sometimes regarded as a separate language, has around 2,000,000 speakers centred on the city of Banjarmasin. It shows strong Javanese influence.
The speakers of IBAN and related 'Ibanic' or 'Malayic Dayak' languages (including Kendayan and Selako) are to be found along the rivers of western Sarawak and western Kalimantan.
Malay itself began its spread, perhaps two thousand years ago, from the lowlands of central eastern Sumatra, southern Malaya and southwestern Borneo. On the mainland it extends to the southern Thai province of Patani. By sea, Malay gradually reached as far as Sri Lanka, the Mergui archipelago (where it is spoken by the so-called Sea Gypsies) and the northern coast of New Guinea.
Local varieties of Malay have grown up at several points in the archipelago. Each has its history, often several centuries long, and its own blend of loanwords which may come from Por-tuguese, Dutch, Chinese, local languages, and now from standard Indonesian as well. Larantuka Malay, Ambon Malay, Kupang Malay, are among better-known examples. Speakers are now usually bilingual in Indonesian, which they use for more formal and prestigious purposes.
Languages of Timor
In a multilingual archipelago, Timor is one of the most multilingual of islands.
The Austronesian languages of Timor belong to the Timor-Flores group. They include Timor (650,000 speakers), Tetun (300,000), Galoli (50,000) and Mambai (80,000). Rotinese or Roti (120,000) is spoken both on Roti itself and on the nearby western tip of Timor. Lamaholot (300,000 speakers) is a language of Solor, Lomblen, Pantar and Alor islands.
The Timor-Alor-Pantar family of languages is quite independent of Austronesian: it may have distant relatives in north-western Irian Jaya. It includes Makasai (70,000 speakers), Bunak (50,000) and Kolana (50,000), the majority language of Alor island.
Numerals in Malay

Minangkabau

Malay

Jakarta Malay

Banjar

Iban

1

cie'

satu

atu

asa

satu

2

duo

dua

duε

dua

dua

3

tigo

tiga

tigε

tiga

tiga

4

ampe'

empat

əmpat

ampat

ampat

5

limo

lima

limε

lima

lima'

6

anam

enam

ənəm

anam

nam

7

tujuəh

tujuh

tuju'

pitu

tujoh

8

(sa)lapan

(de)lapan

dəlapan

walu

lapan

9

sambilan

sembilan

səmbilan

sanga

semilan

10

sa-puluəh

sepuluh

sə-pulu

sa-puluh

sa-puloh
From K. Alexander Adelaar, Proto Malayic: the reconstruction of its phonology and parts of its lexicon and morphology (Canberra: Australian National University, 1992) and other sources
Related Articles
---
The World's Major Languages
1 Introduction Malay-Indonesian is an Austronesian language spoken in many diverse forms throughout Southeast Asia. The indigenous name of...
Wiley-Blackwell Encyclopedia of Literature: The Encyclopedia of the Novel
The Southeast Asian novel has come to be regarded as a problematic category, and justifiably so. Questions of critically representing and talking abo
Merriam-Webster's Geographical Dictionary
or Du. Boeroe \bü-rü\ Island of the W Moluccas, Indonesia, Malay Archipelago, W of Ceram, 3°24′ S , 126°40′ E ; area 3400 sq....
See more from Credo