Topic Page: Laurel and Hardy
---
Definition: Laurel and Hardy from Philip's Encyclopedia
---
Summary Article: Laurel and Hardy
from Movies in American History: An Encyclopedia
Stan Laurel and Oliver Hardy were members of one of the most influential comic duos in American movies. Among those who brought the world of vaudeville to the big screen during the transition period from silents to sound movies, they excelled in slapstick comedy, parodies, and situations that would be taken up and used by later generations of admiring artists.
Born Arthur Stanley Jefferson, in Ulverston, Lancashire, England, on June 16, 1890, Stan Laurel was the son of actor-manager Arthur J. Jefferson and actress Madge Metcalfe. He performed with the Levy and Cardwell Juvenile Pantomimes Company from 1907 to 1909. Prior to his meeting with Hardy, he appeared in vaudeville shows and pantomimes in Great Britain. He was an understudy to Charlie Chaplin before appearing in American vaudeville in the 1910s.
Hardy was born Norvell Hardy, on January 18, 1892, in Harlem, Georgia, near Augusta. His father, Oliver Hardy, who served in the Georgia Volunteer Infantry during the Civil War, died when the young Norvell was only 10 months old. In honor of his father, Norvell adopted his name, calling himself Oliver Norvell Hardy. As Hardy grew, he began to fabricate stories about his family and himself. He claimed, for instance, that his father had been an attorney and that at age eight he had sung with Coburn's Minstrels (Gehring, 1990). In reality, after her husband's untimely death, Hardy's mother, Emily (Emmie) Norvell Tant, operated hotels in Madison, and later in Milledgeville, Georgia.
Hardy eventually enrolled at the Atlanta Conservatory of Music, and later at the Georgia Military College in Milledgeville. He worked as a film projectionist from 1910 to 1913, after which he migrated to Jacksonville, Florida, at that time a minor center of film production. An endearingly portly presence on screen, Hardy worked for various studios and appeared with a slimmer comedic partner, Bobby Ray, in The Paperhanger's Helper (1925). Significantly, this union with the slender Ray would foreshadow his iconic pairing with Stan Laurel.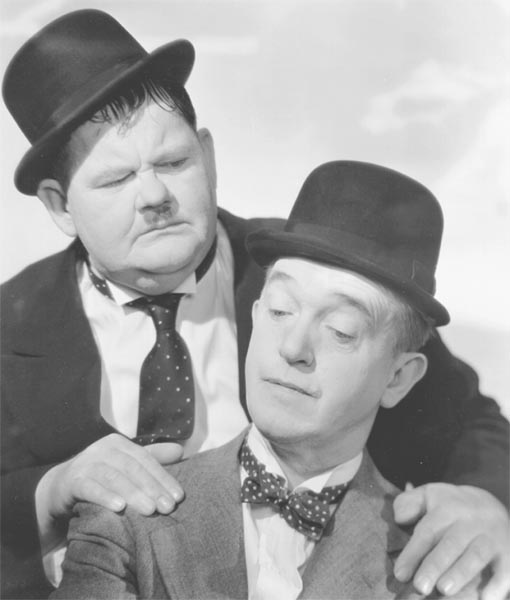 In his first short film, Nuts in May (1917), Laurel portrayed a mentally challenged man who escapes an institution dressed as Napoleon. In A Lucky Dog (1917), he played a poor dog owner, while Hardy was cast as a crook attempting to rob him. In 1921, film producer Hal Roach created a series of short comedy films with Laurel; four years later Roach persuaded Laurel to join the new Comedy All-Stars, a troupe that included Hardy. The first Laurel and Hardy films were The Second Hundred Years and Putting Pants on Philip, both released in 1927. Between 1927 and 1932, Laurel and Hardy would make 65 films with Roach,
The duo's first sound film was Unaccustomed as We Are (1929). Their innovative sound effects and sight gags would eventually be picked up by other early sound filmmakers. During World War II, they made more feature films together, among them Air Raid Wardens (MGM, 1943), and The Bullfighters (Twentieth Century-Fox, 1945). The government even issued a short film, The Tree in a Test Tube (1943), in which the pair demonstrated conservation tips recommended by the U.S. Department of Agriculture.
In their work ethic, they differed greatly: Laurel was a workaholic and designed many of the duo's acts. Extremely creative, he kept notepads throughout his house, using them to record his thoughts as they came to him. Hardy, on the other hand, was less interested in working when he was not on the set, enjoying diversions such as gourmet cooking, golf, and gambling. Although master comedians, their films often raised important social questions, as they poked fun at authority figures and members of the upper classes. Vastly significant figures in the early American cinema, Laurel and Hardy would profoundly influence other comedians such as Jack Benny, Lucille Ball, Jackie Gleason, Jerry Lewis, Danny Kaye, and Dick Van Dyke. Oliver Hardy died on August 7, 1957, the result of three debilitating strokes; Stan Laurel died on February 23, 1965, after suffering a heart attack.
References
Laurel & Hardy: A Bio-Bibliography

. Greenwood

Westport, CT

, 1990.
.
Babe: The Life of Oliver Hardy

. Carol Publishing Group

New York

, 1989.
.
The Comedy World of Stan Laurel

. Doubleday

Garden City, NY

, 1974.
.
The Boys: The Cinematic World of Laurel and Hardy

. McFarland

Jefferson, NC

, 1989.
.
Related Articles
---
The Macmillan Encyclopedia
US film comedians. Stan Laurel (Arthur Stanley Jefferson; 1890-1965), the thin member of the team and originator of the gags, was born in...
Britannica Concise Encyclopedia
U.S. film comedians. Stan Laurel (orig. Arthur Stanley Jefferson; b. June 16, 1890, Lancashire, Eng.—d. Feb. 23, 1965, Santa Monica, Calif., U.S.)
Collins Italian Dictionary
[ bi'nmjo ] agg binomial. ■ sm . 1 ( Mat ) binomial. 2 ( fig : due persone ) il binomio Laurel e Hardy the Laurel...
See more from Credo