Summary Article: LATERITE
From Encyclopedia of Earth Sciences Series: Encyclopedia of Paleoclimatology and Ancient Environments
Laterite is an iron-rich, sub-aerial, weathering product, commonly believed to evolve as a result of intense, in situ substrate alteration under tropical or sub-tropical climatic conditions. It comprises an important subset of a wider range of ferruginous and related aluminous (i.e., bauxitic) weathering products, which include ferricretes and various iron-rich paleosols. Laterite weathering profiles often develop an indurated surface layer of resistant duri-crust, forming laterally extensive sheets ca. 1-20 m in thickness (Figure L16). These lateritized surfaces are both chemically and physically resistant and may extend over areas of a few, to hundreds, or even thousands, of square kilometers.
Historical background and definitions
The term laterite (literally "brick rock") was first used by Buchanan (1807) to describe a naturally occurring material from Angadipuram (10°58'N, 76°13'E), Kerala state, south-western India. Once cut and allowed to harden, laterite was used as building material (Figure L17). Since this first description, the term has had a long history of geological and geomorphological usage. However, the unfortunate early adoption of Buchanan's casual field description as a type definition has since caused considerable confusion. A more comprehensive and geologically rigorous description was provided by Newbold (1844) from studies of laterite-capped plateaux near Bidar, India (17°54'N, 77°32'E). He was the first to suggest that laterite developed in situ (in this instance upon Deccan flood basalt lavas), by segregation and subsequent rearrangement of minerals and elements that originally comprised the parent rock (Newbold, 1846). Despite this attempt to better define laterite and the lateritization process, the term "laterite" (sensu lato) was used throughout the nineteenth and twentieth centuries to describe a wide range of iron-rich, terrige-nous weathering products and duricrusts. Unfortunately, many of these materials were often products of fundamentally different element enrichment and depletion processes (Schellmann, 1986; Ollier and Galloway, 1990; Bourman and Ollier, 2002; Schellmann, 2003).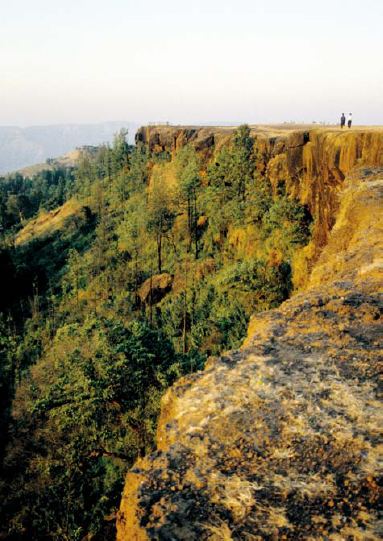 Modern field studies make evident that the majority of examples of iron-rich duricrust typically occur as two genetically distinct types. Aleva (1994) distinguishes between laterites, which attain elevated iron contents entirely through autochthonous residual enrichment within the weathering profile (i.e., no net input of iron), and ferricretes, in which an absolute iron enrichment occurs (i.e., alteration profiles that receive an allochthonous net input of iron). This division represents a useful process-based distinction, but the practicality of determining allochthony or autochthony of the iron component is often problematic (e.g., Thomas, 1994). In practice, many lateritic weathering profiles are modified by the introduction of allochthonous materials. For instance, many elements (e.g., Fe, Al and some trace metals) can be introduced either in solution or as chelates by groundwaters passing through the evolving weathering profile These elements can then be re-deposited at specific levels within the profile by redox reactions associated with variations in groundwater chemistry and water table fluctuation. Alternatively, allochthonous material (e.g., eolian dust) may also be introduced by mechanical accumulation through the exposed surface of the profile (e.g., Chadwick et al., 1990; Brimhall et al., 1991). Nevertheless, the distinction between dominantly autochthonous or allochthonous weathering profiles remains important because it places constraints upon processes operating during duricrust evolution, and upon contemporaneous paleoclimatic and geomorphological conditions.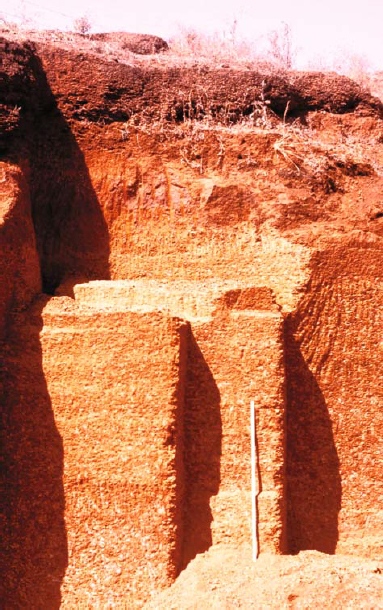 Table L3 Geochemical analysis of the Bidar weathering profile illustrated in Figure L18

Sample

BB1

BB3

BB5

BB8

BB9

Chemical variations show an up-profile increase in the degree of alteration from basaltic bedrock (BB1) to indurated laterite cap (BB9). Note the enrichment of Fe and Al oxides, also metals like Cr, Cu, and V toward the surface, with concomitant depletion of silica, alkalis and alkali earths. (Establishment of a water table or fluvial and eolian inputs may modify these patterns).

Major elements (wt%)

SiO2

48.90

38.59

30.61

31.35

9.59

TiO2

2.16

5.11

5.76

2.33

2.03

Al2O3

13.72

31.54

25.83

27.22

9.85

Fe2O3

13.40

24.10

36.95

38.37

77.53

MnO

0.19

0.11

0.06

0.07

0.23

MgO

6.93

0.40

0.23

0.10

0.16

CaO

10.99

0.19

0.07

0.00

0.04

Na2O

2.46

0.00

0.00

0.00

0.00

K2O

0.16

0.02

0.02

0.07

0.03

P2O5

0.16

0.18

0.08

0.08

0.12

Total

99.07

100.25

99.61

99.59

99.58

(LOI)

0.60

11.74

11.11

11.13

7.31

Trace elements (ppm)

Ba

52.9

54.9

13.3

17.3

161.8

Ce

21.9

20.8

6.5

21.8

53.1

Cr

148.3

201.3

249.6

736.5

691.8

Cs

0.0

0.1

0.0

0.4

0.1

Cu

177.4

394.1

451.5

182.5

581.1

La

8.9

26.1

2.7

9.7

6.5

Nb

10.0

19.5

23.4

17.2

14.8

Nd

15.8

62.8

6.2

6.6

5.8

Ni

97.9

287.3

72.4

106.1

40.3

Pb

1.0

2.4

9.7

19.7

36.7

Rb

1.1

1.0

0.1

3.6

1.3

Sc

37.7

70.0

14.9

24.4

190.1

Sr

210.4

13.4

3.5

7.1

9.7

Th

1.0

1.9

1.4

6.0

6.9

U

0.2

1.0

2.1

1.8

1.6

V

371.3

687.0

1,846.0

967.3

2,985.7

Y

30.6

692.8

2.6

4.4

4.2

Zn

106.4

119.9

62.1

70.3

35.2

Zr

128.1

245.5

281.6

211.2

283.3
Characteristic properties
Laterites (sensu stricto) are, primarily, residual materials formed directly by in situ rock breakdown, and should not contain any significant allochthonous component. They owe their chief compositional characteristics to the relative enrichment of iron (and often aluminum), and the other less mobile parent rock (i.e., protolith) constituents. This enrichment occurs under aggressive weathering conditions as a consequence of the greater mobility, and hence loss, of constituent silica, alkalis, and alkaline earths from the protolith (Table L3). Since protolith materials nearer the surface are more subject to weathering, the degree of alteration will diminish with depth, thereby producing a weathering profile (Figure L18). Where such profiles are exposed, they typically consist of an uninterrupted progression from unaltered bedrock, through increasingly altered and iron enriched zones, to culminate in laterite at the top. Lateritic duricrusts typically form the uppermost layers of in situ weathering profiles, and crop out at the surface as a massive, interlocking fretwork of iron (and aluminum) oxides and hydroxides (i.e., sesquioxides, Figure L19).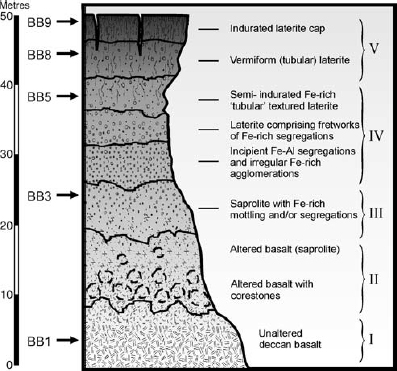 Conditions of formation
The conditions under which lateritic profiles form include:
Favorable geomorphological environments characterized by limited runoff and lack of aggressive erosion. Ingress of rainfall and/or establishment of a water table serve to promote evacuation of the more mobile constituents.

Favorable climatic conditions typified by seasonal, high annual rainfall (e.g., a monsoon-type climate). High humidity and high mean annual temperatures further promote alteration.

Regions of relative tectonic stability, characterized by minimal uplift, crustal deformation, or erosion.
The chemical and mechanical durability of laterite confers a prominent role in tropical and sub-tropical landscape evolution. Studies of occurrences in India, Africa, and Australia have proved crucial in advancing tropical geomorphology (e.g., McFarlane, 1976; Summerfield, 1991; Thomas, 1994; Widdow-son, 1997a, b). However, disturbance, by uplift, climate change, or both, is likely to terminate the lateritization process and lead to rapid erosion and stripping of the lateritic weathering profile (Borger and Widdowson, 2001). Consequently, laterite formation and preservation has been episodic throughout the geological record (Bardossy, 1981; McFarlane, 1983) with, for instance, acmes occurring within cratonic regions during the late Cretaceous "greenhouse climate," and during the Tertiary thermal maxima.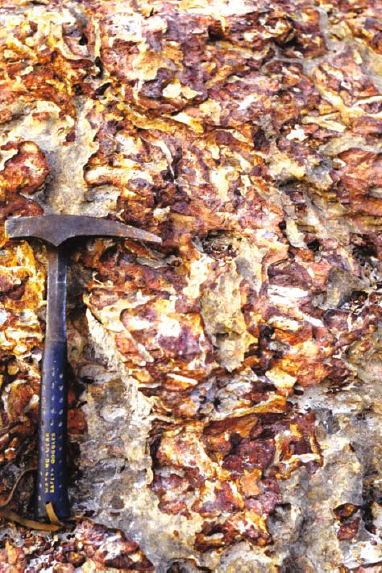 Wider importance
Recently, ferricrete and laterite duricrusts, together with Fe-rich paleosols, have acquired renewed importance as paleoclimatic indicators because preservation of these materials records the occurrence of wet, tropical conditions during the geological past (e.g., Tsekhovskii et al., 1995, Tardy and Roquin, 1998). Such information is crucial in documenting changing regional and global climates (e.g., Bardossy, 1981; Thomas, 1994) and, together with other key climate proxies, aids in identifying periods of climatic perturbation arising either rapidly through volcanic and impact events or due to longer-term climate controls (i.e., Mikankovich-Croll cycles). Importantly, the presence of lateritic profiles in the geological record also confers wider paleoenvironmental information, such as that concerning paleo-geographic setting and the nature of paleolandscapes. For instance, laterite formation is likely to have always been restricted to humid tropical regions (or their climatic equivalents), and to those areas characterized by low runoff, ingress of precipitation, and the long-term establishment of a stable water table. Reconstruction of ancient lateritized paleosurfaces can also provide a useful tool for quantifying the degree of neotectonic deformation, since post-lateritization uplift can lead to the distortion of originally low-lying peneplains, and measurable increases in surface elevation (Widdowson and Cox, 1996).
Furthermore, appropriate mineralogical, geochemical, and isotopic studies on laterites are also beginning to reveal detailed information regarding past climatic and atmospheric conditions. Carbon, oxygen, uranium-thorium, and, most recently, lithium isotope systematics of weathering products offer the opportunity to investigate paleoatmospheric, paleoclimatic, and paleo-weathering conditions throughout the geological record (e.g., Bird and Chivas, 1989, 1993; DeQuincey et al., 2002; Pistiner and Henderson, 2003; Kisakurek et al., 2004). For instance, geo-chemical and isotopic analyses of Proterozoic laterites from South Africa (Gutzmer and Beukes, 1998), suggest not only an ancient oxidizing atmosphere, but also a hot and humid climate at ca. 2 Ga. Moreover, carbon isotope signatures preserved within these laterites may actually indicate the presence of early, terrestrially-based, photosynthesizing organisms. Finally, other isotopic systems, such as samarium-neodymium (Sm-Nd), have been successfully employed to identify and quantify allochtonous dust input into ancient weathering profiles, and as a proxy for monitoring the long-term chemical and isotopic balance between the evolving weathering profile and its associated hydrological characteristics (Viers and Wasserburg, 2004).
Cross-references
Duricrusts
Paleosols, Pre-Quaternary
Paleosols-Quaternary
Sedimentary Iindicators of Climate Change
Weathering and Climate
Bibliography
Laterites. Concepts, Geology, Morphology and Chemistry

. ISRIC

Wageningen

.
(compiler) 1994.
Palaeoenvironments of laterites and lateritic bauxites effect of global tectonism on bauxite formation

. In Proceedings of the International Seminar on Lateritisation Processes, Trivandrum India 11-14 December, 1979. Balkema

Rotterdam

, pp.

287-294

.
, 1981.
Stable isotope geochronology of the Australian regolith

. Geochim. Cosmochim. Acta,

53

,

3239-3256

.
; 1989.
Geomorphic and palaeoclimatic implications of an oxygen-isotope chronology for Australian deeply weathered profiles, regolith

. Aust. J. Earth Sci.,

40

,

345-348

.
; 1993.
Indian laterites, and lateritious residues of southern Germany: A petrographic, mineralogical, and geochemical comparison

. Z. Geomorph. N.F.,

45

,

177-200

.
; 2001.
A critique of the Schellmann definition and classification of "laterite."

Catena,

47

,

117-131

.
; 2002.
Metal enrichment by deposition of chemically-mature aeolin dust

. Nature,

333

,

819-824

.
; ; ; ; ; ; 1991.
A journey from Madras through the Countries of Mysore, Kanara, and Malabar

, vol.

2

. pp.

436-461

; vol.

3

. pp.

66

,

89

,

251

,

258

,

378

. East India Co

London

.
, 1807.
From a black to a gray box - mass balance interpretation during pedogenesis

. Geomorphology,

3

,

369-390

.
; ; 1990.
Chemical mobilizations in laterites: Evidence from trace elements and 238U- 234U- 230Th disequilibria. Geochim. Cosmochim. Acta,

66

,

1197-1210

.
; ; ; ; ; 2002.
Earliest laterites and possible evidence for terrestrial vegetation in the Early Proterozoic

. Geology,

26

,

263-266

.
; 1998.
Behaviour of Li isotopes during continental weathering: The Bidar laterite profile, India

. Chem. Geol.,

212

,

27-44

.
; ; 2004.
Laterite and Landscape

. Academic Press

London

,

151

pp.
, 1976.
The temporal distribution of bauxitisation and its genetic implications

. In

Melfi, A.J.

;

Carvalho, A.

(eds.), Proceedings of the II International Seminar on Lateritisation Processes, Brazil, 4-12 July, 1982. Balkema

Rotterdam Sao Paulo

, pp.

287-294

.
, 1983.
Notes chiefly geological, across the Peninsula from Masultipatam to Goa, comprising remarks on the origin of regur and laterite: Occurrence of manganese veins in the latter and on certain traces of aqueous denudation on the surface of southern India

. J. Asiat. Soc. Beng.,

15

,

204-213

,

224-231

,

380-396

.
, 1844.
Summary of the geology of Southern India, Part VI: Laterite

. R. Asiat. Soc.,

227-240

.
, 1846.
The laterite profile, ferricrete and unconformity

. Catena,

17

,

97-109

.
; 1990.
Lithium-isotope fractionation during continental weathering processes

. Earth Planet. Sci. Lett.,

214

,

327-339

.
; 2003.
A new definition of laterite

. Geol. Surv. India, Mem.,

120

,

1-7

.
, 1986.
Discussion of "A critique of the Schellmann definition and classification of laterite."

Catena,

52

,

77-79

.
, 2003.
Global Geomorphology

. Longman

Harlow

,

537

pp.
, 1991.
Dérive des continents, Paléoclimats et Altérations Tropicales

Editions BRGM Orléans France,

473

pp.
; 1998.
Geomorphology in the Tropics

. Wiley

Chichester UK

,

460

pp.
, 1994.
Lateritic eluvium and its redeposition products as indicators of Aptian-Turonian climate

. Stratigr. Geol. Correl.,

3

(

3

),

285-294

.
; ; 1995.
Behavior of Sm and Nd in a lateritic profile

. Geochimica and Cosmochimica Acta,

68

(

9

),

2043-2054

.
; 2004.
Widdowson, M.

(ed.), 1997a.

Palaeosurfaces: Recognition, reconstruction, and paleoenvironmental interpretation

.

Geological Society of London Special Publication

,

120

,

330

pp.
Tertiary palaeosurfaces of the SW Deccan, Western India: Implications for passive margin uplift

. In

Widdowson, M.

(ed)

Palaeosurfaces: Recognition, Reconstruction and Palaeoenvironmental Interpretation

.Geological Society of London Special Publication,

120

, pp.

221-248

.
, 1997b.
Uplift and erosional history of the Deccan traps, India: Evidence from laterites and drainage patterns of the Western Ghats and Konkan Coast

. Earth Planet. Sci. Lett.,

137

,

57-69

.
; 1996.
Related Articles
---
The Encyclopedia of Ecology and Environmental Management, Blackwell Science
This term (derived from the Latin later , brick) was introduced to describe the vesicular, mottled, dark-red and cream, clayey material that...
See more from Credo