Topic Page: Ladd-Franklin, Christine (1847 - 1930)
Summary Article: Ladd-Franklin, Christine
from American Women of Science since 1900
1847–1930
Psychologist
Education: A.B., mathematics, Vassar College, 1869; Ph.D., mathematics, Johns Hopkins University, 1926; University of Göttingen, 1891–1892; University of Berlin, 1892, 1894, 1901
Professional Experience: high school teacher, 1869–1878; lecturer, psychology and logic, Johns Hopkins University, 1904–1909; lecturer, psychology and logic, Columbia University, 1914–1927
Christine Ladd-Franklin was one of the foremost women psychologists of the early twentieth century. Her research interests included color vision, deductive reasoning, the doctrine of histurgy, the one-time one-place theory of judgment, and proof that a nerve when stimulated emits physical light. Although she published papers on symbolic logic, her primary contribution to the history of psychology is her emphasis on the evolutionary development of increased differentiation in color vision, known as the Ladd-Franklin color theory. She published a compilation of her papers in Colour and Colour Theories (1929) and was invited to contribute an appendix to the English translation of Hermann von Helmholtz's classic Handbook of Physiological Optics (1924).
Ladd-Franklin studied mathematics at Vassar because there were no laboratory facilities available for study in physics. After she graduated in 1869, she taught high school science for 10 years, during which time she published articles on mathematics in the British journal Educational Times and the American journal Analyst. Originally denied admission to graduate study due to her sex, she was eventually admitted to Johns Hopkins University on a fellowship due to the recommendation of a mathematics professor who had read her papers. Although she fulfilled the requirements for a Ph.D. by 1882 with a thesis on "The Algebra of Logic," the trustees refused to grant the degree to a woman, as was the custom at that time; she finally received the degree in 1926. Still, even without the formal degree, she held a lectureship in logic and psychology at Johns Hopkins from 1904 to 1909. In 1882, she married Fabian Franklin, a member of the mathematics department, and the couple moved to New York City in 1910 when he was appointed to an associate newspaper editor position. She spent the remainder of her career lecturing on logic and psychology at Columbia University.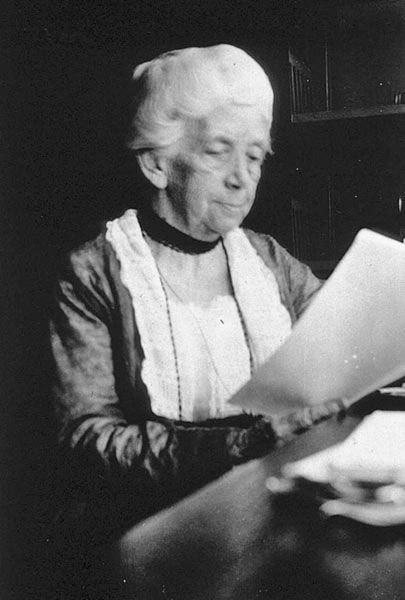 Ladd-Franklin was a strong supporter of higher education, and she was instrumental in establishing research fellowships and even giving her money directly to women scientists who needed funds for research or travel. She published newspaper articles and editorials on women's education and status. Vassar College awarded her an honorary degree in 1887. She was a member of the American Association for the Advancement of Science, the American Society of Naturalists, the American Psychological Association, the Optical Society of America, and the American Philosophical Association.
Related Articles
---
Biographical Dictionary of 20th Century Philosophers
American, b: 1847, New York, d: 1930, Columbia. Cat: Logician; mathematician; psychologist. Ints: Boolean logic; colour vision theory;...
Biographical Dictionary of Psychology
Born : 1847, Windsor, Connecticut, USA Died : 1930, New York, USA Nat : American Ints : Experimental psychology Educ : PhD Johns...
See more from Credo