Topic Page: La Guardia, Fiorello (1882 - 1947)
Summary Article: La Guardia, Fiorello
from The Social History of Crime and Punishment in America
Fiorello Henry La Guardia (1882–1947) was the 99th mayor of New York City (1934–45). He reorganized the police force and restored trust in a municipal government that had been perceived as patronage laden and corrupt during the mayoralty of James J. Walker (1926–32).
La Guardia was born Fiorello Enrico La Guardia in New York's Greenwich Village. His father was Achille La Guardia, a lapsed Roman Catholic who was a bandmaster in the United States Army, and his mother, Irene Coen Luzzato, was Jewish. La Guardia was raised an Episcopalian. His middle name "Enrico" was changed to "Henry" (the English form of Enrico) when he was a child. He grew up in Prescott, Arizona, attending public school and high school there, where his father was posted. When his father became ill during the Spanish–American War, he was discharged from the army, and the family moved to Europe. They lived in Trieste, Austria, his mother's hometown.
La Guardia joined the U.S. State Department's Consulate Service at the age of 17 and served in American consulates in Budapest and Trieste between 1901 and 1904. From 1904 to 1906, he was the American consular agent in Fiume, Hungary. He returned to the United States to study law at New York University, graduating in 1910. While in law school he was an interpreter for the U.S. Bureau of Immigration at Ellis Island.
Political Career
In 1915, La Guardia entered public service as a deputy attorney general in the New York State attorney general's office. An unsuccessful Republican congressional candidate in 1914, he was elected to the U.S. House of Representatives two years later. Shortly after taking office, La Guardia joined the U.S. Army Air Service in August 1917 as a lieutenant. He commanded a bomber unit on the Italian-Austrian front during World War I in a plane named the Congressional Limited. He left the service as a major at the end of the war.
In 1919 Congressman La Guardia was elected president of the New York City Board of Aldermen (the local legislative body), defeating the Democratic incumbent, Robert L. Moran, by 1,300 votes. Defeated for re-election in 1921, La Guardia was elected again to the House of Representatives in 1922, where he served until March 3, 1933. His major legislative achievement was the Norris-La Guardia Act, which he cosponsored with Senator George W. Norris. The 1932 law stripped federal courts of their jurisdiction over the enforcement of "yellow-dog contracts," which prohibited employees from joining labor unions. The act permitted employees to form unions without employer interference and denied the courts jurisdiction to issue injunctions in nonviolent labor disputes. In 1929 La Guardia challenged Mayor Jimmy Walker, losing by more than 500,000 votes. La Guardia charged the Walker administration with corruption but was overwhelmed by the Democratic Party's "Tammany Hall" machine. In 1932 La Guardia lost his congressional seat in the Roosevelt landslide.
Mayor of New York
Walker resigned in 1932 after an investigation conducted by Samuel Seabury found that many of La Guardia's charges against the mayor and his administration were true. La Guardia ran again, this time as a Republican-fusion candidate, making corruption his main issue. La Guardia was elected in a three-way race. Taking office January 1, 1934, La Guardia made ending corruption in government and racketeering in business a top priority. La Guardia's first action as mayor was to order the police to arrest mobster Charlie "Lucky" Luciano. In a radio address, La Guardia declared war on gangsters, saying, "Let's drive the bums out of town." La Guardia attacked Frank Costello's slot machine empire and had thousands of the machines confiscated by the police. In a media event, the mayor took a sledgehammer to some of the "one-armed bandits" and had them dumped off a barge into the East River. Relying on a provision of the New York City charter that designated the mayor as a "magistrate," La Guardia occasionally heard criminal cases in the magistrate's court, which had jurisdiction over petty crimes. La Guardia also succeeded in shutting down the burlesque theaters, whose risqué shows offended him.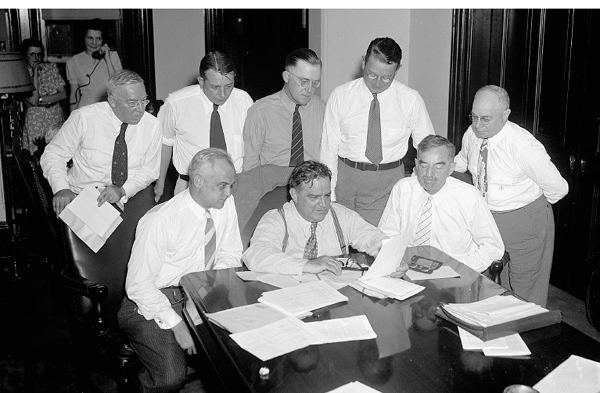 La Guardia's war against Luciano eventually succeeded as Thomas E. Dewey, the special investigator for organized crime, was able to convict the first boss of the Genovese crime family of heading a prostitution ring. Luciano was sentenced to a 30-to-50-year term (he would be paroled in 1946, with the stipulation that he leave the United States for Sicily).
However, despite the mayor's bluster against organized crime, biographer Thomas Kessner observed in 1989 that
incantations against punks and tinhorns won headlines, and La Guardia's support for abusing known criminals encouraged the police, but the fireworks did not significantly impede the growth of underworld racketeering.
La Guardia was re-elected in 1937 and 1941. In 1945, he decided not to seek a fourth term. La Guardia served as president of the U.S. Conference of Mayors (1936–45), U.S. director of the Office of Civilian Defense (1941–42), chairman of the U.S. section of the Permanent Joint Board on Defense (1940–46), special U.S. ambassador to Brazil (1946), and director general of the United Nations Relief and Rehabilitation Administration (1946). La Guardia died of pancreatic cancer at his home in the Riverdale neighborhood of the Bronx on September 20, 1947.
See Also: Adair v. United States; Corruption, History of; Dewey, Thomas E.; Gambling; Luciano, "Lucky"; New York; New York City; Organized Crime, History of..
Further Readings
Fiorello La Guardia: Ethnicity and Reform

. Arlington Heights, IL:

Harlan Davidson

, 1993.

The Great Mayor: Fiorello La Guardia and the Making of the City of New York

. New York:

St. Martin's Press

, 2003.
.

The La Guardia Years: Machine and Reform Politics in New York City

. New Brunswick, NJ:

Rutgers University Press

, 1961.
.

When La Guardia Was Mayor: New York's Legendary Years

. New York:

W. W. Norton

, 1978.
.

The Napoleon of New York: Mayor Fiorello La Guardia

. Hoboken, NJ:

John Wiley & Sons

, 2002.
.

Fiorello: His Honor, the Little Flower

. New York:

Atheneum

, 1981.
.

Fiorello H. La Guardia and the Making of Modern New York

. New York:

McGraw-Hill

, 1989.
.
Related Articles
---
Encyclopedia of Politics
FIORELLO H. LA GUARDIA was a maverick politician who was instrumental in bringing about a series of reforms during 12 years as mayor of New York...
Encyclopedia of Urban America: The Cities and Suburbs
(1882–1947) Fiorello La Guardia was mayor of New York City from 1934 through 1945. A seven-term member of Congress (1917–1921, 1923–1933),...
See more from Credo