Summary Article: KUMBH MELA SPIRITUAL PILGRIMAGE
from They Do What? A Cultural Encyclopedia of Extraordinary and Exotic Customs from around the World
Kumbh Mela is considered to be the largest religious gathering in the world. As an illustration, the pilgrimage held in Allahabad, India, in 2013 (from January 14 to March 10) attracted over 80 million visitors (Daniel 2013). The festival is usually held between January and February despite the cold temperatures. It is a peaceful gathering in contemporary India where tens of millions of Hindu followers congregate for fifty-five days to bathe in a sacred river during the most auspicious days of the massive celebration. The festivities are held every three years in a rotation pattern in one of four possible locations in India: Haridwar, Nashik, Ujjain, and Allahabad (also known as Prayag). Each of these four locations has at least one large river where the gathering takes place: the Ganges River at Haridwar; the Godawari River at Nashik; the Shipra River at Ujjain; and the meeting point of the Ganges, Yamuna, and Saraswati Rivers at Allahabad. As a result of the rotation system, the Kumbh Mela celebration only takes place in each location every twelve years, but the one held in Allahabad is the largest of them all. Moreover, the Maha Kumbh Mela is held only in Allahabad every 144 years. It is a massive celebration that brings people together (including Hindu saints, gurus, and monks) moved by faith where they can pray for salvation and wash their sins away by bathing in one of the sacred rivers. Millions of followers also come hoping that the attending gurus offer blessings and spiritual wisdom. For devoted Hindus, this is a memorable once-in-a-lifetime experience.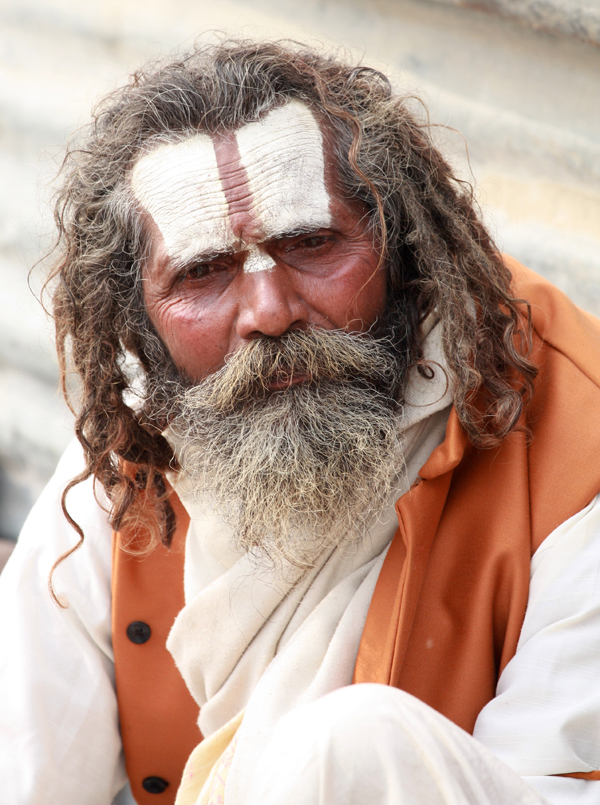 The primary goal of the pilgrimage is the ritual bath on the river banks. Multiple Hindu groups follow specific traditions. For example, one of the most notorious sects are the sadhus followers who wear saffron-color sheets to cover themselves and display their skin covered with ashes; the naya sanyasis do not wear any clothes, and they bathe completely naked, even during the extremely cold temperatures in January and February. While these groups receive most of the visual attention of the media, there are millions of average Hindu devotees (mostly from rural areas) who make the arduous pilgrimage from their villages to the religious site. During Kumbh Mela, however, there are other activities held, such as discussing religious doctrine, singing spiritual songs, feeding millions of poor people, offerings for the ancestors in the afterlife, and gatherings of saints and leaders to establish specific religious positions related to contemporary social issues. This congregation brings together so many religious leaders because it is considered the most sacred gathering for Hindu followers.
The history of the Kumbh Mela celebration dates back for centuries as travelers mentioned in their journals events regarding river festivals in India. A Chinese Monk named Xuanzang wrote about it during his visit to India in 629 ace. Centuries later, Mark Twain also wrote about it during his travels throughout Asia in 1895. In contemporary India, most media venues offer comprehensive coverage of the event in multiple formats, including television, radio, Internet, blogs, twitter, and other communication media. The celebration is based on Hindu mythology. Most devotees have learned the legend of a battle between demons and gods that took place in heaven when they were fighting over a pitcher holding the nectar of immortality. They fought for twelve days and twelve nights, which is equivalent to twelve years in human terms. During the dispute, four drops of such nectar fell to earth and landed on the four places in India where Kumbh Mela has been celebrated for centuries. The actual location for the religious celebration is determined by the position of the Sun in relation to the Moon and the planet Jupiter. Those calculations also determine the most auspicious days to bathe in one of the rivers to maximize the influence of such celestial elements.
The preparations for this event represent a logistical challenge to most local governments as well as health officials and law enforcement agencies. For example, the city of Allahabad prepared for months in 2013 and organized a temporary city on the sandy river banks of the Ganges. In order to manage the enormous crowds, the city made arrangements for more than 40,000 temporary toilets, created a large network of pipes for drinking-water infrastructure, scheduled additional trains and transportation, set up fourteen temporary rudimentary hospitals, employed over 30,000 police for security, coordinated 243 doctors working twenty-four hours a day, and provided a large flotilla of trucks bringing food for millions of people (Pandey 2013). During the celebration, meat and all types of liquor are strictly forbidden. For the high-tech Hindu followers, there is even an app for smart phones to help the devotees navigate their way to the holy rivers. The city also coordinated a vast number of volunteers who helped the weak and the elderly at the river with their ceremonial bathing ritual. They also provided assistance to the crowds by moving the people who had finished bathing in order to make space for more Hindu followers.
In recent years, city officials and social welfare agencies have noticed important social patterns and concerns. For example, health officials at Allahabad have issued warnings against drinking the water due to the potential pollution of the rivers. A more serious concern is that an increasing number of Indian families use the large crowds of the celebration to take their elderly relatives and then abandon them there; the majority are elderly widows. The general reason is that family members no longer want to look after them or support them. City leaders have reported that dozens of elderly people are abandoned at the religious gatherings, and city officials now anticipate such occurrences (Spinney 2013). Overall, the Kumbh Mela celebration has always attracted millions of followers from all regions of India, but in the past twenty years, it has also been attended by large numbers of foreigners who also follow Hinduism.
Further Readings
Millions of Hindus Take to the Ganges at Maha Kumbh Mela

." Reuters. Allahabad India. January 14, 2013.

http://in.reuters.com/article/2013/01/14/india-allahabad-ganga-maha-kumbh-mela-idINDEE90D05Q20130114

(Accessed on September 7, 2013).
"
Kumbh Mela Official Website

.

http://kumbhmelaallahabad.gov.in

(Accessed on September 6, 2013).
Kumbh Mela and the Sadhus—The Quest for Immortality

. Pilgrims Publishing

Varanasi India

, 2010.
;
Kumbh Mela: Eight Million Bathers on First Day of Festival

." BBC News, India. January 14, 2013.

http://www.bbc.co.uk/news/world-asia-india-21017217

(Accessed on September 7, 2013).
"
At Largest Religious Festival, Some Abandon Elderly; At the Maha Kumbh Mela in India, Families Ditch Older Relatives in the Crowds

." National Geographic. February 22, 2013.

http://news.nationalgeographic.com/news/2013/02/130223-culture-travel-religion-india-maha-kumbh-mela-world-women-widow-hindu-festival/

(Accessed on September 6, 2013).
"
Related Articles
---
Holiday Symbols and Customs
Type of Holiday: Religious (Hindu) Date of Observation: Every twelve years on a date calculated by astrologers; next fair scheduled for 2013 Where C
Encyclopedia of Sacred Places
The Kumbh Mela is perhaps the world's largest religious gathering. Hindu legend has it that a pitcher ( kumbha ) containing the nectar of...
Dictionary of Hindu Lore and Legend, Thames & Hudson
Also known as Allahabad it is one of the seven holy cities of the Hindus, situated at the confluence of the Ganga, the Yamuna and...
See more from Credo