Topic Page: Knox, Henry, 1750-1806
---
Definition:
Knox, Henry
from
Chambers Biographical Dictionary
1750-1806
US soldier
Born in Boston, he ran his own bookshop there until the outbreak of the Revolutionary War. He commanded the Continental Army artillery and was a close friend and adviser to General George Washington throughout the war, wintering at Valley Forge and serving in almost all the important engagements of the war. He became a major-general, followed Washington as commander of the army (1783-84), and was named US Secretary of War (1785-94).
---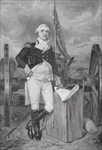 Summary Article: Knox, Henry
from Encyclopedia of the Wars of the Early American Republic, 1783-1812, The: A Political, Social, and Military History
Birth Date: July 25, 1750
Death Date: October 5, 1806
Continental Army general and secretary of war (1785–1794). Henry Knox was born in Boston, Massachusetts, on July 25, 1750. His father died when Knox was 12, and he left school to work in a bookshop in order to help support his family. In 1771 Knox opened his own bookshop. Intensely interested in military history and affairs, especially artillery, he read widely. In 1768 Knox became a member of a local artillery company, and in 1772 he helped establish the Boston Grenadier Corps, another militia organization in which he was second-in-command. A supporter of the Sons of Liberty, he personally observed the infamous Boston Massacre of March 5, 1770.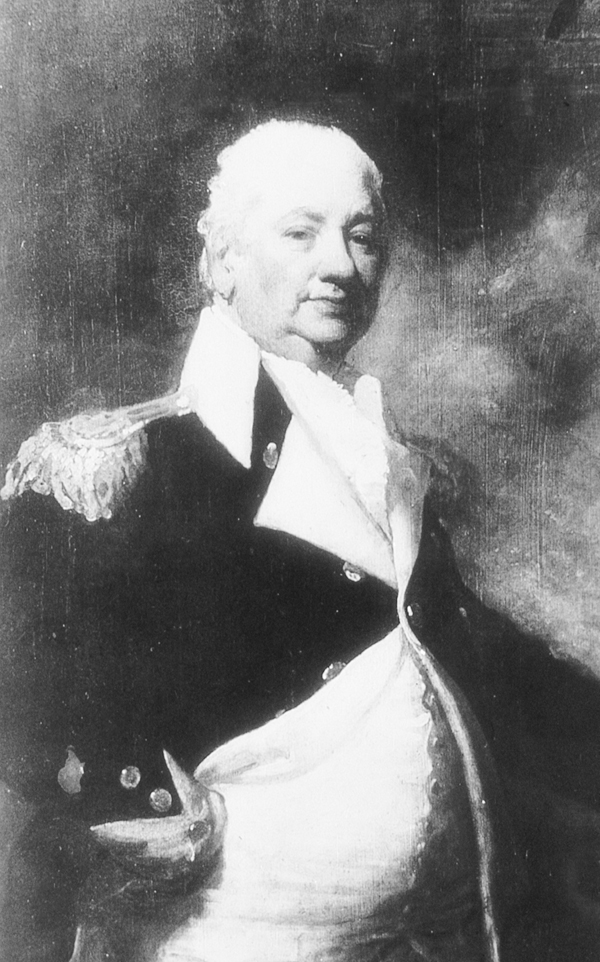 Two months after fighting commenced at Lexington and Concord in April 1775, Knox and his family abandoned Boston, and he joined the New England militiamen besieging the town. From July to November, he served under Massachusetts Militia general Artemas Ward as a volunteer and saw action at the June 17, 1775, Battle of Bunker Hill. Meeting Continental Army commander General George Washington on July 5, Knox soon joined that officer's most trusted circle of friends and military advisers. Knox was commissioned a colonel on November 17, 1775, and was entrusted by Washington with command of the army's regiment of artillery.
Knox set off for Fort Ticonderoga in upstate New York to secure artillery taken when that post was captured from the British in May. He returned to Boston in late January 1776 with 59 artillery pieces, 2,000 muskets, and large quantities of ammunition, which was accomplished in midwinter—an amazing feat. With the placement of these guns, Washington compelled the British to evacuate Boston in March. Afterward, Knox was employed working on coastal fortifications in Rhode Island and Connecticut.
In June 1776, Knox joined Washington in New York and continued to organize the Continental artillery. Knox's greatest difficulty was in procuring trained manpower for the 120 cannon that the Continental Army possessed. From July to November, Knox fought in all the battles during Washington's loss of New York and the retreat across New Jersey. On December 17, 1776, Knox was promoted to brigadier general and saw action in the pivotal battles at Trenton and Princeton.
In early 1777 Knox was ordered to Springfield, Massachusetts, where he established America's first arsenal. He took part in the Battle of Germantown in October 1777 and the Battle of Monmouth in June 1778 and then spent the next two years serving as one of Washington's closest advisers. Knox commanded the American artillery in the successful siege of Yorktown, Virginia, in 1781.
In March 1782, Congress advanced Knox to major general. He served at West Point in 1782 and was named commander of that post on August 29. On December 23, 1783, he succeeded Washington as commander in chief of the Continental Army. Knox resigned his commission in January 1784 and returned to Boston. He was a cofounder of the Society of the Cincinnati in 1783.
The State of Massachusetts subsequently commissioned Knox to negotiate treaties with the Penobscot Native Americans as well as Nova Scotians. At the same time, Knox joined Washington and others in encouraging Congress to organize a larger military establishment. In March 1785 the Continental Congress named Knox secretary of war, the first person to hold that position.
As secretary of war, Knox's duties were wide-ranging and included both Indian affairs and military matters. In September 1789 Knox continued in that post under the new Constitution when President Washington organized his first cabinet. In cabinet battles, Knox usually sided with the Federalists.
An able administrator, Knox successfully advocated for the creation of the Legion of the United States in 1792, and he urged the creation of a U.S. Navy, which was realized in 1794. He then oversaw the construction of the six frigates authorized under the bill. Knox also had the rather unenviable task of implementing the Militia Acts of 1792, which included a thorough review of the nation's military readiness and capability. What he discovered was deeply troubling. Among other things, only 20 percent of the nation's militiamen were able to provide their own arms, which is what the law had mandated. Knox thus recommended more money for the acquisition of weapons and the development of a domestic government-supervised arms industry. The result was the establishment of the Springfield Armory in Massachusetts and the Harpers Ferry Armory in Virginia, both of which were created in 1794.
Most of Knox's attention as secretary of war was directed toward resolving Indian problems in the Old Northwest Territory. In 1792 after two failed military attempts to subdue the Indians in the region—the Harmar Expedition of 1790 and St. Clair's Campaign of 1791—Knox formulated a two-part program to deal with the problem, conducting negotiations with the Indians to prevent them from making further attacks while simultaneously organizing a military expedition to defeat them. After many months of talks, Knox authorized another military expedition when a substantial force had been prepared. Major General Anthony Wayne's campaign of October 1793–August 1794 defeated the Native Americans and ended Little Turtle's War (Northwest Indian War, 1785–1795) in the August 20, 1794, Battle of Fallen Timbers. Just weeks later, Knox resigned.
Retiring to Thomaston, Maine (then part of Massachusetts), Knox pursued many business ventures, including fishing, shipbuilding, sawmilling, and brick making. He died near Thomaston on October 5, 1806.
See also
Fallen Timbers, Battle of; Federalist Party; Harmar Expedition; Legion of the United States; Little Turtle's War; Militia Acts; Naval Act of 1794; St. Clair's Campaign; United States Navy; Washington, George; Wayne, Anthony
Further Reading
Henry Knox: George Washington's Confidant, General of Artillery, and America's First Secretary of War

. Picton

Rockport ME

, 2003.
Henry Knox: Visionary General of the American Revolution

. Palgrave Macmillan

New York

, 2008.
.
Citizens and Soldiers: Henry Knox and the Development of American Military Thought and Practice

." Unpublished PhD dissertation, University of North Carolina

Chapel Hill

, 2000.
. "
The Department of War, 1781-1795

. University of Pittsburgh Press

Pittsburgh

, 1962.
Related Articles
---
The Bloomsbury Encyclopedia of the American Enlightenment
Henry Knox was born on July 25, 1750, the son of a prosperous Boston shipbuilder who fled the town following his bankruptcy during the economic coll
500 Great Military Leaders
American general and U.S. secretary of war. Born in Boston, Massachusetts, on July 25, 1750, Henry Knox was forced by the death of his father to go
Encyclopedia of the Wars of the Early American Republic, 1783-1812, The: A Political, Social, and Military History
Birth Date: September 3, 1745 Death Date: June 9, 1824 Army quartermaster general during 1791–1792. Born in Boston, Massachusetts, on September 3, 1
See more from Credo