Topic Page: Kesey, Ken (1935 - 2001)

Summary Article: Kesey, Ken
from Alcohol and Drugs in North America: A Historical Encyclopedia
Kenneth Elton (Ken) Kesey (1935–2001) was an American author who wrote the novel One Flew Over the Cuckoo's Nest (1962), set in a mental hospital. His LSD acid test parties and his cross-country bus tour with the Merry Pranksters in 1964 made him a counterculture icon.
An outstanding student, in 1957, he received a degree in speech and communication at the University of Oregon where he had been a champion wrestler. Awarded a prestigious Woodrow Wilson National Fellowship for prospective college teachers, he enrolled in the creative writing program at Stanford where he studied under Wallace Stegner. It was there that he began One Flew over the Cuckoo's Nest. Supposedly he was inspired to write this book by his participation in a CIA-funded experiment on the use of psychoactive drugs at a nearby veterans' hospital.
Afterward, Kesey left academe to retreat to a new home in the mountains south of San Francisco where he held acid parties, acid being LSD. Music by bands such as the Warlocks (later the Grateful Dead) was accompanied by light shows with psychedelic effects.
After his second novel came out in 1964, Kesey and friends known as the Merry Pranksters rode an old school bus from California to New York. The bus was called Furthur, an accidental misspelling. The Beat Generation poet, Neal Cassady, was the most famous of Kesey's Prankster companions. In New York, Kesey met Jack Kerouac, Allen Ginsberg, and Timothy Leary.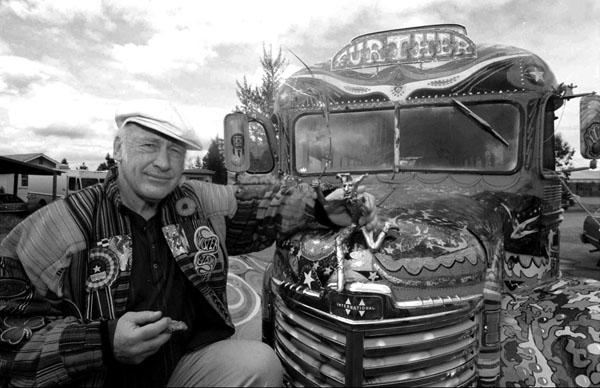 After a drug arrest for marijuana in 1965 and a brief jail term, Kesey spent most of the remainder of his life writing at his family's farm in Oregon. He made an occasional appearance at a rock concert, and in 1994, he joined the Merry Pranksters in a tour when they performed his musical play about the approaching millennium. During his long semiretirement he produced nothing to match his youthful first novel.
See also Leary, Timothy; LSD; Stanley, Owsley
References
Acid Dreams: The Complete Social History of LSD: the CIA, the Sixties, and Beyond

. Grove Press

New York

, 1985 [New introduction, 1992].
; .
A Long Strange Trip: The Inside Story of the Grateful Dead

. Broadway Books

New York

, 2003.
.
Storming Heaven: LSD and the American Dream

. Grove Press

New York

, 1987.
.
The Electric Kool-Aid Acid Test

. Farrar Straus

New York

, 1968.
.