Topic Page: Kennedy, Jacqueline (1929 - 1994)
---
Definition: Kennedy Jacqueline Lee Bouvier from The American Heritage(R) Dictionary of the English Language
---

Summary Article: Kennedy, Jacqueline Lee Bouvier
from Encyclopedia of the Kennedys: The People and Events That Shaped America
Jacqueline Bouvier Kennedy played a historic role during the John F. Kennedy administration—most notably in the form of her restoration of the White House, her contribution to its collection of art and historical furnishings, her support of the arts, her leadership in historic preservation, and her work as a traveling ambassador.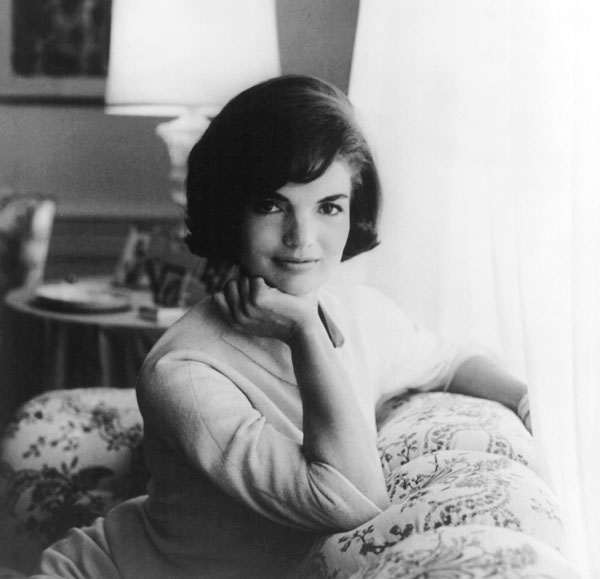 Jacqueline Lee ("Jackie") Bouvier was born on July 28, 1929, in Southampton, New York. Her father, John Vernou Bouvier III, was an affluent Wall Street stockbroker whose ancestors had arrived from France in the early 1800s. Her mother, Janet Lee Bouvier, an accomplished equestrian, was of Irish and English parentage. Jackie spent her childhood in New York City and Long Island and later, following her mother's divorce in 1940 and remarriage to Hugh D. Auchincloss II in 1942, in McLean, Virginia, and Newport, Rhode Island. Her favorite pastimes were reading, sketching, writing poems, and riding horses.
Jackie attended Miss Porter's School for Girls in Connecticut and Vassar College, where she excelled in history, literature, art, and French. After studying at the Sorbonne in Paris for her junior year in 1949, she returned to the United States to earn a degree in French literature from George Washington University.
While she was finishing the work for her degree in 1950, she entered a writing contest sponsored by Vogue called the "Prix de Paris," which she won with her essay on "People I Wish I Had Known," beating out 1,279 other contestants. Her subjects were Oscar Wilde, Charles Baudelaire, and Sergei Diaghilev. Her victory entitled her to a year-long position as a trainee at Vogue, spending six months in their New York office and six months in the Paris office. Jackie's parents, especially her stepfather, felt that she had spent a long time in Europe already, and they were concerned that if she took the job she would not return to the United States. At their request, Jackie turned down the offer and went to work instead.
Her first job was in 1952 as the "Inquiring Camera Girl" for the Washington Times-Herald, roving the city with her camera to capture citizens' reactions to issues of the day. During this time, Jackie met the young senator from Massachusetts, John F. Kennedy. They were married on September 12, 1953, at St. Mary's Church in Newport. A crowd of 3,000 onlookers waited outside the church for a glimpse of the newlyweds. Afterward, 1,200 guests attended the wedding reception at Hammersmith Farm, the nearby Auchincloss estate, a place filled with happy memories for the bride of the summers she had spent there with her mother and stepfather, brothers and sisters.
Following their wedding, the Kennedys lived in the Georgetown section of Washington, D.C. During her husband's convalescence from major back surgery in 1955, she encouraged his interest in writing Profiles in Courage, a study of highly principled political decisions in U.S. history, which he eventually dedicated to her. The book won the 1957 Pulitzer Prize for biography, a momentous year for the Kennedys, as their first child, Caroline Bouvier Kennedy, was born that November.
In January 1960, Senator John F. Kennedy announced his candidacy for the presidency of the United States, launching 11 months of cross-country campaigning. A few weeks into the campaign, Jacqueline became pregnant and her doctors instructed her to remain at home. There she answered campaign mail, taped TV commercials, gave interviews, and wrote "Campaign Wife," a syndicated column carried across the nation. Celebration of a Kennedy election victory was followed just weeks later by celebration of the birth of the Kennedys' second child, John Fitzgerald Kennedy, Jr.
At age 31, Jacqueline Kennedy became the third youngest first lady in U.S. history and the first to be the mother of an infant since the turn of the century. She defined her major role as "to take care of the president," but added that "if you bungle raising your children, I don't think whatever else you do well matters very much."
Jacqueline Kennedy first visited the White House as a tourist with her mother and sister in 1941. She was dismayed to see so few historical furnishings on display and frustrated by the lack of a booklet to inform visitors about the history of the great house. Twenty years later, as first lady, she sought to change things and make the White House "the most perfect house in the United States."
Prior to her husband's inauguration, Mrs. Kennedy visited the White House as the guest of First Lady Mamie Eisenhower. Disappointed with its appearance, Mrs. Kennedy referred to the White House as "that dreary Maison Blanche." Calling it an "eighteenth-century house," she believed that it should be furnished with antiques in the style of past presidents. It was, she thought, a museum that should reflect the artistic history of the United States.
"All these people come to see the White House and they see practically nothing that dates back before 1948," Mrs. Kennedy said in a September 1, 1961, interview with Hugh Sidey of Life magazine. "Every boy who comes here should see things that develop his sense of history. For the girls, the house should look beautiful and lived-in. They should see what a fire in the fireplace and pretty flowers can do for a house; the White House rooms should give them a sense of all that. Everything in the White House must have a reason for being there. It would be sacrilege merely to 'redecorate' it—a word I hate. It must be restored—and that has nothing to do with decoration. That is a question of scholarship."
It was Mrs. Kennedy's passion for history that guided and informed her work in the White House. She wanted to share her knowledge and excitement about the past with all Americans, especially children. She recognized that to a child, American history can often be a rather dry and dull affair, and she saw a visit to the President's House as a chance to spark each child's interest in the people who made the country what it is today.
Mrs. Kennedy quickly learned that many White House furnishings of the past were kept in government storage facilities spread throughout Washington, D.C. Some pieces had accompanied presidential families when they left the White House; others had been sold at public auctions in the nineteenth century. With the goal of restoring the state rooms of the White House to reflect the artistic and architectural history of the presidential mansion, she established, within a month of becoming first lady, a White House Fine Arts Committee made up of experts in historic preservation and decorative arts. Mrs. Kennedy and her committee were successful in locating and soliciting the donation of furniture and artwork that had been owned by presidents, had been part of the White House collection, or exemplified the period portrayed in the different rooms. Most important among their finds were items that had belonged to Presidents George Washington, Abraham Lincoln, and James Madison. Mrs. Kennedy personally went through each White House storage room unearthing forgotten pieces, which she then had restored and returned to places of prominence.
Mrs. Kennedy began with the restoration of the Oval Office. Among the items she found within the White House was a desk made from the timbers of the British sailing ship HMS Resolute, presented by Queen Victoria in 1878 to President Rutherford B. Hayes. Mrs. Kennedy had it dusted off and moved into the Oval Office, where it remains today. An exact replica of the desk can be found in the Kennedy Library and Museum's Oval Office exhibit.
To avoid the politically controversial use of public money for this work, Mrs. Kennedy established the White House Historical Association, which would publish the first official White House guidebook (1962). All profits from the sale of the guidebook to the millions of visitors who toured the White House would be used to fund the restoration project and to purchase the furnishings and other historic materials located by the Fine Arts Committee. Together with the newly appointed White House Curator (a position Mrs. Kennedy championed), she approved the guidebook's text, chose which photographs would be featured, and designed the book's layout. The book was finally published to great success. Within six months of publication, 500,000 copies were sold. The book, The White House: An Historic Guide, continues to support the work of the White House Historical Association.
With her project near completion, Mrs. Kennedy agreed to conduct a televised tour of the Executive Mansion for CBS Television on February 14, 1962. A record audience of 56 million viewers tuned in to hear the First Lady as she guided them through the White House and its newly restored rooms. She expressed her vision of the White House as not only a place for the president to work and live, but also as a pilgrimage for every American, a showcase for art and culture, and a place of national pride. The tour was so well received that the Academy of Television Arts and Sciences awarded Mrs. Kennedy an honorary Emmy Award for her achievement.
Mrs. Kennedy's interests in historic preservation went beyond the White House walls. She asked her friend, Mrs. Paul Mellon, to redesign the President's Rose Garden, thus making it a natural sanctuary and retreat just outside the Oval Office and an ideal space for greeting special visitors and large groups. Upon learning that the historic homes that lined Lafayette Square across the street from the White House were scheduled for demolition to make room for large government office buildings, she personally intervened and commissioned a new plan that, by placing the new office buildings in back of the period townhouses and sheathing them in red brick, preserved the historical identity of the famous square. Mrs. Kennedy also advocated the restoration of Pennsylvania Avenue, the main thoroughfare connecting the White House to Capitol Hill, and supported creation of a national cultural complex, which eventually became the John F. Kennedy Center for the Performing Arts in Washington, D.C. Her interest in preservation extended beyond the United States and included her involvement in the rescue of the ancient Egyptian temples at Abu Simbel, which were threatened by the flood waters created by the Aswan Dam. Her enthusiasm for historical preservation contributed to its growing influence throughout the nation and enhanced Americans' understanding and appreciation of their heritage.
Mrs. Kennedy was also a patriot. Like President Kennedy, she believed that American civilization had come of age. Together they celebrated American arts and letters and encouraged Americans to take pride in their artistic, as well as their political, heritage. They used diplomatic occasions at home and abroad to express core national values; to celebrate American history, culture, and achievement; and to enhance the role of the arts in national life. As first lady, Jacqueline Kennedy planned state occasions notable for their elegance, transforming the White House into a showcase for cultural and intellectual achievement. Authors, scientists, artists, musicians, and actors mingled with politicians, diplomats, and statesmen. In the East Room, she had a portable stage built for memorable musical and dramatic performances, including a series of concerts for young people. Through her activities, Mrs. Kennedy instilled a new public regard for the arts. In addition, in the world of fashion, she became a trend-setter. Designers, magazines, newspapers and the public were influenced by her taste.
Mrs. Kennedy's interest in the cultures of other countries and her fluency in languages made her a popular ambassador around the world. She accompanied her husband on trips to France, Austria, the United Kingdom, Venezuela, Mexico, Costa Rica, and Colombia and also traveled as first lady to Italy, Pakistan, and India.
It was the extraordinary warm welcome afforded to the French-speaking Mrs. Kennedy during her visit to Paris in May 1961 that prompted President Kennedy's remark, "I do not think it altogether inappropriate to introduce myself … I am the man who accompanied Jacqueline Kennedy to Paris, and I have enjoyed it."
On November 22, 1963, John F. Kennedy was assassinated in Dallas and Jacqueline Kennedy became a widow at age 34. She planned the president's state funeral, which was watched by millions around the world who shared her grief and admired her courage and dignity.
Soon after President Kennedy's death, Mrs. Kennedy began the work to build the John F. Kennedy Library, which would commemorate her husband's life. She chose then-unknown architect I. M. Pei to design the library and decided upon a striking location overlooking Boston Harbor.
Jacqueline Kennedy married Greek shipping magnate Aristotle Onassis in 1968 on Skorpios, his private island. Following his death in 1975, she embarked on a successful career in publishing.
On May 19, 1994, Jacqueline Bouvier Kennedy Onassis died in her New York City home. She was laid to rest beside President Kennedy in Arlington National Cemetery outside Washington, D.C.
See also: Campaign of 1960; Kennedy, Caroline Bouvier; Kennedy, Carolyn Bessette; Kennedy, John Fitzgerald; New Frontier; Sinatra, Francis Albert
Related Articles
---
Great Lives: A Century in Obituaries
19 may 1994 Jacqueline Kennedy Onassis, widow of President John F. Kennedy and the Greek shipping millionaire Aristotle Onassis, died from...
A Companion to First Ladies
Popular accounts of America's first ladies commonly characterize presidential wives as belonging to one of four major categories: the celebrity, the
Britannica Concise Encyclopedia
(born July 28, 1929, Southampton, N.Y., U.S.—died May 19, 1994, New York, N.Y.) U.S. first lady, socialite, and editor. After graduating from Georg
See more from Credo