Topic Page: Kennedy, Anthony M., 1936-

Summary Article: Kennedy, Anthony M.
From American Government A to Z: The Supreme Court A to Z
President Ronald Reagan chose Anthony McLeod Kennedy (1936-) for the Supreme Court in 1987 after the Senate's rejection of Reagan's first nominee for the vacancy, Robert H. Bork, and the withdrawal of his second choice. Kennedy's moderate conservatism and low-key demeanor helped him win unanimous confirmation by the Senate in January 1988. On the Court, he generally has hewed to conservative positions, but he has angered conservatives with his recurrent votes to help form liberal majorities on a range of issues, most notably in the 1992 decision to reaffirm the controversial roe v. wade abortion rights ruling.
Kennedy was born in Sacramento, California. He graduated from Stanford University in 1958, studied at the London School of Economics, and graduated from Harvard Law School in 1961. He practiced law for a year with a San Francisco firm before returning to Sacramento upon his father's death. Kennedy took over his father's practice, which included both law and lobbying activities. He also taught part-time at the McGeorge School of Law.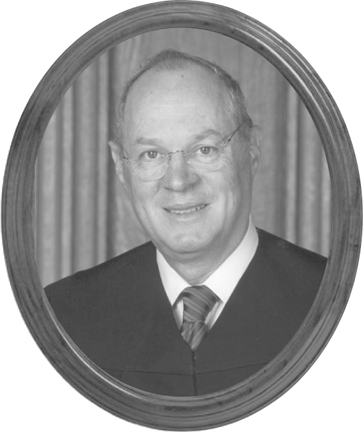 President Gerald R. Ford appointed Kennedy to the Ninth Circuit Court of Appeals in 1975, where he served twelve years. He became Reagan's fourth and last appointee to the Court after two other, more prominent conservative federal judges failed to win confirmation.
Robert Bork was an outspoken champion of judicial conservatism on the federal appeals court in Washington, D.C. After a contentious confirmation hearing and bruising ideological battle, the Senate rejected him by a 42-58 vote. Reagan's next choice, Douglas H. Ginsburg, one of Bork's colleagues on the D.C. Circuit Court, withdrew after admitting that he had smoked marijuana as a student and professor at Harvard Law School.
When Reagan nominated Kennedy, both the administration and the Senate were eager for an easy confirmation. He was approved 97-0.
In Kennedy's first full term, he provided critical votes for a number of important conservative rulings. The decisions upheld state restrictions on abortion procedures, permitted executions of juveniles and mentally retarded persons, restricted minority contractor set-asides, and cut back on job discrimination remedies. Kennedy also wrote a pair of decisions upholding drug testing for railway workers and federal drug investigators.
In the same term, however, Kennedy provided a critical vote for striking down state laws banning flag desecration—an early indication of his later emergence as a strong supporter of First Amendment claims in areas ranging from campaign finance regulation to sexual expression. Kennedy shocked conservatives in 1992 when he refused to join four other justices who voted to overturn Roe v. Wade. Instead, he joined Justices Sandra Day O'Connor and David H. Souter in a pivotal opinion that upheld a woman's right to an abortion but gave somewhat greater leeway for state regulation of the procedure. In the same year, he wrote the Court's decision barring government-sponsored prayer at high school graduations.
Kennedy again disappointed conservatives by voting in 1995 to bar congressional term limits and by writing the 1996 decision overturning an anti-gay rights state ballot measure. In 2003 he wrote the Court's landmark gay rights ruling striking down state antisodomy laws. He also changed his positions from earlier cases by voting in 2002 to bar execution of mentally retarded offenders and writing the Court's 2005 opinion to prohibit the death penalty for juvenile offenders. Kennedy continued to take generally conservative positions, however, on issues such as affirmative action, government aid to parochial schools, criminal procedure, and states' rights.
Along with O'Connor, Kennedy was viewed as being a swing vote between the Court's conservative and liberal blocs. Throughout the 1990s, one or the other of them ended the Court's terms with the fewest dissenting votes of all the justices. With O'Connor's retirement in January 2006, Kennedy's position became more important. Although he sided most often with the conservative bloc, Kennedy cast a critical vote with the liberal justices in the 5-3 ruling later that year against the system of military tribunals that President George W. Bush had established to try suspected enemy terrorists. Two years later, he wrote the 5-4 decision that upheld habeas corpus rights for detainees held at the Guantánamo Bay prison camp. (See war powers.)
Among other liberal rulings, Kennedy wrote 5-4 decisions that barred the death penalty for child rape (2008) and life-without-parole sentences for juvenile offenders (2010) and that ordered California to reduce prison overcrowding (2011). But he led the 5-4 majority in 2007 that upheld the federal ban on so-called partial birth abortions. He also sided with the Roberts Court's conservative bloc in the pair of decisions that established a personal right to possession of firearms under the Second Amendment (2008, 2010) and wrote the Court's 2010 ruling that guaranteed corporations and unions the right to unlimited independent spending in political campaigns.
Related Articles
---
Encyclopedia of Abortion in the United States
Anthony M. Kennedy was appointed as an associate justice of the United States Supreme Court in 1988. While on the Supreme Court Justice Kennedy has
Encyclopedia of the First Amendment
Since being confirmed to sit on the Supreme Court in 1988, Anthony McLeod Kennedy (1936– ) has frequently been in the middle of his...
Encyclopedia of the Fourth Amendment
Anthony McLeod Kennedy (1936–) became an associate justice of the U.S. Supreme Court in 1988, a position he still holds at the time of this writing.
See more from Credo