Topic Page: Keller, Helen (1880 - 1968)

Summary Article: Keller, Helen
from Encyclopedia of Women Social Reformers
The story of the battle of the deaf, dumb, and blind Helen Keller to break out of her solitary world of darkness and silence is an extraordinary one that has been told many times. Even more extraordinary is the manner in which she surmounted enormous obstacles to obtain a university degree and enter a vigorous public career as a socialist, pacifist, and defender of the rights of the handicapped. Refusing to countenance any concessions to her disabilities, Keller was a prolific author, traveled the world, and made many appearances on the lecture circuit to become a twentieth-century icon.
Born in Tuscumbia, Alabama, the daughter of a newspaper editor, Keller was left deaf and blind after an attack of what seems likely to have been either meningitis or scarlet fever at the age of nineteen months. The impossibility of communicating her feelings and frustrations manifested itself in the growing child through uncontrollable bouts of rage and physical violence that her parents found impossible to deal with. They resisted calls by friends and relatives to resort to the conventional solution of having Keller locked away in an institution and, having the financial means, consulted every kind of medical expert. They despaired of their daughter ever making any progress, however, until in 1886 they met Alexander Graham Bell—the inventor of the telephone and himself a pioneer in the teaching of the deaf—who told them of the work of the Perkins Institution in Boston in teaching the blind. The institution responded by sending a young teacher, Anne Sullivan (who also had impaired vision), to live with the family in 1887 and teach Keller a means of communication. Sullivan would remain Keller's devoted amanuensis until she died forty-nine years later, in 1936.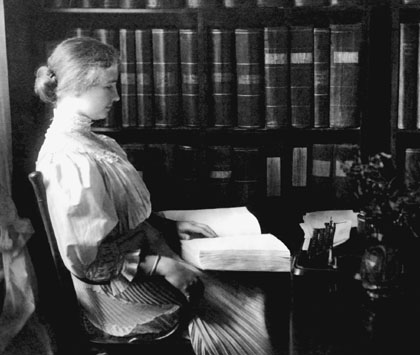 Sullivan's method in breaking through the barriers that isolated Keller from the world of sound and vision was to exploit her heightened sense of touch and teach her a manual alphabet, tapped out in the palm of her hand, through which she slowly learned to associate words with objects. Once Keller had grasped the principle of the method, famously depicted in the later stage play and film, when Sullivan held one hand under running water while signing its letters in the other, she rapidly acquired her first 300 words. From there, and with further therapy at the Horace Mann School for the Deaf in Boston and lipreading (by putting her fingers on the person's mouth) at the Wright-Humason Oral School in New York, Keller, a quick learner, grasped Braille and was eventually able to write proficiently, with a ruler guiding her hand. By 1890 Sullivan had also taught her to "listen," and later even to speak, through a painstaking process of learning to associate the different vibrations of the larynx with different sounds, although Keller's speech remained incomprehensible to all but her close caregivers.
During 1896 to 1900, Keller attended Cambridge School for Young Ladies, with Sullivan alongside to guide her through her lessons in preparation for entry to university studies. She won a place at Radcliffe College in 1900 and proved an outstanding scholar, thanks to the utter dedication of Sullivan, who accompanied her to lectures and translated them by touch into Keller's hand. Textbooks were provided for Keller in Braille, and she mastered the use of a special typewriter for her essays and examination papers. She studied French, German, Italian, Latin, and Greek and even learned to ride and swim. In 1904 she graduated with honors, having already published her autobiography, The Story of My Life, in 1902, an enduring and inspirational text that has since been translated into fifty languages. In 1905 Sullivan married John Macy, a tutor at Harvard who had assisted Keller in the writing of her book, but his wife's unshakable devotion to Keller would eventually lead to the breakdown of the marriage.
Because so much attention has been paid to the moving story of Keller's fight to overcome her physical handicaps, her other and considerable activities and social concerns are often overlooked. A convinced socialist, from the 1910s to the 1920s Keller was an active member first of the Socialist Party of America, which she joined in 1909, and later the more radical Industrial Workers of the World (Wobblies) led by Eugene Debs, to which she defected in 1914 after becoming impatient with the party's lack of political progress. Many of Keller's socialist articles were published in the radical press and collected as Out of the Dark in 1913. Inevitably, Keller's activities were monitored by the Federal Bureau of Investigation under instructions from Herbert Hoover.
In the course of her long public career, Keller never limited herself to campaigning solely within her own sphere of disability, averring that her sympathies lay with all people who struggled for justice and for racial and sexual equality. Part of this attitude no doubt stemmed from her own religious conversion in 1896 to the Swedenborgians, who emphasized the value of the individual spirit and the rights to equality of achievement of all people. In 1927 Keller would publish an account of her faith in My Religion.
With her passionate instinct for women's equality, Keller was a supporter of the birth control movement and votes for women and eschewed the moderate mainstream of the U.S. suffrage movement in preference for the radicalism of the Pankhursts' Women's Social and Political Union. A convinced pacifist, Keller saw all wars as destroyers of the family of human beings, and militarism as perpetuating the most exploitative aspects of capitalism. When World War I broke out in 1914, Keller opposed U.S. entry into the war and in the New York Call of 20 December 1915 published an essay entitled "Menace of the Militarist Program." She undertook an antiwar preparedness lecture tour around the Midwest and in 1917 called for pacifists to work toward a conciliatory "people's peace." In 1932, like many other pacifists disturbed by the rise of fascism in Germany, she joined War Resisters International, and remained vehemently antifascist, going so far as to refuse to allow her books to be translated into German. In 1938, with the threat of war escalating, Keller supported boycotts of goods from Germany, Japan, and Italy.
During World War II, Keller compromised her pacifist sympathies to support what she felt was a necessary war against fascism and supported the U.S. war effort by visiting the wounded in military and naval hospitals, in particular commiserating with those who had been blinded or had lost limbs. In the postwar years, she offered her support to blind war veterans. After she visited the devastated Japanese cities of Hiroshima and Nagasaki, she vowed to commit herself to the fight against the development of nuclear weapons.
The major part of Keller's life from the early 1920s, however, was taken up with working for the blind. After 1913, her own difficult financial situation had been eased by Andrew Carnegie's award of a lifetime pension of $5,000 per year, which enabled her and Sullivan to embark on lecture tours. Appearing in public lecture halls as well as on the vaudeville circuit (1920–1924), they demonstrated their lipreading and signing skills in order to raise public awareness of the problems of the deaf and blind. Keller also was one of the first to speak openly of the occurrence of blindness in newborn babies, passed on to them in the womb by mothers infected with venereal disease. In 1924 she and Sullivan began fund-raising for the American Foundation for the Blind; for the rest of her life, Keller would be its leading international campaigner, with Sullivan's help reaching a fund-raising target of £2 million through their lectures on their unique partnership. Keller's lobbying during the 1930s on behalf of the blind also secured the passage of the Pratt Bill, which provided for reading services for the blind, and the 1935 Social Security Act, which made blind people eligible for federal welfare assistance.
By the late 1920s Sullivan's own eyesight, which she had partially recovered after several operations, was rapidly deteriorating, and she too went blind. Her death in 1936 was a devastating blow to Keller, and in 1938 she published an account of her difficulties in adjusting to the loss of Sullivan in Helen Keller's Journal, 1936–1937. After Sullivan's death, Keller was assisted in her work by her secretary-housekeeper, Polly Thompson, who had joined her and Sullivan in 1914.
Keller undertook a succession of seven world tours between 1946 and 1957, promoting the welfare of the blind worldwide under the auspices of the American Foundation for Overseas Blind; her own Helen Keller Endowment Fund was used to channel donations from her many wealthy patrons into helping people suffering in the Third World. She outlived Polly Thompson, too (who died in 1960), and by the time of her death at the age of eighty-eight had received honorary degrees from Harvard and Temple Universities, the 1964 Presidential Medal of Freedom, and France's Legion of Honor. Her many autobiographical writings include The World I Live In (1909), Optimism: My Key of Life (1926), My Religion (1927), and Midstream: My Later Life (1929). A further testament to the devotion of Sullivan, Teacher, appeared in 1955.
Keller's story was immortalized by a 1959 Pulitzer Prize–winning Broadway play, The Miracle Worker, by William Gibson. Based on Keller's book, The Story of My Life, it became an Academy Award–winning film of the same title in 1962. There is a considerable amount of material about Keller's life and work on the World Wide Web via the site http://www.about.com. The work for the deaf and the blind inspired by Helen Keller continues through organizations such as the Royal National Institute for the Blind (www.rnib.org.uk/), American Foundation for the Blind (www.afb.org, which also has much of her writing online), Helen Keller National Center for Deaf-Blind Youth and Adults (www.helenkeller.org), and Helen Keller International (www.hki.org).
See also Pankhurst, Christabel; Pankhurst, Emmeline; Pankhurst, (Estelle) Sylvia.
References and Further Reading
Current Biography.

1942

. New York:

H. W. Wilson

.
1996

. The 100 Most Influential Women: A Ranking of the 100 Greatest Women Past and Present. London:

Robinson

.
1967

. Helen Keller: Her Socialist Years: Writings and Speeches. New York:

International Publishers

.
.
1998

. Helen Keller: A Life. New York:

Alfred A. Knopf

.
.
1996 [1902]

. The Story of My Life. Reprint, Mineola, NY:

Dover Publications

.
.
2000 [1927]

. Light in My Darkness.

2d ed.

Reprint of My Religion edited by . Westchester, PA:

Chrysalis Books

.
.
1980

. Helen and Teacher: The Story of Helen Keller and Anne Sullivan. New York:

Delacorte/Seymour Lawrence

.
.
1989

. Women against the Iron Fist: Alternatives to Militarism 1900–1989. Oxford:

Basil Blackwell

.
.
1961

. Valiant Companions: Helen Keller and Annie Sullivan Macy. London:

Hodder and Stoughton

.
, and .
1965

. Helen Keller. London:

Macdonald

.
.