Topic Page: Katz, Alex, 1927-
---
Definition:
Katz, Alex
from
The Hutchinson Unabridged Encyclopedia with Atlas and Weather Guide
US painter. Based in New York City, he is known for stylized large-scale oil portraits, such as Ada and Alex (1980), 'cut out' sculptures, such as Coleman Pond (1975), landscapes, and prints.
Born in New York City, he studied at the Cooper Union Art School, New York (1946–49) and at the Skowhegan School of Painting and Sculpture, Maine (1949–50).
---

Summary Article: Alex Katz (1927–), painter, sculptor, and printmaker.
from Artists of the American Mosaic: Encyclopedia of Jewish American Artists
Although painting from nature in a representational fashion, Alex Katz utilized oversized canvases and focused on style first then on subject in an effort to compete with the large-scale, abstract paintings of his time and to create an art viewed as modern. As Whitney curator Richard Marshall observed: "Katz's astonishing achievement is to have reconciled abstraction and realism in post-World War II America" (13). Indeed, Katz primarily paints in the traditional mode of portraiture in a detached manner, often eschewing perspective and flattening bright colors. Katz described his conundrum after achieving success: "It seemed questionable whether you could make a valid painting that was a portrait–a modern painting, so to speak" (36).
Born in Brooklyn to newly immigrated parents from Eastern Europe, Katz joined the Navy a month before the end of World War II. After a year in the Pacific he returned home and began his art studies, initially at the Cooper Union Art School (1946–49) training to be a commercial artist. This early exposure to the style of billboards, magazine advertisements, and comic strips would affect his later artistic production. Katz decided to focus on the fine arts in his last year at which time he studied with, among others, the Jewish painter Morris Kantor. In the summer after graduating from Cooper Union, Katz took classes at the Skowhegan School of Painting and Sculpture in Maine. The following summer he attended the school again, honing his skills and his interest in working from nature. From this period on he would spend summers in Maine painting. During 1950–51 Katz painted many landscapes in a loose, sketchy style encouraged by Jackson Pollock's allover canvases. The first show in which he exhibited a group of works was New York's Tanager Gallery (1953). In 1955 he began to make small, simplified landscape collages, which were also exhibited at the Tanager Gallery (October 1957). At the opening of this show he met Ada Del Moro, who would become his wife four months later and figures as a model in many of his portraits.
To be sure, in the late 1950s Katz began painting Ada as he started to develop his mature style and to discover his overriding interest in portraiture. The following year he also made his first cutouts—freestanding, double-sided figures painted on wood or aluminum. By the early 1960s Katz's canonical style of large-scale, cropped portraits painted with sharp, crisp contours in strident colors began to evolve. The Red Smile (1963, Whitney Museum of American Art, New York) exemplifies the works of this period, showing an impersonal, precisely delineated three-quarter's view of Ada against a monochrome red background. Painted with thinned-out oil paint, Katz explored form and color much as the Fauvist Henri Matisse did in the earlier part of the century. Interest in these works was high despite the prevalence of abstraction, as shown by Katz's seven one-person exhibitions staged between 1964 and 1970. A portrait rendered in his signature style, Eli was acquired by the Whitney Museum of Art in 1964. Unlike Social Realist artists of a generation earlier, who emphasized their humanist intentions (e.g., Moses Soyer and Harry Sternberg), Katz repeatedly asserts that these works and others "deal mostly with appearance. Style and appearance are the things that I'm more concerned about than what something means. I'd like to have style take the place of content, or the style be the content. It doesn't have to be beefed up by meaning. In fact, I prefer it to be emptied of meaning, emptied of content" (Strand, 124, 129). Katz engages this approach in his self-portraits as well, including Passing (1962–63, Museum of Modern Art, New York) (see figure), a large (71¾ × 79⅝ inches) bust length portrait of himself in a black hat and suit staidly confronting the viewer. In his early portraits, Katz worked directly on the canvas from life, but in the 1960s, as his portraits grew in size, he began making studies in preparation for the final version. Irving Sandler observes, "the very bigness of his portraits mythologizes them" (55).
While continuing to paint portraits Katz also made a series of enlarged flower paintings that press to the front of the picture plane, filling up the canvas (1966–67). Beginning in 1960, Katz designed sets and costumes for choreographer Paul Taylor's dance performances in addition to sets for other productions. His set for Kenneth Koch's off-Broadway play George Washington Crossing the Delaware incorporated around twenty almost life-size wood cutouts, including Washington in his rowboat, army officers, and props such as a cherry tree all rendered in Katz's straightforward style. Starting in 1965, Katz has been making prints, some of which were executed as illustrations for published books of poetry by leading writers such as John Ashbery.
Over the years Katz has experimented with including background details omitted in earlier canvas portraits, painting group portraits often of family and friends in social situations, and landscapes. In all cases Katz's smooth, even paint and stylized technique contrasts with abstraction as well as with the work of many of the expressionist figurative painters of the late twentieth century, like Jack Levine.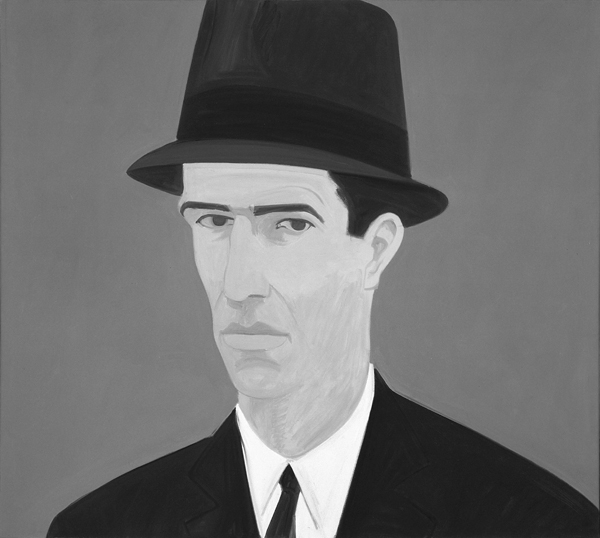 Katz continues to garner acclaim. In fall 2001 he enjoyed five exhibitions in New York, including "Alex Katz: Large Paintings" at the PaceWildenstein Gallery, "Alex Katz: Small Paintings" at the Whitney Museum of American Art, and "Alex Katz: The Complete Woodcuts and Linocuts" at the Peter Blum Gallery. His website is www.alexkatz.com.
Selected Public Collections
Art Institute of Chicago
Cleveland Museum of Art, Ohio
Colby College Museum of Art, Waterville, Maine (a wing of the museum showcases Katz's work. The museum holds over 400 pieces by Katz)
Hirshhorn Museum and Sculpture Garden, Washington, D.C.
Los Angeles County Museum of Art
New Orleans Museum of Art
Rose Art Museum, Brandeis University, Waltham, Massachusetts
Tate Gallery, London
Whitney Museum of American Art, New York
Bibliography
Fragment: Poem.

Illustrated by Alex Katz. Los Angeles: Black Sparrow Press, 1969.
.
Alex Katz.

New York: Harry N. Abrams, Inc., Publishers, 1987.
.
"The Years of Figuring Restlessly: An Interview with Alex Katz."

Border Crossings

21

, no.

3

(August 2002):

50-67

.
.
Alex Katz.

New York: Rizzoli International Publications, 1992.
.
"Starting Out."

The New Criterion

21

, no.

4

(December 2002):

4-8

.
.
Alex Katz: The Complete Prints.

Interview with Carter Ratcliff. New York: Alpine Fine Arts Collection, 1983.
Alex Katz.

With an essay by Robert Rosenblum. New York: Whitney Museum of American Art in association with Rizzoli International Publications, 1986.
.
Alex Katz.

New York: Harry N. Abrams, Inc., Publishers, 1979.
.
Alex Katz: A Retrospective.

New York: H. N Abrams, Inc., Publishers, 1998.
.
"Cool and Hot."

ARTnews

103

, no.

3

(March 2004):

116-119

.
Strand, Paul

, ed.

Art of the Real: Nine American Figurative Painters.

New York: Clarkson N. Potter, Inc., 1983.
Related Articles
---
Chambers Biographical Dictionary
1927- ♦ US painter Born in New York, he studied painting at Cooper Union there (1946-49) and at Skowhegan School, Maine (1949-50). From 1959 he began
See more from Credo