Topic Page: Kagan, Elena, 1960-

Summary Article: Kagan, Elena
From American Government A to Z: The Supreme Court A to Z
Elena Kagan (1960-) joined the Supreme Court after a career in law, politics, and academia but with limited experience in the courtroom and no prior service as a judge. In nominating her, President Barack Obama cited in particular the consensus-building skills that Kagan demonstrated in six years as dean of Harvard Law School. Her confirmation after a partisan fight brought the number of female justices to three for the first time ever.
Kagan was born in 1960 in New York City and grew up on Manhattan's West Side. Her father was a tenants' rights lawyer, her mother a public school teacher. She attended Hunter College High School, a publicly funded school for intellectually gifted students. After graduation, she went on to Princeton University, where she majored in history and graduated summa cum laude in 1981. She was awarded a scholarship to Worcester College, Oxford University, and received a master's degree in philosophy in 1983. She then enrolled at Harvard Law School and graduated magna cum laude in 1986.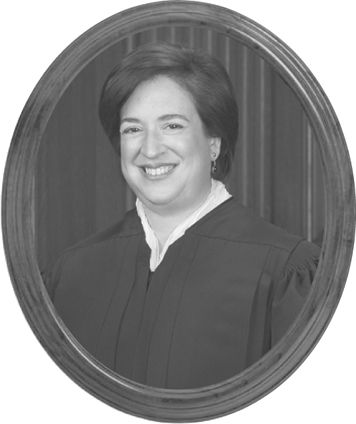 After law school, Kagan served as law clerk for two liberal judges: Abner Mikva on the U.S. Court of Appeals for the District of Columbia Circuit and Supreme Court Justice Thurgood Marshall. She worked as an associate at a Washington, D.C., law firm for three years and then joined the University of Chicago Law School faculty in 1991. In 1993 Kagan served temporarily as special counsel to then-Senate Judiciary Committee chairman Joe Biden during the confirmation process for Justice Ruth Bader Ginsburg. Two years later, she joined the Clinton administration, first as deputy White House counsel and in 1997 as deputy director of the Domestic Policy Council. President Bill Clinton nominated her for a judgeship on the D.C. Circuit in 1999, but with a Republican majority the Senate failed to act on the nomination.
Kagan left the White House to join the Harvard Law School faculty, where she taught administrative law, civil procedure, and constitutional law. In 2003 she was named dean, the first woman to hold the position. Kagan was popular with students and helped bridge ideological divisions among the faculty. In an action that provoked controversy during her later confirmations, Kagan briefly denied recruiting assistance to the military because its "don't ask, don't tell" policy on gay service members violated the school's antidiscrimination requirement for employers. Kagan reluctantly granted the military an exception to the requirement under the threat of a cutoff of federal funds, according to the terms of a law that the Supreme Court upheld in 2006.
Obama appointed Kagan in 2009 as the first woman to serve as U.S. solicitor general. She won Senate confirmation by a vote of 61-31. Republican senators who voted against her cited, among other issues, her actions as dean in the military recruiting dispute. Kagan made her first-ever argument in an appellate court in September 2009 in what proved to be an unsuccessful defense before the Supreme Court of a central provision of the Bipartisan Campaign Reform Act. As solicitor general, she personally argued five other cases during the term: the government prevailed in three and lost one; the other was dismissed without a ruling.
Obama interviewed Kagan in 2009 for the Supreme Court vacancy created by the retirement of Justice David H. Souter, but he chose Sonia Sotomayor instead. Obama interviewed Kagan again, along with three other potential candidates, after Justice John Paul Stevens announced his retirement on April 9, 2010. In announcing his selection on May 10, Obama praised Kagan's "intellect and record of achievement" as well as "her fair-mindedness and skill as a consensus builder."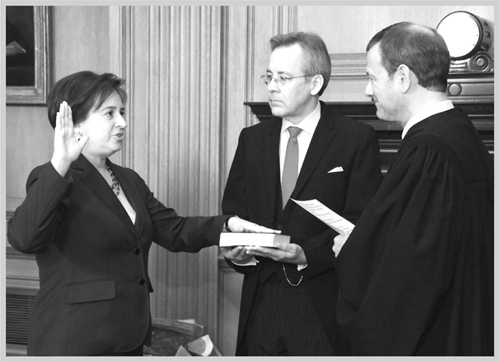 Kagan opened her confirmation hearing before the Senate Judiciary Committee on June 28 by describing the Court as a "wondrous institution" but with a "modest" role, "properly deferential" to the political process. Republicans criticized and Democrats defended her actions on military recruitment at Harvard Law School. Republicans also criticized her actions in the Clinton administration in support of gun controls and in opposition to antiabortion legislation. The committee approved the nomination on July 20 on a 13-6 vote, with one Republican joining all Democratic members in her favor. The Senate followed suit on August 5, confirming Kagan on a mostly party-line, 63-37, vote. Five Republicans voted in favor; one Democrat opposed confirmation.
In her first term, Kagan consistently joined the Court's liberal wing in divided cases. She won wide praise for perceptive questions from the bench and accessible writing in opinions. She gained attention in particular for a forceful dissent from the Court's decision to strike part of Arizona's public campaign financing law.
Related Articles
---
Encyclopedia of the Fourth Amendment
Elena Kagan (1960–), the newest U.S. Supreme Court Justice at the time of the writing of this work, was appointed by President Barack Obama to repla
Guide to the U.S. Supreme Court
(1993–) Ruth Bader Ginsburg Birth: March 15, 1933, Brooklyn, New York. Education: Cornell University, B.A., 1954; attended...
The Supreme Court Justices: Illustrated Biographies 1789-2012
Keywords 17. John G. Roberts Jr. Court (2005-) Photograph by Steve Petteway, Collection of the Supreme Court of the United States...
See more from Credo