Topic Page: Johns, Jasper, 1930-
---
Definition: Johns, Jasper from Philip's Encyclopedia
---

Summary Article: Johns, Jasper (1930–)
from Encyclopedia of the Sixties: A Decade of Culture and Counterculture
Jasper Johns is a painter, sculptor, and printmaker of the neo-dada movement of the 1950s and early 1960s and an important precursor of pop art. He is best known for his paintings from the mid-1950s to the mid-1960s of flags, targets, maps, alphabet letters, and Roman numerals and his quasi-abstract paintings with fragmentary and enigmatic figurative imagery and attached objects. His work explores the distinction between real objects and the representation of them in painting and sculpture and the essential facts and experiences of the images and objects he depicts. His works often question the distinction between the two-dimensional and the three-dimensional and epitomize the modernist pursuit of flatness and the revelation of the materials and techniques used to make art. In his work, marks and brushstrokes of paint are often important as individualized indicators of meaning and identifiers of things depicted and arranged in evenly dispersed, flat compositions. Johns' work is often seen as the fulfillment of some of the fundamental intentions and ideas of modernism that can be traced back to Gustave Courbet, Edouard Manet, impressionism, and cubism.
Johns was born on May 15, 1930, in Augusta, Georgia, and grew up in South Carolina. After serving in the Army during the Korean War, he moved to New York City to pursue his youthful interest in art and soon became friends with Robert Rauschenberg and John Cage. In 1954, he destroyed most of his early work when someone compared it to the dadaist Kurt Schwitters. His circle of friends in New York in the 1950s was part of neo-dada and was intrigued by the Zen-based theories of Cage. He has usually painted on canvas with oils and encaustic and often added everyday found objects to his paintings or attached and combined canvases to one another. He has created sculptures by covering ordinary objects with a thick, malleable, gray material he calls "Sculpt-Metal."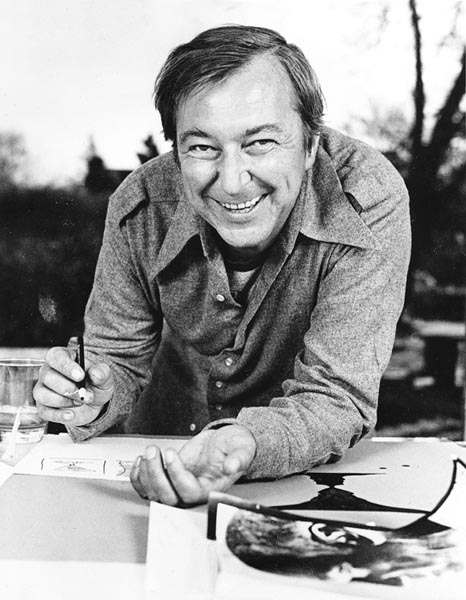 Flag (1955) and Target (1957) are thick, brushy depictions of the inherently flat objects they depict and question the distinction between the two- and three-dimensional, between the real thing and its depiction in art. He has said, "painting should include more experience than simply intended statement," that it should be a "fact that one can experience individually as one pleases."White Flag (1955), Flag on Orange Field (1957), and Three Flags (1958) deliberately complicate these distinctions. In Three Flags, three canvases, each painted as one flag, are mounted one in front of the other, thus confusing our perception of space and individuality when looking at something that is usually flat and singular. In 1958–1960, Johns did paintings and prints of alphabet letters and numerals shown either individually on a large scale or as complete groups from A to Z and 0 to 9. In 1960–1961, he did numerous paintings of maps of the United States with the names of the states stenciled on. In these works, his main interest is the arbitrary connection between a concept and its visual indicator, between a visual thing and its nonvisual name.
Target with Plaster Casts and Target with Four Faces (both 1955) play with these distinctions in ironic, humorous, even disturbing ways. In both, painted plaster casts of common objects and parts of the human body are placed in wooden compartments on top of the canvases, thus taunting the viewer with strange combinations of unrelated things and the dangerous, violent implications of putting things and people, as indicated by the plaster casts, above a target used for aiming guns or arrows. False Start (1959) features sketchy bursts of vibrant colors with the names of the colors stenciled on them with contrasting hues. The naming of colors with differently colored, stenciled lettering seems to criticize abstract expressionism. Johns continued his exploration of the distinctions between real things and depictions of them in Painted Bronze (1960), in which two cans of Ballantine Ale were modeled in clay, cast in bronze, and then carefully painted to show their labels with surprising detail and residual manual working of the original clay forms.
In the early 1960s, Johns's paintings became larger and more complex in their seemingly disconnected colors, shapes, textures, painting techniques, and subjects. Their exploration of the very meaning of art also became more complex, and their biographical implications became more important. Device (1961–1962) features two rulers, which are mounted to the canvas and were used to create circular striations in the paint. This seems to be a literal commentary on the techniques of the artist and the use of tools and implements to achieve a goal, demonstrating that the artist's brush or palette knife is a "device" of a highly mechanical, arbitrary nature. Diver (1962) features a spinning wheel produced by a rotating device and a gray scale on the left half, while the right has broad, brushy areas of bright reds, oranges, yellows, and blues with the names of the colors stenciled on then. In the middle there are handprints followed by long, armlike streaks and footprints, suggesting that the artist has taken a "dive" into the abstract tendencies of painting. It implies that an artist's involvement with his work is a total commitment and a bold immersion into the creative, technical processes. According to What? (1964) features large areas of loosely painted orange-red, blue, and yellow, a narrow band of gray-toned circles, and the circular patterns of wooden slats rotated as devices. At the bottom is a painting attached to the canvas and seen from the back. It is a portrait of Marcel Duchamp with the title of Johns's painting written on it. At the top is one side of a chair cut down its middle and the cast of the side of a person's leg and hip as he sits in the chair. The question that is the title seemingly refers to Johns's ongoing search for meaning in art.
Although Johns became less important with the rise of pop art, he has remained prolific. In the 1970s and early 1980s, he did many paintings in which he obsessively rendered broad hatching marks of different colors and in various directions, sometimes in conjunction with various geometric shapes. These works further reveal his interest in the importance of mark making in creating two-dimensional imagery. In the mid-1980s, he did a series of paintings about the seasons that seem to have underlying biographical meanings.
Bibliography
Jasper Johns: A Print Retrospective

. Museum of Modern Art

New York

, 1986.
.
Jasper Johns Drawings, 1954-1984

. Harry N. Abrams

New York

, 1984.
.
Jasper Johns: Writings, Sketchbook Notes, Interviews

. Museum of Modern Art

New York

, 1996.
, ed.
Jasper Johns: A Retrospective

. Museum of Modern Art

New York

, 1996.
, et al.
Jasper Johns: An Allegory of Painting, 1955-1965

. Yale University Press

New Haven, CT

, 2006.
, et al.
Related Articles
---
Chambers Biographical Dictionary
1930- ♦ US painter, sculptor and printmaker Born in Allendale, South Carolina, he studied for a year at the University of South Carolina in Columbia
The Thames & Hudson Dictionary of Art and Artists
Leading U.S. painter, sculptor and print maker. In the 1950s associated with Rauschenberg and U.S. Pop art but always using the...
The Bloomsbury Guide to Art
He was born in Augusta, Georgia, and spent his childhood in South Carolina, before moving to New York in 1949, where he began his...
See more from Credo