Topic Page: Japan, Sea of
---
Definition:
Japan, Sea of
from
The Hutchinson Unabridged Encyclopedia with Atlas and Weather Guide
Sea separating Japan from the mainland of Asia, connected to the Pacific Ocean by shallow straits; area 1,007,765 sq km/389,100 sq mi; average depth 1,360 m/4,460 ft. It is almost tideless. Currents flow northwards from the Korea Strait, and there is floating ice in winter. North and South Korea, and Eastern Siberia lie on its western shores; Vladivostok is the chief port.
The sea bed in the northern part is quite flat; to the south, banks separate deep troughs reaching depths of 3,000 m/9,842 ft.
---

Summary Article: Japan, Sea of
From Britannica Concise Encyclopedia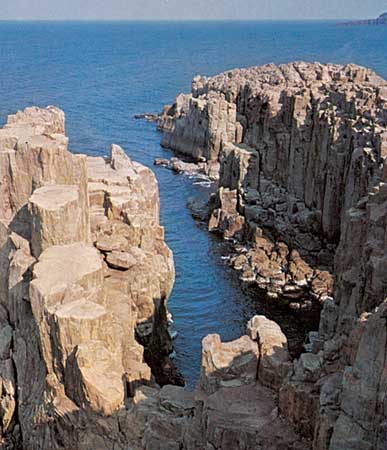 Branch of the western Pacific Ocean, bounded by Japan, by Sakhalin Island, and by Russia and Korea on the Asian mainland. It has a surface area of about 377,600 sq mi (978,000 sq km), a mean depth of 5,748 ft (1,752 m), and a maximum depth of 12,276 ft (3,742 m). Its relatively warm waters contribute greatly to the mild climate of Japan. The growing trade among East Asian countries has increased its use as a commercial waterway.
Place: Japan, Sea of
Location: sea, Pacific Ocean
Type: Physical Place
Related Place: Pacific Ocean
Keywords: Japan, Sea of, Sea of Japan, sea, Pacific Ocean