Topic Page: James, Jesse Woodson (1847 - 1892)
Summary Article: James, Jesse
From The Social History of Crime and Punishment in America
Jesse James (1847–82) was an infamous outlaw of the American West in the 1860s through the 1880s. He committed dozens of robberies and murdered at least six men. Jesse Woodson James was born in Centralville, Missouri, which is now known as Kearney. His father, Robert James (1818–50), was a Baptist minister who left the family in 1850 to minister to gold miners in California, but died soon after arriving there. Jesse's mother, Zerelda Elizabeth Cole (1825–1911), remarried twice and thus Jesse, his two brothers, Alexander Franklin (1843–1915) and Robert Jr. (1818–50), and their sister, Susan Lavenia (1849–89), gained two half-brothers, two half-sisters, and a stepbrother. The James family had its origins in Kentucky, and they were slave owners and southern sympathizers; James's father owned seven slaves. With the outbreak of the Civil War, James became a member of the notorious Confederate guerrilla unit led by William Quantrill and William "Bloody" Anderson; they allegedly perpetrated brutal acts against the Union army along the Kansas-Missouri border.
While surrendering at the end of the war, James was shot through one of his lungs. He had a long, slow recuperation and was nursed mainly by his first cousin, Zerelda Mimms. On April 23, 1874, after a nine-year courtship, Jesse and Zerelda married; they had two children, a son, Jesse Edwards, and a daughter, Mary Susan, as well as twin boys who died soon after birth.
Life of an Outlaw
After the end of the Civil War, Jesse and Frank James returned home, but they found that Missourians were bitter and belligerent toward former Confederates, particularly former guerrilla fighters, and terrorized the James brothers and their families, robbing them of their material possessions in retribution. Accordingly, in 1866, the James brothers joined with the Younger brothers to form an outlaw band. Thomas Coleman "Cole" Younger had initially ridden with Quantrill's Raiders, but later left to join the regular Confederate cavalry, just like Frank James had done. The example of the James brothers has been cited by criminologists as evidence in support of the violent veteran model of the theoretical relationship between war and violent crime, which suggests that the experiences of warfare make soldiers more accepting of violence, as well as more proficient at it. Jesse James certainly became very proficient with pistols and was an accomplished horseman as a result of his wartime activities.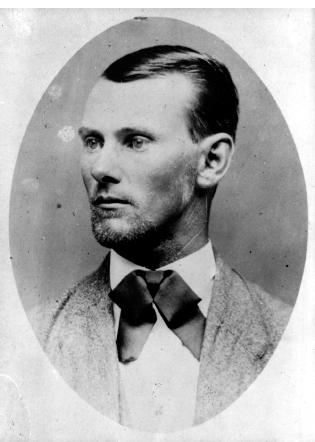 The James-Younger gang robbed banks, stagecoaches, trains, and a fair in Kansas City. On February 13, 1866, they robbed the Clay County Savings Bank in Liberty, Missouri; on October 30, 1866, they robbed the Alexander Mitchell Bank in Lexington, Missouri. In March 1867, the gang unsuccessfully tried to rob a bank in Savannah, Missouri. On May 22, 1867, they robbed the Hughes and Wasson Bank in Richmond, Missouri, and on March 20, 1868, they robbed Nimrod and Cin banking house in Russellville, Kentucky. On December 7, 1869, they robbed the Daviess Savings Bank of Gallatin, Missouri, where Jesse James shot and killed a cashier. On June 3, 1871, they robbed the Ocobock Brothers Bank in Corydon, Iowa. On July 21, 1873, the gang conducted the first successful train robbery in the Old West by getting away with about $3,000 from the Chicago and Rock Island Express train near Adair, Iowa. They had removed part of the tracks to stop the train, and during the heist Jesse James shot and killed the train engineer. On January 15, 1874, they held up the Concord Stagecoach near Malvern, Arkansas. Other train robberies included the St. Louis Iron Mountain and Southern Railroad (January 31, 1874) and the Missouri-Pacific Railroad (July 7, 1876). On September 7, 1876, the gang attempted to rob the First National Bank of Northfield, Minnesota; after the manhunt that followed this raid, only Jesse and Frank James were free—the rest of the gang were dead or captured.
In 1882, James and his family were living in a rented home in St. Joseph, Missouri. James had recruited brothers Robert and Charles Ford to help with a planned robbery of another bank. The governor of Missouri at the time, Thomas T. Crittenden, had offered the substantial reward of $10,000 for the capture of the James brothers, dead or alive. This reward allegedly tempted Robert Ford on April 13, 1882, to shoot James in the back of the head and kill him as he was climbing onto a chair to straighten a picture. Jesse James was buried on the James family farm, but in 1902, he was reinterred at Mt. Olivet Cemetery in Kearney, Missouri. Robert and Charles Ford were convicted of James's murder and were sentenced to hang, but were pardoned by the governor of Missouri. Two years later, Charles Ford committed suicide; in 1892, Robert Ford was killed in Creede, Colorado, in a barroom brawl.
Conclusion
Journalists and writers of pulp fiction have portrayed Jesse James as a romanticized Robin Hood figure. James helped to cultivate this heroic image of himself and his deeds, including sometimes even writing letters to newspapers attempting to justify his actions. Former southern sympathizers commonly rallied to his defense. Rumors persisted that Robert Ford had not actually killed James, but someone else. One J. Frank Dalton, who died in Granbury, Texas, in 1951 at age 103, claimed to be Jesse. However, in 1995, the body buried in James's grave in Missouri was identified by forensic specialists using mitochondrial DNA as highly likely to be that of Jesse James.
See Also: 1851 to 1900 Primary Documents; Dime Novels, Pulps, Thrillers; Frontier Crime; Missouri; Robbery, History of.
Further Readings
The Rise and Fall of Jesse James

. Lincoln:

University of Nebraska Press

, 1990.
.

Jesse James Was His Name, or, Fact and Fiction Concerning the Careers of the Notorious James Brothers of Missouri

. Lincoln:

University of Nebraska Press

, 1977.

Jesse James: Last Rebel of the Civil War

. New York:

Alfred A. Knopf

, 2002.