Topic Page: James I, King of England, 1566-1625
Summary Article: James I (1566–1625)
from Encyclopedia of Tudor England
James Stuart was the son of Mary Stuart, Queen of Scots, and her second husband, Henry Stuart, Lord Darnley. James was only a year old in 1567 when his mother's enforced abdication made him King James VI of Scotland. When the Tudor dynasty came to an end with the death of Elizabeth I in 1603, James became the first Stuart monarch of England as James I. James's early years on the Scottish throne were marked by disorder and civil war. In 1582, James was seized by a group of presbyterian lords, who sought to offset Catholic influence at court by ruling Scotland themselves through a captive king. In 1583, the king escaped from his captors, and, at the age of 16, began his personal rule. James married Anne of Denmark in 1589 and fathered three children who reached adulthood: Henry, Charles (later Charles I), and Elizabeth.
In the 1590s, James gradually established his control over both the Scots nobility and the Church of Scotland. In the late 1590s, James published two books, The True Law of Free Monarchies and Basilikon Doron, which set forth his theory of "divine right" kingship. According to this theory, the king, being answerable only to God, could not be removed from his throne by the people. Such exalted notions of kingship would get James's son, Charles I, into serious difficulties (Charles was executed in 1649), but James himself advocated his divine right theory more than he practiced it.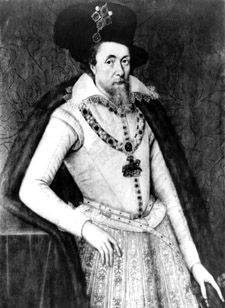 Although Elizabeth I refused to name a successor during her lifetime, she gave James a large pension in 1586 and promised not to oppose his claims to the English Crown unless he provoked her by his activities in Scotland. These favors limited James's actions on his mother's execution in 1587 to mere protests and ensured Scotland's neutrality in 1588 when the armada sailed against England. Otherwise, James, to Elizabeth's intense annoyance, paid little attention to the stream of advice that flowed northward from the English court in the 1580s and 1590s.
In the last years of Elizabeth's reign, Sir Robert Cecil; Robert Devereux, Earl of Essex; and other important English courtiers conducted secret correspondence with James in the expectation that he would soon be king of England. English Puritans looked hopefully to the accession of James for improvement in their condition, for James was reputed to be a strong Calvinist. Whether or not Elizabeth formally acknowledged him as her heir on her deathbed is in dispute, but he succeeded to the English throne in March 1603 without incident and with the support of the late queen's most important councillors.
See also Berwick, Treaty of (1586); Calvinism, English; Gowrie Conspiracy; Ruthven Raid
Further Reading
King James

. Palgrave Macmillan

London

, 2003.
.
After Elizabeth: The Rise of James of Scotland and the Struggle for the Throne of England

. Ballantine

New York

, 2007.
.
James I

.

2

nd ed. Longman

London

, 1995.
The Cradle King: The Life of James VI and I, the First Monarch of a United Great Britain

. St. Martin's

New York

, 2003.
.
Related Articles
---
Continuum Encyclopedia of British Literature
James was crowned King of Scotland in 1567, at just one year of age, following the forced abdication of his mother Mary...
Chambers Biographical Dictionary
1566-1625 King of Scotland from 1567 and of England from 1603 James was born in Edinburgh Castle, the son of Mary, Queen of Scots, and Lord Darnley.
Blackwell Companions to Literature and Culture: A Companion to Shakespeare's Works
King James, 1610 Kings are justly called gods, for that they exercise a manner or resemblance of divine power upon earth. For if you will consider
See more from Credo