Topic Page: Jackson, Jesse (1941 - )
---
Definition:
Jackson, Jesse Louis
from
Philip's Encyclopedia
US politician and civil-rights activist. He worked with Martin Luther King, Jr., in the Southern Christian Leadership Conference (SCLC). Jackson served as national director (1967-71) of Operation Breadbasket, an economic arm of the SCLC. In 1971, he formed Operation PUSH (People United to Save Humanity) to combat racism in Chicago. Jackson mounted unsuccessful campaigns for the Democratic presidential nomination in 1984 and 1988. In 1986 he became president of the National Rainbow Coalition, which merged with PUSH to form the Rainbow/PUSH coalition in 1996.
---

Summary Article: Jackson, Jesse
From Encyclopedia of American Studies
Among the most dramatic social movements in American history, the civil rights crusade has been powered as much by charismatic leaders as by dedicated, grassroots laborers. Jesse Jackson has worked diligently on behalf of civil rights, but he may be most recognized for the dynamic way he has crafted a message of inclusion and reform. The power of Jackson's charisma and his message permanently altered the political landscape of the late twentieth century. Beginning his career as an activist and organizer in the civil rights movement of the 1960s, Jackson was able to appeal to millions of Americans—black and white—in a "rainbow coalition" of the nation's dispossessed and disenfranchised.
Jackson grew up with his own frustrations at social exclusion. He was born on October 8, 1941, in Greenville, South Carolina, to a seventeen-year-old unwed high school student and her older, comfortably middle-class, married neighbor. Jackson's ancestors include black slaves, a Cherokee, and a white plantation owner. Although the young Jackson was quite aware of poverty and illegitimacy, his mother, grandmother, and stepfather attended to all the family's needs. Even so, his knowledge of social inequities was made clearer by seeing the more privileged life of his half-brothers. After graduating from Sterling High School, Jackson left the South to attend the University of Illinois on an athletic scholarship.
In his first year in college, Jackson became dissatisfied with his treatment on campus. He chose to transfer to Greensboro's North Carolina Agricultural and Technical College, a predominantly black institution. There he was quarterback, honor student, fraternity officer, and president of the student body. After receiving his bachelor's degree in sociology he accepted a Rockefeller grant to attend the Chicago Theological Seminary, where he planned to train for the ministry. Instead, Jackson left in 1966 and committed himself full-time to the civil rights movement; despite his unfinished course work and lack of a divinity degree, Jackson was ordained a Baptist minister in 1968.
While attending college, Jackson had joined the Greensboro chapter of the Council on Racial Equality (CORE), an organization that had led early sit-ins to protest segregated lunch counters. In 1963 Jackson organized numerous marches, sit-ins, and mass arrests to press for the desegregation of local restaurants and theaters. In 1965, Jackson joined Martin Luther King, Jr., and his Southern Christian Leadership Conference (SCLC) and helped to lead their Chicago Freedom movement in 1966. He was especially involved with the organization's economic program, Operation Breadbasket.
In 1971 Jackson resigned from the SCLC and established People United to Save Humanity. He also became increasingly involved in national politics. In 1984, he ran his first campaign for the Democratic presidential nomination. Jackson's appeals for social programs, voting rights, and affirmative action for those neglected by the policies of President Ronald Reagan earned him strong showings in primaries in Alabama, Florida, Georgia, New York, Louisiana, and Washington, D.C. He received 3.3 million votes, enough to secure a measure of power and respect at the Democratic National Convention.
The Rainbow Coalition came back even stronger in 1988. After early respectable losses in Iowa and New Hampshire, Jackson won five southern states in the primaries on Super Tuesday, March 8, 1988. On March 12 he won the caucus in his birth state of South Carolina and three days later finished second in his home state of Illinois. For a short time after the Michigan caucus, Jackson was the front-runner. In the end, though, Jackson finished second. He was considered as a vice-presidential running mate for Michael Dukakis, in part because he had attracted almost seven million votes.
After the 1988 elections Jackson served a six-year term as the District of Columbia's "statehood senator," a position newly established by the city government to push Congress to grant statehood to the district. He also worked as a consultant for Wall Street businesses and began to get involved abroad in various diplomatic issues. Ultimately, his stature with the American public helped carry him to great influence worldwide.
Jackson's experience in global diplomacy began in 1979 when he traveled to South Africa to speak out against apartheid and to the Middle East to try to establish relations between Israel and the Palestinians. In January of 1984 he returned to the Middle East to negotiate the release of Lieutenant Robert Goodman, a black navy pilot who had been shot down and taken hostage in the region. Later that year he traveled to Cuba to negotiate the release of several political prisoners held there and to Central America, where he spoke out for regional peace. In 1990 Jackson was the first American to bring hostages out of Iraq and Kuwait.
During the late 1990s, Jackson seemed to relish the fact that he could sidestep the limits of governments and diplomacy and achieve results abroad. This was most obvious in his successful effort in 1999 to win the freedom of three U.S. soldiers held by Yugoslav President Slobodan Milosovic. The U.S. Senate recognized Jackson's efforts with a commendation. In addition, Jackson traveled to war-torn Sierra Leone to negotiate a cease-fire agreement and the release of more than two thousand prisoners of war. Throughout this process, Jackson demonstrated that human trust could often overcome the limits of politics and diplomacy.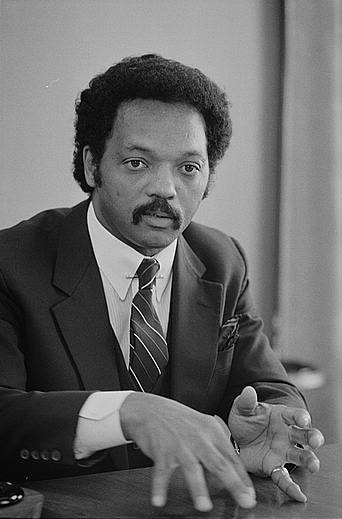 Bibliography
Best, Felton O.

, ed.,

Black Religious Leadership from the Slave Community to the Million Man March: Flames of Fire

(

Edwin Mellen Press

1998).
Clemente, Frank

, ed.,

Keep Hope Alive: Jesse Jackson's 1988 Presidential Campaign: A Collection of Major Speeches, Issue Papers, Photographs, and Campaign Analysis

(

South End Press

1989).
First Impressions, "America's Paper" and Pre-Primary Black Presidential Candidates: The New York Times Coverage of Rev. Jesse Jackson (1983), Rev. Al Sharpton (2003), and Sen. Barack Obama (2007) Campaign Announcements and Initial Days

, Ethnic Studies Review

33

, no.

2

(2010):

83-106

.
Black Religious Intellectuals: The Fight for Equality from Jim Crow to the Twenty-first Century

(

Routledge

2002).
,