Summary Article: Instagram
from Encyclopedia of Social Media and Politics
Instagram is a popular social networking platform that allows users to share digital photographs. The service was created by Kevin Systrom and Mike Krieger in October 2010, and was sold to Facebook Inc. in April 2012. Political candidates and political organizations use the application to connect with various relevant audiences, perhaps the most important of which is voters. Instagram was founded in San Francisco, California, when Kevin Systrom began work on an application that aimed to combine the best characteristics of other popular social networking applications such as Mafia Wars and Foursquare. The original application was called Burbn, but the name was later changed to Instagram when Mike Krieger joined the project and the upstart began focusing exclusively on photo sharing. The name was designed to reference the idea that Instagram is a form of instant telegram service.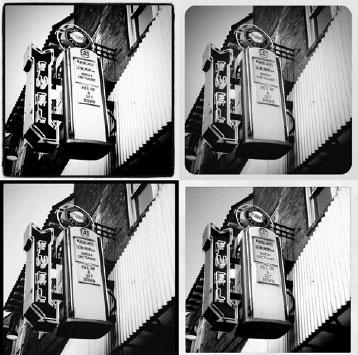 Instagram's mobile applications lets users upload and share photographs on the Instragram network and on other social networking sites such as Twitter, Facebook, Tumblr, Flickr, and Foursquare. All photos uploaded to the Internet via Instagram are converted to a standardized square shape. Users are also given the option of applying a filter to the image that transforms the photograph's appearance. Many of the filters alter the lighting and tone of an image so that it looks dated. Available filters include Amaro, Mayfair, Rise, Hudson, Valencia, X-Pro II, Sierra, Willow, Lo-Fi, Earlybird, Sutro, Toaster, Brannan, Inkwell, Walden, Hefe, Nashville, 1977, and Kelvin. However, many users still choose to upload a photo in normal mode, without a filter. Users also have the option of adding a border to their photograph. In addition to posting their photographs, Instagram users can browse others' photographs, comment on them, and "like" them. Users can "follow" their friends and their favorite Instagram users. Images can be organized via hashtags so that content is more searchable. Photo maps organize images according to the geographical location where they were taken. Competing platforms such as Hipstamatic, Camera+, and Tadaa, offer many of the same photo-sharing and photo-filtering features as Instagram, but are not as popular.
Instagram officially launched on October 6, 2010. By December of the same year, they had over 1 million registered users. By April 2012, the site boasted over 100 million users. Because Instagram has always been free to users, and because the company was initially reluctant to incorporate paid advertising into its site, Instagram's popularity did not translate into immediate financial success. However, the upstart's founders and financial supporters reaped financial rewards when Facebook Inc. bought Instagram for an estimated $1 billion in cash and stock in April 2012. When the deal was finalized in September 2012, the actual price tag was closer to $741 million. In December 2012, Instagram incurred the ire of many users because it amended its terms of service. Specifically, a new clause gave Instagram permission to use users' likeness, photos, and other information in Instagram's commercials and other promotional materials, without any compensation to the Instagram user. Other critics noted that the agreement expanded Instagram's ability to collect and share personal information about users with potential advertisers. Instagram has since backtracked on many of the proposed changes to the user agreement.
Political Use
Just like other social networking tools, Instagram has been put to use by political candidates and political organizations. In the 2012 U.S. presidential campaign, both major party candidates, Democrat Barack Obama and Republican Mitt Romney, operated Instagram accounts. In addition to images of candidates speaking at campaign rallies, meeting political supporters, and spending time with their families, these accounts often featured candidates in more candid, behind-the-scenes situations. Barack Obama's Instagram account also encouraged supporters to use the hashtag #Obama2012 to share their political images with the campaign. The praise that Instagram has received as a political communication tool has tended to focus on how it provides politicians with a concise, direct method of sharing their message and enhancing their image, and how it helps citizens feel personally connected to government and its leaders.
Elected officials have come to rely on Instagram for documenting their activities. For instance, New York City Mayor Michael Bloomberg's office used Instagram to document Hurricane Sandy relief efforts. Former Newark Mayor Cory Booker used Instagram to share his experience when he volunteered to live on food stamps for a week. The Independent Voter Network, an organization dedicated to encouraging political discourse through new media, listed Representative Kevin McCarthy (R-CA), President Barack Obama, Senator Elizabeth Warren (D-MA), Representative Steny Hoyer (D-MD), and Representative John Boehner (R-OH) as the top five politicians on Instagram. Political news organizations such as CNN, as well as political think tanks such as the Heritage Foundation, also maintain Instagram accounts.
Instagram may be more useful for helping politicians and political organizations connect with citizens who already support them, than for converting people to new political positions. Users may only see the images from users (in this instance, politicians) who they have already agreed to follow. Therefore, Instagram may be more useful for reinforcing views about politics and politicians than changing those views. In addition to political actors' use of Instagram to influence audiences, the Pittsburgh Post-Gazette has noted that many citizens used Instagram to document and share their Election Day experiences in 2012. The popular hashtag "#vote" aided in this process. Prevalent themes among Election Day images included pictures of citizens' "I Voted" stickers, pictures of voters' individual ballots, and pictures of the lines at polling places.
See Also: Candidate Image; Facebook; Flickr; Foursquare; Hashtag; Picasa; Twitter