Topic Page: Hurston, Zora Neale (1891 - 1960)
---
Definition:
Hurston, Zora Neale
from
The Hutchinson Unabridged Encyclopedia with Atlas and Weather Guide
US writer. She was associated with the Harlem Renaissance. She collected traditional Afro-American folk tales in Mules and Men (1935) and Tell My Horse (1938). Among her many other works are the novel Their Eyes Were Watching God (1937) and her autobiography Dust Tracks on a Road (1942).
Although her conservative philosophy of her later years alienated many of her contemporaries, she was a key figure for following generations of black women writers, including Alice Walker, who edited a collection of her writings, I Love Myself When I Am Laughing (1979).
---

Summary Article: HURSTON, ZORA NEALE (1891-1960)
from Africa and the Americas: Culture, Politics, and History
Zora Neale Hurston was an African American novelist, dramatist, and anthropologist whose best-known work draws heavily on the vernacular folk culture of her home state, Florida. But she also traveled widely in the Caribbean, and she brought a comparative diasporic perspective to her reflections on cultural forms, such as Voodoo and biblical allegory, while the ethical and political issues raised by emancipation (from slavery and colonialism) are never far from the surface.
She was born in Notasulga, Alabama, but she grew up in the black town of Eatonville, Florida. She attended school there and in Jacksonville, then joined a traveling theater company, before continuing her education at Morgan Academy (Baltimore, MD) and Howard University (Washington, DC), where she was encouraged as a writer by Alain Locke.
Hurston moved to New York City in 1925, where she published a number of stories and plays inspired by the Eatonville of her childhood and became a leading figure of the Harlem Renaissance, impressing her associates with her gift as a storyteller and mimic. At the same time, she studied anthropology at Barnard College, obtaining a BA, and, with the encouragement of Franz Boas, undertook several folklore-collecting trips in Florida, the Gulf Coast, and the Bahamas between 1927 and 1931. These trips were largely financed by the philanthropist Charlotte Osgood Mason, who imposed conditions on Hurston's research. It was only in 1931 after her contract came to an end that Hurston was free to publish her findings. Over the next few years her writing diversified to embrace a variety of literary forms—scholarly essays, sketches, musical revues, and her first novel, Jonah's Gourd Vine (1934)—as she sought to devise new ways of presenting the material she remembered and collected.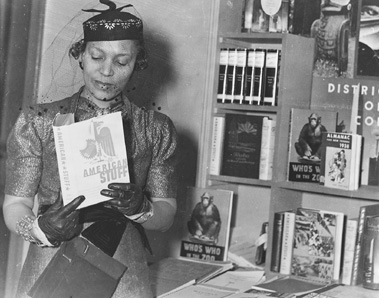 These experiments with different literary forms culminated in Mules and Men (1935). The book presents her research findings in the form of a first-person narrative that foregrounds the relationship between the author and her informants, and it includes an account of her initiation as a "hoodoo" practitioner in New Orleans. This book was followed by Their Eyes Were Watching God (1937), a novel set in Florida. Written in the third person, the narrative voice adopts the idiom and perspective of Janie Crawford, telling her story as she returns home after the death of her third husband.
Both works were praised for their vivid rendering of the vernacular, but some found their apparently exclusive emphasis on rural humor and self-reliance detracted from the harsher realities of the segregated South. Famously, the young Richard Wright accused its author of having her characters '"swing like a pendulum eternally in that safe and narrow orbit in which America likes to see the Negro live, between laughter and tears" (Gates and Appiah, 1993, p. 17). Hurston, in turn, lampooned his didacticism, anger, and poor grasp of dialect.
A Rosenwald Fellowship to pursue a doctorate was suddenly cut back in 1935, but a Guggenheim Fellowship the following year funded a research trip to the Caribbean which provided material for Hurston's next book, Tell My Horse: Voodoo and Life in Haiti and Jamaica (1938). In the eyes of some reviewers, it was a mix of jaunty reportage, scientific pretensions, and offhand political analysis. Her third novel, Moses Man of the Mountain (1939), carnivalistically rewrites the story of Exodus, bringing to it her knowledge of hoodoo practices, classical myth, and Egyptology. By making Moses an Egyptian, which, in the terms of the African American allegory she reworks makes him a white man, is a controversial move that has generally been overlooked.
Hurston's wartime autobiography, Dust Tracks on a Road (1942), was a commercial success, partly because of its refusal to dwell on racial discrimination (although passages cut from the published version are more openly critical of U.S. society). She returned to Florida for the setting of her fourth novel, Seraph on the Suwanee (1948), a sensitive study of the marriage of a poor white couple, Arvay and Jim Meserve. It did not sell well, however. A projected fifth novel, a fictionalized study of the life and times of Herod the Great, was never completed, and only parts of the manuscript have survived.
Hurston's political journalism of the 1950s betrays conservative Republican sympathies, including an opposition to desegregation, which alienated her from previous readers. During this period she found it increasingly difficult to earn a living by writing, and took jobs as a secretary, teacher, and maid. Her health deteriorated and she died in Fort Pierce, Florida, in 1960.
After more than thirty years of neglect, Hurston's work was rediscovered in the 1970s. With her ear for the vernacular culture of the black South, and her strong female characters, works such as Their Eyes inspired a new generation of writers such as Alice Walker and Toni Morrison. Critics of the 1980s began to pay more attention to Hurston's technical innovations as a writer, and in the 1990s she was widely recognized as having anticipated many of the concerns of post-modern ethnography.
Where previously Dust Tracks, for instance, had been condemned as unnecessarily elliptical about her personal life, it is now more usually considered to address head-on some of the contradictions and pitfalls of autobiography. And far from ignoring the harsh realities of Jim Crow, her "Southern" writings are these days more often admired for the way they both record and enact cultural strategies of resistance.
The conviction that Hurston's best work is rooted in the romanticized black community she is deemed to have grown up in is less powerful than it once was. Some critics have endeavored to stress her appreciation of her home state as a multicultural space, riven by racial, class, and gender conflicts, as evident in her contributions to the Florida Federal Writers' Project. Tell My Horse and Moses are beginning to be reappraised for their innovative exploration of themes of diasporic significance, such as African "survivals," syncretism, national liberation, and postcolonial reconstruction. Above all, perhaps, there is a growing recognition that previous attempts to recruit Hurston to prevailing orthodoxies has failed to take account of her anarchic humor, radical individualism, and delight in provocation.
See also:
Folklore, African; Harlem Renaissance; Morrison, Toni; Walker, Alice; Wright, Richard; Voodoo
References
Wrapped in Rainbows: The Life of Zora Neale Hurston

. New York: Scribner, 2003.
.
Zora Neale Hurston: Critical Perspectives Past and Present

. New York: Amistad, 1993.
, and K. A. Appiah, eds.
Zora Neale Hurston: A Literary Biography

. Urbana: University of Illinois Press, 1977.
.
. Hitting a Straight Lick with a Crooked Stick: Race and Gender in the Work of Zora Neale Hurston. Tuscaloosa: University of Alabama Press, 1999.
. Every Tub Must Sit on Its Own Bottom: The Philosophy and Politics of Zora Neale Hurston. Urbana: University of Illinois Press, 1995.