Topic Page: Holiday, Billie, 1915-1959
---
Definition: Holiday, Billie from Philip's Encyclopedia
---

Summary Article: Holiday, Billie (1915–1959)
from 100 Entertainers Who Changed America: An Encyclopedia of Pop Culture Luminaries
In 1958, Frank Sinatra declared that Billie Holiday was "unquestionably the most important influence on American popular singing in the last twenty years" (Clarke 2000). Fast-forward to the twenty-first century, and Holiday's impact on American music seems even more profound. She has influenced the likes of Lena Horne, Tori Amos, Sarah Vaughan, Cassandra Wilson, Kate Bush, Tina Turner, Natalie Merchant, Macy Gray, Joan Osborne, Amy Winehouse, Joni Mitchell, Norah Jones, and Beyoncé. In addition, she sparked mainstream acceptance of musical protest and thus serves as catalyst to music recorded by Bob Dylan; John Lennon; Crosby, Stills, Nash, and Young; Country Joe and the Fish; Grandmaster Flash; Public Enemy; Rage Against the Machine; Sonic Youth; R.E.M.; Green Day; the Dixie Chicks; Pink; and many others. Though Holiday struggled personally, financially, and even professionally for much of her life, her posthumous success and influence are nearly unmatched in American music.
Though the celebrated opening of Holiday's autobiography is technically inaccurate, it certainly captures some of the essence of the problems her family had as well as her own fantasy about what they could be: "Mom and Pop were just a couple of kids when they got married. He was eighteen, she was sixteen, and I was three" (Holiday 1956, 5). As Holiday biographer Donald Clarke points out, not only are the ages designated incorrect, for Sadie was 19 when Holiday was born on April 7, 1915, but so, too, is the claim that Sadie and Clarence ever married. Their immaturity, though, was to blame for many of their failings as parents, so it makes sense that Holiday exaggerated their youth. Sadie would forever vacillate between acting the parts of controlling parent and jealous older sister to her only daughter, whom she named Eleanora Fagan. Clarence Holiday, largely absent from his daughter's life, sought instead the thrill of the stage and the road. To be fair, he wasn't altogether missing from Holiday's life; by 1935, he was regularly catching her show and had for years been giving Sadie and Billie money for rent and other necessities, though sporadically and only, apparently, under pressure from his daughter (Clarke 2000).
Holiday saw both of her parents as victims, excusing much of their mutual bad behavior on the grounds that they hadn't ever been given a fair shake. The victimization of her father, she believed, began when he was sent overseas to fight in World War I. According to Holiday, her father wanted to play the trumpet, but after being exposed to poison gas in the war, he no longer had the lung capacity required, and so, upon his return to the United States he learned the banjo and guitar instead (1956, 6). Holiday also believed that the exposure to gas also eventually killed him, as he died of pneumonia exacerbated by difficulties finding proper medical care as he was traveling and performing in Texas in 1936. In reality, although Clarence was enlisted during the war, he probably wasn't exposed to poison gas (Clarke 2000). It's also possible that he wasn't turned away from a hospital or moved because of racism but because he was a veteran and was directed to seek care at the nearby veterans' facility. That matters little, for as far as Holiday was concerned, her father was killed by Jim Crow segregation.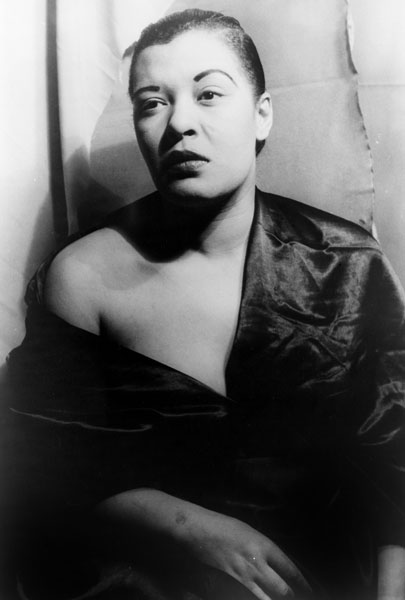 Her mother's victimization was largely economic: Sadie Fagan worked as a domestic much of her life, rarely earning enough to keep herself and her daughter comfortable, fed, safe, and together. Holiday was regularly shuffled around, with various relatives caring for her when her mother couldn't or wouldn't. The worst of these situations she described in her autobiography, inventing a fictional "cousin Ida" but likely describing actual instances of abuse and mistreatment. She wrote, "all of us were crowded in that little house like fishes … When [Ida] was upset she'd beat me something awful. Not with a strap, not with a spank on the ass, but with her fists or a whip" (Holiday 1956, 6–7).
Relatives were not the only blight on Holiday's happiness: well before she reached puberty, she was raped by a middle-aged neighbor. Holiday remembers "kicking and scratching and screaming" while the neighbor and a female friend of his held her down (Holiday 1956, 15). Her mother arrived on the scene in time to see the child fighting, but apparently not in time to prevent her from being raped. To her credit, Sadie immediately called the police and sought justice for her daughter. In this case and so many others in her lifetime, though, Holiday would be further victimized by the system. Although the police charged her neighbor with rape and he went to jail, she was likewise arrested. Part of the problem, according to both Holiday and Clarke, was that Holiday looked mature for her age and thus wasn't treated as the child she was. Equally problematic was the 1920s tendency of authorities to blame the victims of rape for the crimes committed against them. Sealing her fate, Holiday had been left unattended by her mother, and given the flaws in the system, this resulted in Holiday's being sent to a Catholic reform school (Holiday 1956, 16–17). Thus, after the most traumatic experience of her young life, Holiday was arrested.
Sadie Fagan was a complicated woman, one who alternately loved and resented her daughter. Holiday's loyalty to her mother inspired her to fudge some facts in her autobiography, making her mother seem saintly and selfless if naïve. Clarke notes that Sadie was arrested for prostitution at least once and likely pulled her young daughter into prostitution as well. In Holiday's version of events, of her own volition, she began running errands for the madam Alice Dean. In Dean's brothel Holiday first heard the music of Louis Armstrong and Bessie Smith, the two musicians whom she said most influenced her (Holiday 1956, 10–11). It was also here that she first learned the sex trade, though she claimed she was not yet a prostitute. Later in her autobiography, Holiday says that when she moved to Harlem and became a "strictly twenty-dollar call girl," her mother was so naïve that she thought the brothel a legitimate boardinghouse, her madam an upstanding woman (Holiday 1956, 23). Naïve or not, her mother worried about her getting into trouble, said Holiday, begging her not to "make the same mistake [she] made" (Holiday 1956, 12). Her friend and the ghostwriter of her autobiography, William Dufty, remembers events differently, claiming Sadie intentionally caused the miscarriage of the only child Holiday would ever conceive (Clarke 2000). Whether or not the story is true, Holiday spent most of her adult life yearning for children she would never have.
She also spent much of her adult life seeking the love that had eluded her mother. As Clarke (2000) notes, Holiday had a series of incredibly bad relationships, among them two marriages. The men she loved were unfaithful, cruel, selfish, and sometimes violent. Like Holiday, they battled drug addictions, arguably making her attempts to get clean impossible. They managed her career, sometimes, though none seemed to have Holiday's best interests at heart. They pilfered much of her money and caused her to experience regular and significant financial insecurity, despite the fistfuls of cash she eventually earned. They also provided loads of material, both in terms of her emotive style and her songwriting. For example, the song "Don't Explain" was her lyrical response to first husband Jimmy Monroe's infidelity (Holiday 1956, 105).
Holiday's triumphant story of her discovery at a New York club is a bit of an exaggeration. According to the legend, her mother was sick and unable to work. Holiday had given up prostitution, and she couldn't get any money out of her father. She and her mother were hours away from eviction in the dead of a New York winter when she walked into Pod's and Jerry's speakeasy and asked for a job as a dancer. They gave her an audition on the spot, in front of a live crowd. She bombed, and they were ready to dismiss her when the piano player asked her if she could sing. She then sang "Trav'lin' All Alone," knocked the socks off of the crowd, and earned 57 dollars that night, more than enough to pay the rent (Holiday 1956, 33–34).
Her real rise to fame was gradual. When she was as young as 13, Holiday was singing in clubs after-hours and starting to pick up a few bucks. This she did in several cities, though it was in Harlem that she made a name for herself. Her first long engagement was at the Hot-Cha Bar and Grill, her first major success when she played the Apollo and got an incredibly enthusiastic reception. She likewise appeared as an extra in The Emperor Jones (Murphy) in 1933, following it up with a part in a Duke Ellington vehicle, Symphony in Black (Walla 1935) (Clarke 2000). She was becoming fabulously successful and was not yet 20 years of age.
During the 1930s and '40s, Holiday was playing a lot of club gigs, recording at a fast clip, and touring with various groups, including Count Basie's and Artie Shaw's bands. She solidified her reputation with other jazz musicians during these years, developing friendships that would last her lifetime. The most celebrated of these friendships was that between Holiday and Lester Young, the saxophone player who nicknamed her "Lady Day." She dubbed him "Prez," as she notes in her autobiography (Holiday 1956, 50), and forever considered him her musical soul mate. Clarke writes that the praise given to Young by Whitney Balliett applies equally to Holiday, that they both had "absolute mastery of broken-field rhythm and phrasing—the ability to emphasize the beat simply by eluding it" (Clarke 2000). In the end, they died only five months apart.
Many of Holiday's recordings from these years are celebrated for their stylistic innovation and verve. Among the best are those she recorded with pianist Teddy Wilson and his ensemble. These records include the hits "What a Little Moonlight Can Do," "Miss Brown to You," "Nice Work If You Can Get It," "My Man," and "The Way You Look Tonight." By 1936, Holiday also recorded under her own name, and with a talented group of musicians behind her, she produced "Summertime" (from Gershwin's Porgy and Bess, which initially failed on Broadway) and "Billie's Blues," a song improvised by Holiday and her orchestra while in the studio (Clarke 2000).
In 1939, Holiday began headlining at Café Society, an experimental club satirizing the elite crowd it attracted. Owner Barney Josephson costumed doormen in rags. They and much of the rest of the staff were as likely to refuse to be of service to patrons as they were to accommodate. Josephson adopted the slogan, "The wrong place for the Right people" (Margolick 2000, 40). He insisted that the club be racially integrated in every way, a groundbreaking move in the club scene of those days. Holiday seemed the perfect choice as headliner, for she was obviously talented, but she also attracted a cult following and already practiced what can only be called an early version of black pride. Stately and beautiful, Holiday was also proud and had a reputation for resisting segregation. Her run at Café Society lasted less than a year, but it was pivotal, for it was here that she began singing the protest song "Strange Fruit."
"Strange Fruit" is a song about racially motivated lynchings. "Southern trees," the song's lyrics read, "bear a strange fruit." Penned by Jewish activist schoolteacher and poet Abel Meeropol (whose pen name was Lewis Allan), the song made its way to Holiday at Café Society (Margolick 2000, 25). She claimed in her autobiography that Meeropol brought the song (still just in poetic infancy) to her, and further claimed that he thought she alone could sing it (Holiday 1956, 84). That, said Meeropol, wasn't the way he remembered things. He remembers only that Josephson asked him to bring the song to Café Society, and that once there, he played it for Holiday (Margolick 2000, 46).
At first, she worried about singing the song, fearing "people would hate it" (Holiday 1956, 84). Further, she became physically ill each time she sang it (Margolick 2000, 62). Audiences and critics alike attested to Holiday's emotion in singing this song. Wrote Samuel Grafton of the New York Post, "It is as if a game of let's pretend had ended and a blues singer who had been hiding her true sorrow in a set of love ditties had lifted the curtain and told us what it was that made her cry" (Margolick 2000, 75). No doubt some of the emotional impact was the result of careful staging at Café Society. Holiday closed her set with the song, leaving the audience with its impact. As well, Josephson saw to it that there was no table service ongoing during the song: "Waiters, cashiers, busboys were all immobilized," notes Margolick (2000, 50), and all of the house lights went down except a single spotlight fixed on Holiday's face.
The music critic Leonard Feather called the song "the first significant protest in words and music, the first unmuted cry against racism" (Margolick 2000, 17). The British music journal Q included "Strange Fruit" on its list of "ten songs that actually changed the world" (Margolick 2000, 21). However, not everyone was so enamored of it. John Hammond, the white record producer who liked to claim that he "discovered Billie Holiday" (Clarke 2000), declared that "Strange Fruit" was "artistically the worst thing that ever happened" to Holiday (Margolick 2000, 78). A few other jazz critics shared Hammond's assessment, as did Jerry Wexler, another record producer. He said of the song, "It's got too much of an agenda" (Margolick 2000, 80). He criticized its musical merits as well, but for Wexler as for Hammond, the song lacked appeal because it was protest, not despite this fact. Holiday was no doubt aware of these criticisms, but she sang the song anyway.
Not only did she sing the song, she owned it. At some point, Holiday became irrevocably associated with "Strange Fruit." This had much to do with the way that she sang it. In some respects, she flailed her audience with it, punishing them and forcing them to bear witness to this country's crimes against her people. Writer Studs Terkel described her performance of the song's last notes as follows: "It's like that painting by Munch of the woman screaming, only in this case, you hear it. She leaves the last note hanging. And then—bang!—it ends. That's it. The body drops. I don't know of any other song, jazz or pop, that has that kind of ending" (Margolick 2000, 88).
The rest of the association between Holiday and "Strange Fruit" resulted because she inadvertently seemed to be living the song, suffering terribly at the hands of the men whom she loved as well as being tormented by the police for the drugs she couldn't seem to live without. After her 1947 drug arrest and fairly heavy-handed yearlong sentence in a federal penitentiary, Holiday played Carnegie Hall, announcing her return to society. She closed with "Strange Fruit," a song the large audience "heard in utter silence" and that one listener described as "throat-tightening" (Margolick 2000, 108–10). Likewise, the most famous portrait of Holiday ever taken, the 1944 photo showing her haunted and serious, pain clearly etched on her face, was snapped by Robin Carson while Holiday sang "Strange Fruit" a cappella (Margolick 2000, 112).
When she left Café Society, Holiday took the song with her. She had to stipulate in her contracts that she could sing "Strange Fruit" if she wished, for some clubs tried to prohibit it (Margolick 2000, 89–90). Once, at a club outside of Los Angeles, Bob Hope intervened on Holiday's behalf when a white man in the audience began heckling during her performance of the song. Holiday reported that when she toured the South, she had trouble with hostile whites if she tried to sing "Strange Fruit" (Margolick 2000, 91). Whites weren't the only ones who objected, either. Paul Robeson complained that the song made blacks seem like victims, while other blacks worried that "Strange Fruit" may incite whites to commit acts of racial violence (Margolick 2000, 96).
Still, she sang the song. She sang it when it was requested and when it was banned, though she sometimes refused to sing it if she felt that audiences would be too disrespectful. "And wherever, whenever Billie Holiday sang 'Strange Fruit,' it was an event," notes Margolick (2000, 109). After Holiday's particularly moving performance of "Strange Fruit" at the Apollo, Jack Schiffman, whose father owned the Apollo, reported that there was "a moment of oppressively heavy silence … and then a kind of rustling sound I had never heard before. It was the sound of almost two thousand people sighing" (Margolick 2000, 99).
Now commonplace is the critical dismissal of Holiday's late work as poor in quality due to her deteriorated health and voice. Occasionally a fan or critic will embrace that later work as richer, finer, more tragic than her earlier music and sound. The truth about her late work is that the recordings—and likely the live appearances—were hit and miss. Some of Holiday's finest work appears on recordings from these years. Lady in Satin is exquisite, as is Holiday's television appearance on the BBC's "The Sounds of Jazz." In both cases there is strain on her voice, and she sometimes has trouble finding the right note and thus, as Clarke notes, slyly slides into the right range rather than hitting the note outright. However, because Holiday was always known more for her style than pure vocals, she perhaps got better with time in this regard. Still, some recordings of the time don't hold up well either because they were overproduced or because Holiday's instrument simply failed her in the moment.
By the late 1950s, she had been addicted to heroin for more than a decade and still used and drank heavily. She was sick with cirrhosis of the liver and knew it, and yet she seemed driven to perform and record, even as her ankles and legs swelled and her weight plummeted. She continued to give live performances and make recordings, for music was her life. As she told concerned friends who wished her to lie down and rest before a big show, "When you start doing that, you die" (Clarke 2000).
Though it's possible to find young recording artists who don't know the music of Billie Holiday, they all feel her influence. Holiday was at the heart of the jazz vocal improvisation movement. She claimed that she never sang a song the same way twice because that just didn't make sense to her (Holiday 1956, 48). She treated the song as a living, breathing, changing entity, paving the way for many jazz, R&B, rock, rap, and mash-up artists to come. Holiday also listened to the other musicians around her, creating a respectful interaction and collaborative space that many contemporary bands would do well to emulate. She sang about issues that mattered to her, and sometimes in ways potentially detrimental to her own career. She introduced much of the American public to explicit protest in song, something we today take for granted. Among the first of American musicians to exercise open pride in her race, she was also among the first to weather the harrowing difficulties of making music in a racially integrated space. Though her legacy includes drug addiction, tragedy, heartbreak, and an early death, these, too, have imprinted Americans' notions of musical genius, for better or worse. Perhaps most importantly, Holiday embodied the desire to innovate musically as well as socially, and the need for such attitudes remains alive and well. Holiday saw things changing, but not enough. She suffered most of her life from the social acceptance of domestic abuse, dying before second-wave feminism roused Americans' ire over this silent epidemic. She didn't live to see the passage of the Civil Rights Act of 1964, and she certainly didn't see Americans elect the first African American president.
A story told by Madeline Gilford, the wife of a comedian who emceed at Café Society during Holiday's run, has it that Holiday's mother objected to her singing of "Strange Fruit." Holiday told her mother that she had to sing the song in order to make the world a better place. Her mother replied that by the time that happens, "you'll be dead."
"Yeah, but I'll feel it," said Holiday. "I'll know it in my grave" (Margolick, 47).
References and Additional Resources
Billie Holiday: Wishing on the Moon

. Da Capo Press

London

.
. 2000.
If You Can't Be Free, Be a Mystery: In Search of Billie Holiday

. Ballantine

New York

.
2002.
Billie Holiday: God Bless the Child

. Retro Music. CD.
. 1994.
Billie Holiday: Strange Fruit 1937—1939

. I.M.C. Music Ltd. CD.
. 1999.
Billie Holiday Verve Story, Vol I: Billie Holiday at Jazz at the Philharmonic

. PolyGram Records. CD.
. 1994.
Billie's Blues

. EMI-Manhattan Records. CD.
. 1998.
The Complete Commodore Recordings

. GRP Records. CD.
. 1997.
The Complete Decca Recordings

. MCA Records. CD.
. 1991.
Lady in Satin

. Sony. CD.
. 1997.
Lady Sings the Blues

. Ghostwritten by

Dufty, William

. Penguin

New York

.
. 1956.
Strange Fruit: Billie Holiday, Café Society, and an Early Cry for Civil Rights

. Running Press

Philadelphia PA

.
. 2000.
Lady Day: The Many Faces of Billie Holiday

. Da Capo Press

New York

.
. 2000.
Strange Fruit. 2002. Produced and directed by

Katz, Joel

.

California Newsreel

. Film.
Related Articles
---
The Faber Companion to 20th Century Popular Music
Widely regarded as the greatest of jazz vocalists, Holiday's genius was to imbue even the most banal lyric with a...
The Harvard Biographical Dictionary of Music
From 1935 to 1942 she recorded with Teddy Wilson and under her own name, accompanied by some of the finest swing...
Encyclopedia of Great Popular Song Recordings
Commodore 526220. The recording was reissued in mid-1947, as part of a three-disc (78 rpm) Holiday album, by Decca under a distribution deal for Com
See more from Credo