Topic Page: Hogarth, William, 1697-1764
---
Definition:
Hogarth, William
from
Philip's Encyclopedia
English painter and engraver. Hogarth established his reputation with A Harlot's Progress (1731-32), the first in a series of 'modern moral subjects'. He painted narrative pictures that satirically exposed the follies and vices of his age. Hogarth is best known for A Rake's Progress (1733-35) and the masterpiece Marriage à la Mode (1743-45). He reached a wider audience by producing engravings of his paintings. He also excelled at portraiture, such as Captain Coram (1740).
---
Summary Article: Hogarth, William (1697–1764)
from The Greenwood Encyclopedia of Love, Courtship, and Sexuality through History: The Colonial and Revolutionary Age
William Hogarth was a British painter, engraver, and social commentator. Born on November 10, 1697, in London, Hogarth was the eldest child of Richard and Anne Gibbons Hogarth. A schoolmaster and printer, Richard Hogarth was imprisoned for debt after the failure of his coffeehouse, spending 1708–1712 in the Fleet prison, a family experience his son remembered vividly in his later works. Hogarth became an apprentice silversmith, moving over to engraving after enrolling in drawing school. His first successful prints were a series of illustrations to Samuel Butler's Hudibras (1726), followed by the popular plates for John Gay's subversive Beggar's Opera (1728), which played up the rowdy, sexualized plot of highwaymen, whores, and corruption.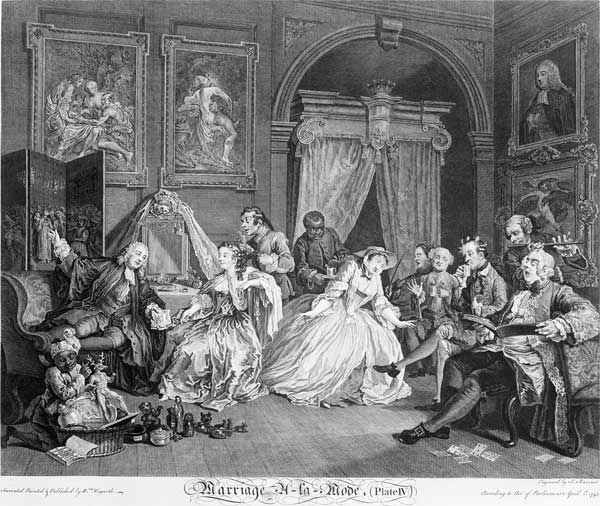 After marrying Jane Thornhill in 1729, Hogarth was introduced to the circle of Whig politicians and wealthy patrons surrounding her father, James Thornhill, who was a member of Parliament (MP) and a painter. Although Hogarth accepted commissions for stately portraits of powerful Whigs like Mary Edwards and Benjamin Hoadley, the Bishop of Winchester, his most profitable works were engravings of London's underside. He illustrated George Oglethorpe's report to the House of Commons on the sorry state of the Fleet prison, a filthy holding pen overrun with prostitutes, debtors, and thieves. Hogarth's most famous engravings were detailed, sexually frank, and cynical attacks on city morality, beginning with The Harlot's Progress (1732), in which Molly Hackabout, a country girl, finds her ambitions as an actress subverted into prostitution and death by syphilis. The Rake's Progress (1734) tells the parallel story of Tom Rakewell, a middle-class man whose grandiose behavior leads him to marry a grotesque heiress for her money, become ensnared by gambling and whores, and eventually succumb to madness in Bedlam.
In 1735, Parliament passed an Act protecting the works of engravers from copyright violation by their publishers and imitators, a law generally believed to have been made to protect Hogarth's increasingly coveted and collected works. In 1743, he produced his masterpiece satirizing the behavior of the British ruling class, Marriage a la Mode, in which an earl's son and a merchant's daughter marry by family arrangement and self-destruct, the noble through sexual excess, drinking, and dueling, his parvenu wife through adultery and the poor advice of society flunkies. Hogarth also supported the unpopular 1751 Gin Act with a series of prints, Beer Street and Gin Lane, exposing the crude lives of London's underclass with vivid scenes of women neglecting or selling their children for gin; lives ruined through prostitution and thievery, and pathetic deaths through starvation and disease.
Hogarth, who had been most associated with Whigs in the patronage of former Prime Minister Robert Walpole, was increasingly sidelined by a new generation of politicians and their propagandists, most significantly William Pitt the Elder and John Wilkes. Wilkes skewered Hogarth for supporting George III's first Prime Minister, the Earl of Bute, in his paper, the North Briton, and effectively pushed him from the center of politics. On October 26, 1764, Hogarth died at his home in Leicester Fields, London.
See also Alcohol; Art, American/European; Molly Houses; Prostitutes and Prostitution; Venereal Diseases.
Further Reading
Hogarth: His Art and His World

. Taplinger Publishing

New York

, 1979.
.
Hogarth: His Life, Art and Times

. Yale University Press

New Haven, , CT

, 1971.
.
Hogarth: A Life and a World

. Ferrar, Straus and Giroux

New York

, 1997.
.