Topic Page: High-risk pregnancy

Summary Article: High-Risk Pregnancy
From Encyclopedia of Global Health
High-risk pregnancy is defined as one in which there is a possibility that the mother, fetus, or newborn could be at risk of serious illness or even death prior to, during, or after delivery. There are many preexisting and coexisting factors that may contribute to this increased risk including those relating to the health of the mother, obstetric abnormalities, and fetal illness. These risk factors can be identified early during pregnancy and given appropriate consideration by a prenatal care provider. Some complex conditions may require the involvement of a specialist in maternal and child health, geneticist, or pediatrician, anesthesiologist, or other medical specialist in the medical evaluation, counseling, and care of the expecting mother. Leading causes of maternal mortality include thromboembolic disease, hypertensive disease, hemorrhage, infection, and ectopic pregnancy. Infant mortality is defined as death from birth to 1 year of age and includes as causes congenital malformations and conditions related to premature birth. Appropriate and timely prenatal care is essential in ensuring the best possible outcome for both mother and infant.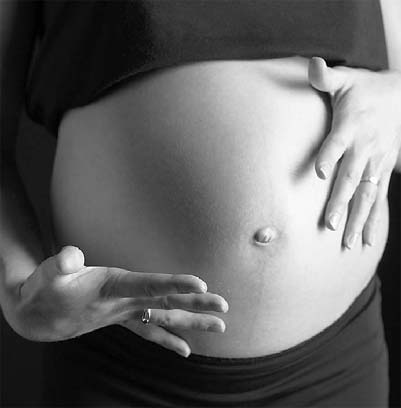 DIAGNOSTIC CRITERIA AND ASSESSMENT
Women who are high risk can be identified as such during an early prenatal care evaluation to assess the health status of both mother and fetus, to estimate the latter's gestational age, and to outline a plan for continued prenatal care. Prenatal care should include a thorough medical history to identify specific risk factors, a complete physical examination, routing laboratory screenings for common disorders, and follow-up maternal and fetal assessments over the course of the pregnancy to attempt to minimize risk.
EPIDEMIOLOGY AND RISK FACTORS
Preterm labor is the leading cause of perinatal morbidity and infant (neonatal) mortality.
Risk factors for preterm labor include younger or older maternal age (below 16 or over 35 years); low socioeconomic status; poor maternal nutrition; low maternal weight (below 110 lb); uterine, placental, or cervical abnormalities; smoking; substance abuse; infection; anemia; multiple gestation (being pregnant with more than one baby); and previous complications in pregnancy. Other preexisting health conditions such as gestational diabetes, heart disease, cancer, sexually transmitted diseases, chronic hypertension, or human immunodeficiency virus (HIV) may cause a high-risk pregnancy.
Gestational diabetes occurs exclusively in pregnant women and occurs in about five percent of all pregnancies in the United States. Although most women are able to control their diabetes through a careful regimen of diet, exercise, and monitored weight and blood sugar and give birth to healthy babies, untreated gestational diabetes can result in jaundice, hypoglycemia, mineral deficiencies, or respiratory distress in the infant.
Preeclampsia is a condition that causes hypertension and proteinuria (large amounts of protein being secreted in the urine) and occurs in about seven percent of pregnant women in the United States. Preeclampsia typically occurs midway through pregnancy and may be accompanied by swelling in the face and hands, abdominal pain, headache, and blurred vision. If left untreated, preeclampsia progresses to eclampsia, a more severe condition characterized by seizures that can be fatal. Although there is no cure for preeclampsia, in severe cases, delivery of the fetus is the only resolution. In more mild cases of preeclampsia, home treatment of bedrest and frequent assessment by a care provider may be recommended.
PREVENTION STRATEGIES: PRECONCEPTION AND PRENATAL CARE
There is increasing attention to care given in family planning and gynecology centers, as these settings provide an opportunity to address issues of importance to a potential pregnancy, such as existing medical problems, social habits (e.g., alcohol or substance abuse, diet, and exercise), or genetic issues. Additionally, preconception care includes a recommendation of folic acid to prevent against neural tube defects in the developing fetus and control of existing medical problems in the mother such as diabetes.
The initial prenatal visit is ripe with opportunity to screen for many of the risk factors that can cause preterm labor or additional complications during pregnancy. It is recommended that the first prenatal visit take place in the first trimester or pregnancy and that information on maternal health, particularly past medical and obstetric history, is noted. Some diseases and disorders that could complicate pregnancy are chronic hypertension, heart disease, diabetes, cancer, genetic diseases such as sickle cell anemia, pulmonary disorders, cancer, substance abuse, epilepsy, anemia, pelvic injury, and psychiatric disorders, particularly eating disorders. Women who suffer from anorexia nervosa or bulimia nervosa are significantly more likely to suffer miscarriages and to have infants with lower birth weights than those in the general population.
Screening for domestic violence during the prenatal visit is recommended. With the possible exception of preeclampsia, domestic violence is more prevalent than any other significant medical condition screened for during prenatal visits.
SEE ALSO:

Eating Disorders; Postpartum Depression; Preeclampsia; Pregnancy; Pregnancy and Substance Abuse; Premature Babies; Prenatal Care.
BIBLIOGRAPHY
American Academy of Pediatrics and the American College of Obstetrics and Gynecologists, Guidelines to Perinatal Care,

5th ed

. (

American Academy of Pediatrics

,

2002

).
Risk of Major Adverse Perinatal Outcomes in Women with Eating Disorders

," British Journal of Psychiatry (v.

190

,

2007

).
; ; , "
10th ed

. (

McGraw-Hill

,

2007

).
, et al., eds., Current Diagnosis & Treatment Obstetrics & Gynecology,
Medline Plus, National Institutes of Health and National Library of Medicine, "

High Risk Pregnancy

,"

www.nlm.nih.gov/medlineplus/highriskpregnancy.html

(cited

April 2007

).
Related Articles
---
The Mommy Docs' Ultimate Guide to Pregnancy and Birth
MOST OF YOU READING THIS BOOK will probably have no need to use this chapter. It contains some information that may make you feel nervous, but rest
New Harvard Guide to Women's Health, The
Preeclampsia is a complication of pregnancy characterized by high blood pressure, protein in the urine, and a number of other symptoms such as...
Encyclopedia of Abortion in the United States
Eclampsia is a condition affecting a pregnant woman that involves the occurrence of seizures usually during the third trimester. The reason for the
See more from Credo