Topic Page: Hickok, Wild Bill, 1837-1876
---
Definition: Hickok, 'Wild Bill' (James Butler) from Philip's Encyclopedia
---

Summary Article: Hickok, James Butler ("Wild Bill") (1837-1876)
from Guns in American Society: An Encyclopedia of History, Politics, Culture, and the Law
James Butler Hickok is best remembered by the sobriquet "Wild Bill," which he reportedly earned in 1862 by stopping a lynching of a bartender in Independence, Missouri. During his 39-year life span, Hickok served as a scout and spy for the Union army during the Civil War, as a law enforcement official (deputy U.S. marshal, acting sheriff, and marshal of Abilene, Kansas), as an entertainer (giving shooting exhibitions in Buffalo Bill Cody's Wild West Show), and as a professional gambler. Hickok became a legendary gunfighter who was popularized in Harper's magazine and in dime novels. Many of the facts of Hickok's life have been obscured by the legends that were created in his name. He was killed during a poker game in Deadwood, South Dakota, on August 2, 1876.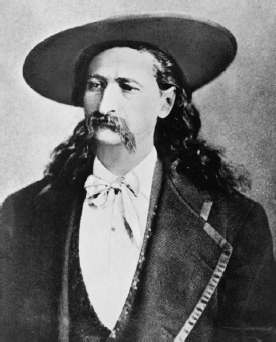 Hickok was born on May 27, 1837, in Homer, Illinois, one of seven children (five boys, one of whom died in infancy, and two girls). He left home with his brother, Lorenzo, in June 1856, heading for the Kansas Territory. A hunter from childhood, Hickok was already known as a remarkable shot. In 1861, Hickok joined the Union army in a civilian capacity. During his time with the army, Hickok served as a wagon master, a scout, and a spy. In 1867, he served as an Indian scout for General George Custer and the Seventh Cavalry, where he remained until 1869.
Hickok's military career overlapped with his career in law enforcement. In 1858, he was one of four constables elected to magistrate in Johnson County, Kansas. He left that position in 1859. In 1864, he served as a provost on the marshal's staff in Springfield, Missouri. He ran for election as marshal of Springfield in 1865 and was defeated. In 1867, he was appointed a deputy U.S. marshal, a position he held intermittently until 1870. In August 1868, the commissioners of Ellis County held a special election at Hays City, Kansas, in which Hickok was elected acting sheriff. In the November elections for the position of sheriff, Hickok was defeated. Hickok's final stint in law enforcement took place between April 15 and December 13, 1871, as marshal of Abilene, Kansas. During his law enforcement career, Hickok was known for his matched pair of ivory-handled Colt model 1851 Navy revolvers.
Hickok joined "Buffalo Bill Cody's Combination"—the official name of the Wild West Show—in 1872 and performed with the show until 1874. When he left the show, he was given $1,000 and a pair of .44-caliber Smith & Wesson revolvers. Documents from this period show that Hickok was not comfortable in the role of performer and was known for playing pranks on other members of the company.
During his life, Hickok was a media darling. The nickname "Wild Bill" appeared in print for the first time in an article in the Weekly Patriot in Springfield, Missouri, on July 27, 1865. The legends of Hickok's career as a gunfighter and lawman were presented to the public in magazine and newspaper articles, such as in a piece in Harper's by George Ward Nichols in 1867 and in one in the Saint Louis Weekly Missouri Democrat by Henry M. Stanley on April 16, 1887 (in which he reported the account of the first time Hickok killed a man). Hickok was also the hero of dime novels such as Wild Bill the Indian Slayer, Wild Bill: The Pistol Prince, and Wild Bill's Last Trail. Long after his death, Hickok was portrayed in plays and movies, including Wild Bill Hickok (1923), The Great Adventures of Wild Bill Hickok (1938), Young Bill Hickok (1940), Wild Bill Hickok Rides (1941), Adventures of Wild Bill Hickok (1951), and I Killed Wild Bill Hickok (1956).
After leaving law enforcement, Hickok supported himself through gambling. It was during a poker game on August 2, 1876, in Nuttall and Mann's Saloon #10 in Dead-wood, South Dakota, that he was shot through the head and killed instantly by John (Jack) McCall. Hickok usually preferred a seat where his back was against a wall; but for this game, he lost the seat to Charlie Rich, who refused to move. When Hickok was shot, he was holding what has come to be known as the "deadman's hand"—which consisted of two aces (hearts and clubs) and two eights (clubs and spades). The fifth card is a matter of controversy. The term "deadman's hand" was coined by Ellis T. Pierce in Frank Wilstack's 1926 book, Wild Bill Hickok: The Prince of Pistoleers.
See also: Boomtowns, Cowtowns, and Gun Violence; Cody, William "Buffalo Bill"; Dime Novels and the Sensationalization of Frontier Violence; Frontier Violence
Related Articles
---
The Cambridge Guide to Children's Books in English
A gunman who became famous for his skill with a pistol. James Butler Hickok worked variously as a gambler, wagonmaster, spy during the...
Brewer's Dictionary of Phrase and Fable
James Butler Hickok (1837-76), US soldier and scout, was called Wild Bill. As a renowned pistol shot in his early days, he served as a stage driver
Chambers Biographical Dictionary
originally James Butler Hickok 1837-76 US frontier marshal Born in Troy Grove, Illinois, he became a stagecoach driver on the Santa Fe and Oregon tra
See more from Credo