Topic Page: Henry VIII, King of England, 1491-1547
---
Definition:
Henry VIII
from
Collins English Dictionary
n
1 1491–1547, king of England (1509–47); second son of Henry VII. The declaration that his marriage to Catherine of Aragon was invalid and his marriage to Anne Boleyn (1533) precipitated the Act of Supremacy, making Henry supreme head of the Church in England. Anne Boleyn was executed (1536) and Henry subsequently married Jane Seymour, Anne of Cleves, Catherine Howard, and Catherine Parr. His reign is also noted for the fame of his succession of advisers, Cardinal Wolsey, Sir Thomas More, and Thomas Cromwell
---

Summary Article: Henry VIII (1491–1547)
from Encyclopedia of Tudor England
Henry VIII, the second son of Henry VII and Elizabeth of York, was the second monarch of the Tudor dynasty. Born at Greenwich on 28 June 1491, Henry became heir to the throne upon the death of his elder brother Arthur Tudor in April 1502. Little is known of Henry's education, although a claim that he was originally trained for an ecclesiastical career seems unfounded. Tutored for a time by the poet John Skelton and perhaps by other humanist educators supplied by his grandmother, Margaret Beaufort, Countess of Richmond, Henry soon displayed an aptitude for music and languages. He also loved sports, dancing, and most physical activity, and was deeply interested in all things military. Favoring his grandfather, Edward IV, Henry grew into a tall, strong, and handsome young man with auburn hair, piercing eyes, and a finely proportioned body. Henry's personality, which also mirrored his grandfather's, was bluff, vigorous, and sensual; he was passionate about things that interested him but otherwise easily bored.
Having been sheltered at court by his father, Henry lacked training or experience in statecraft when he ascended the throne, at age 17, on 21 April 1509. In June 1509, Henry, acting upon his council's advice, married his brother's widow, the Spanish princess Catherine of Aragon. Although the two had been betrothed since 1503, fluctuations in Anglo-Spanish relations had delayed the marriage. Seeking popularity and displaying an aptitude for political calculation, Henry, only days after his accession, ordered the arrest of his father's hated financial ministers Richard Empson and Edmund Dudley, who were executed for treason in 1510. Henry also largely abandoned the highly unpopular system of bonds and recognizances by which his father had ensured the loyalty of the nobility.
Anxious to emulate the military successes of his predecessors, Henry likewise abandoned his father's parsimony and avoidance of war. Allied with his father-in-law, Ferdinand of Spain, and with the Holy Roman Emperor Maximilian I, Henry invaded France in 1513. Although the king captured the towns of Tournai and Thérouanne and achieved a minor triumph at the Battle of the Spurs, the chief consequences of the war were the rise to prominence of Thomas Wolsey, who organized and supplied the king's campaigns, and the English victory at Flodden Field, where an army under Thomas Howard, future second Duke of Norfolk, defeated and killed James IV of Scotland, the husband of Henry's elder sister, Margaret Tudor. In 1514, Henry, stung by the faithlessness of his allies, made peace with France by arranging a marriage between his younger sister, Mary Tudor, and the aging Louis XII. Upon Louis's death in 1515, Mary wed her brother's friend, Charles Brandon, Duke of Suffolk. Because they married without royal permission, the couple fell temporarily out of favor.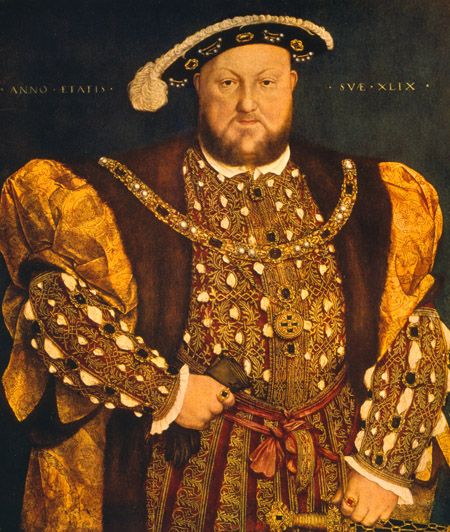 Although often characterized as a supreme egotist who was uninterested in government and easily manipulated or as a ruthless tyrant who terrorized his court and country, Henry was neither. He lacked his father's interest in the details of governing and left administration and the implementation of policy to able ministers such as Wolsey and Thomas Cromwell, and his vanity and sensuality sometimes allowed his manipulation by court factions. However, Henry formulated policy and his ministers functioned only with his confidence and support. The Henrician court took its tone from the king; festive, athletic, and active in the early years, when the young Henry jousted, hunted, and caroused with his minions, the court grew more dangerous in Henry's last decade as an ill and aging monarch, made sedentary by his corpulence, grew suspicious of plots and intolerant of opposition.
During the ascendancy of Wolsey from 1515 to 1529, Henry focused on foreign policy and military affairs. He fought two wars with France and attempted, with the Treaty of London in 1518 and the Field of Cloth of Gold in 1520, to be a major figure in European diplomacy. Although England was inferior in population and resources to France and Spain, Henry saw himself as the equal of their rulers, Francis I and Charles V, and he and Wolsey sought to exploit the ongoing Franco-Imperial rivalry to England's advantage. As chancellor, papal legate, and archbishop of York, Wolsey acquired great influence in church and state, but his position depended on maintaining the king's trust and implementing the king's will.
By 1526, Henry and Catherine had only one child, Princess Mary, born in 1516. Henry's son, Henry Fitzroy, Duke of Richmond, was illegitimate, having been born of the king's liaison with Elizabeth Blount. Fearful of the consequences of a female succession and tiring of a wife who was now past childbearing, Henry convinced himself that his marriage to Catherine lacked sons because the union contravened a biblical injunction against marrying a brother's widow. In 1527, Henry, who had fallen in love with another woman, Anne Boleyn, daughter of the courtier Thomas Boleyn, ordered Wolsey to obtain an annulment from Pope Clement VII. Unwilling to offend Catherine's nephew, Charles V, who controlled Italy, and unable to countenance the limitations on papal authority implicit in Henry's arguments against the validity of the marriage, Clement refused Henry's request. This refusal led to seven years of wrangling between king and pope, to the fall of Wolsey, and, ultimately, to the abolition of papal authority in England.
In 1530, Henry abandoned his attempt to obtain a papal annulment and focused instead on obtaining domestic recognition of the Crown's right to govern the English Church, and the church's right to determine English ecclesiastical issues without reference to Rome. In 1532, Convocation, through the Submission of the Clergy, recognized the royal supremacy, and, in 1533, Parliament, as part of a legislative program crafted by Cromwell, the new chief minister, passed the Act in Restraint of Appeals, effectively destroying papal authority in England and allowing the new archbishop of Canterbury, Thomas Cranmer, to invalidate Henry's marriage. Secretly married to Henry in January 1533, Anne gave birth to Princess Elizabeth the following September. Thereafter, the king embarked upon the matrimonial adventures for which he is best known today. Failing to produce a male heir, Anne was executed for treason and adultery in May 1536. On 30 May, Henry married Jane Seymour, who may have been used by the anti-Boleyn faction at court to intensify the king's growing dissatisfaction with Anne. The new queen died giving birth to Prince Edward in October 1537. In 1540, Henry, for diplomatic reasons, married Anne of Cleves; however, the lady failed to incite the royal desire and the marriage was annulled by July, when the king contracted a new marriage with Katherine Howard, the niece of Thomas Howard, third Duke of Norfolk, who likely used the young woman to enhance his political position. Katherine was executed in 1542 for committing adultery with Thomas Culpepper, a groom of the royal chamber. Although troubled by accusations of heresy against the queen, Henry's 1543 marriage to Katherine Parr lasted until the king's death and helped bring Henry's three children closer to their father and to one another.
Although an orthodox Catholic before 1530—Henry wrote the treatise Assertio Septem Sacramentorum in 1521 to defend the papacy against Martin Luther—the king sanctioned numerous reforms in the 1530s, including the publication of an English Bible and the abolition of such Catholic practices as pilgrimages and prayers to saints. However, Henry remained conservative in doctrine, and the 1530s saw Catholics, like Sir Thomas More and Bishop John Fisher, die for opposing the royal supremacy, while reformers, like John Frith and Robert Barnes, died for opposing Catholic doctrine.
After the fall of Cromwell in 1540, Henry governed without a chief minister, balancing the conservative faction, led by Norfolk and Bishop Stephen Gardiner, against the reformist faction, led by Cranmer and Edward Seymour, Earl of Hertford. By 1543, Henry refocused his attention on foreign affairs, fighting a third war with France, and seeking, through the policy of Rough Wooing, to impose English overlordship on Scotland, which was now ruled by the infant Mary Stuart, Queen of Scots. Perhaps the most wasteful and capricious of Henry's foreign adventures, the wars of the 1540s achieved little militarily and forced the Crown to debase the coinage to pay for its campaigns. Having concluded the French war in 1546, the increasingly ill monarch turned his attention to the political and religious complexion of his son's minority. Henry destroyed the conservatives, whom he considered dangerously ambitious, by excluding Gardiner from the regency council and arresting Norfolk and his son, Henry Howard, Earl of Surrey. The latter was executed and the former was saved only by the intervention of Henry's own death. The regency council of the new king was thus dominated by men interested in achieving true Protestant Reformation. Dying on 28 January 1547, Henry was buried next to Jane Seymour at Windsor Castle.
See also Anglo-French War (Henry VIII); Edward VI; Elizabeth I; Empson-Dudley Affair; Exeter Conspiracy; Ferdinand and Isabella; Mary I
Further Reading
Great Harry: The Extravagant Life of Henry VIII

. Summit

New York

, 1980.
.
Henry VIII

. Harper and Row

New York

, 1966.
Henry VIII: The Politics of Tyranny

. Viking

New York

, 1985.
.
Henry VIII

. Yale University Press

New Haven, CT

, 1997.
Henry VIII: The Mask of Royalty

. Academy Chicago Publishers

Chicago

, 1982.
.
Henry VIII

. Constable and Robinson

London

, 2009.
.
Henry VIII

. Routledge

London

, 2009.
.