Topic Page: Hendricks, Thomas A. (Thomas Andrews), 1819-1885
---
Definition:
Hendricks, Thomas Andrews
from
The Columbia Encyclopedia
1819–85, Vice President of the United States (1885), b. near Zanesville, Ohio. As U.S. Senator from Indiana (1863–69) he opposed radical Reconstruction. He was (1873–77) governor of Indiana. Defeated for vice president on the Tilden ticket in 1876, he won on the Cleveland ticket in 1884. Hendricks died after eight months in office.
---

Summary Article: Hendricks, Thomas A.
From American Government A to Z: The Presidency A to Z
Thomas Andrews Hendricks (1819–1885) was elected vice president in 1884 on the Democratic ticket with Grover Cleveland. Hendricks, an Indiana politician who had served as Indiana governor, U.S. senator, and member of the U.S. House of Representatives, died less than nine months into his vice-presidential term.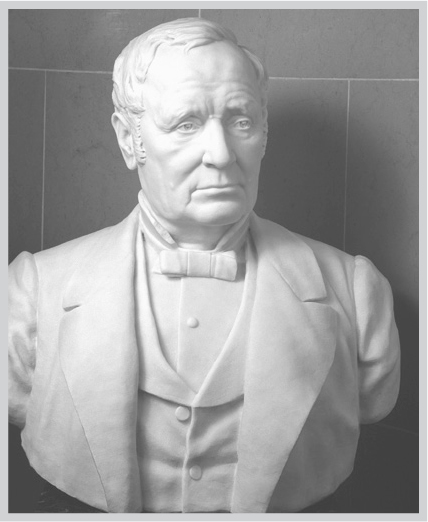 Hendricks graduated from Hanover College near Madison, Indiana, in 1841. He passed the bar in 1844 and established a successful law practice in Shelbyville, Indiana. After serving in the Indiana legislature, Hendricks was elected to the U.S. House of Representatives in 1851. While in the House, he aligned himself with Democratic senator Stephen A. Douglas of Illinois. After Hendricks lost reelection to the House in 1854, President Franklin Pierce appointed him commissioner of the general land office, a post he held until 1859.
Hendricks ran unsuccessfully for governor of Indiana in 1860. In 1863, at the height of the Civil War, he was elected to the U.S. Senate. During his single term, he was a leading critic of Abraham Lincoln. Hendricks supported appropriations to pay for troops, weapons, and supplies, but he opposed the Emancipation Proclamation, the draft, and many other wartime measures. After the war he worked against the Thirteenth Amendment, which abolished slavery, and the Fourteenth Amendment, which extended full citizenship rights to former slaves. Hendricks had asserted his view that negroes were "an inferior class" and as workers were not as skilled or hardworking as whites.
In 1868 Hendricks again lost an election for governor of Indiana. In 1872 he ran for governor for the third time and was finally elected by a narrow 1,148-vote margin.
In 1876 the Democrats nominated Hendricks as Samuel J. Tilden's vice-presidential running mate. The presence of Hendricks on the ticket helped Tilden to carry Indiana and seemingly the election. The Republicans, however, disputed the vote in several southern states. An election commission that favored the Republicans gave the election to the Republican presidential candidate, Rutherford B. Hayes.
Hendricks was nominated again for vice president in 1884 to balance the ticket with New Yorker Grover Cleveland. Cleveland and Hendricks defeated Republicans James G. Blaine and John A. Logan 48.5 to 48.2 percent in the popular vote and by 219–182 in the Electoral College. As vice president, Hendricks presided over only a one-month session of the Senate called to consider Cleveland's cabinet nominations. Hendricks died in his home in Indianapolis on November 25, 1885, two weeks before the Senate was scheduled to resume its business.
Related Articles
---
Chambers Biographical Dictionary
1809-91 US politician Born in Paris Hill, Maine, he practised law (1833-48), was Speaker of the Maine House of Representatives, and was returned to C
Chambers Biographical Dictionary
1806-69 US politician Born in Boscawen, New Hampshire, he was admitted to the Maine Bar in 1827, and rose in the Whig Party. His antislavery sympathi
Bridgeman Images: Ken Welsh History Collection
Artist: Chappel Alonzo (1828-87) (after) Location: Private Collection Credit: Portrait of John Charles Fremont (1813-90) (litho), Chappel, Alonzo (1
See more from Credo