Topic Page: Heaney, Seamus, 1939-2013
Summary Article: HEANEY, SEAMUS
From Encyclopedia of Nobel Laureates 1901-2017
Nationality: Irish
b. 13 April 1939, Casteldàwson, County Derry, Northern Ireland;
d. 30 August 2013, Dublin, Ireland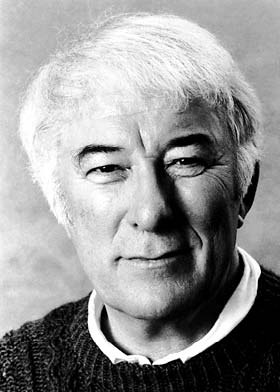 For works of lyrical beauty and ethical depth, which exalt everyday miracles and the living past
Irish poet Seamus Justin Heaney whose lines of love and loss took inspiration from hischildhood in Derry was born the eldest of nine children of a Catholic farmer and cattle dealer. Young Heaney grew up reading from his Aunt Sarah's book house which had sets of Kipling and Hardy, that she bought as a young school teacher.
Heaney attended St Columb's college in Derry, studied English language and literature at Queen's University Belfast, graduating with a first-class degree in 1961. After earning a teaching certificate from St. Joseph's College of Education, he taught for a brief period in Belfast and joined the writers' workshop known as the Group. Heaney was appointed to a lectureship in English in 1966 and became chairman of the Group. He took part in some of the first protest marches following the RUC assault on the civil rights march in Derry on 5 October 1968, and contributed articles on the issue to the Listener.
He spent a year in the US, at the University of California at Berkeley, in 1970-71 where got to know the contemporary poetry of America's west coast. On his return, he resigned from his post at Queen's, became a freelance writer and moved with his family to the Republic of Ireland. He had a long relationship with Harvard University, where he had a visiting professorship in 1979 and held the Boylston chair of rhetoric and oratory (1985-97). He was professor of poetry at Oxford from 1989 to 1994.
Heaney started to write when he was 23, and began publishing poems as a student, using the pseudonym Incertus. His first book of poems was published by the London publisher Faber and Faber when he was 27.
In his first poetry collections "Death of a Naturalist" (1966) Heaney pledged loyalty to his "Catholic imagination" in the opening lines. His first book and "Door Into the Dark," (1969), reflected his rural surroundings immediately marking him as a gifted lyric poet and often compared to William Butler Yeats and Robert Frost. His place of origin and earlier phase of Irish Catholicism was crucial to his worldview. The subject matter of his literary career for the first 40 years has been largely Irish nationalism and his father's farm.
Heaney's poetry was rooted in the Irish soil. At the same time, he moved easily from the homely images of farm and village to larger issues of history, language and national identity.
In 1972, Heaney moved from Belfast to the Irish Republic, eventually settling in Dublin, and his poetry from the 1970's, collected in "North" (1975) and "Field Work" (1979), portrays the political turmoil in Northern Ireland, although from afar. In his words, "the young nationalist in me was trying to give voice to things that the culture in Northern Ireland did not admit."
Heaney gradually transformed into a politically committed writer and his poems in the early 1970s had titles such as "After a Killing", "Punishment", "The Ministry of Fear", as, according to him, "when people are killing each other round about you, you feel obligated to pay attention".
His poetry collections include "The Haw Lantern" (1987), "Selected Poems: 1966- 1987" (1990) and "Seeing Things" (1991).
His essays collected in two volumes are "Preoccupations: Selected Prose 1968-1978" (1980) and "The Government of the Tongue" (1989). In "Field Work" (1979) and "Station Island" (1984) which won great critical praise, Heaney encounters ghosts. Heaney was also an excellent poet of familial love and enduring married love that reflected in his numerous poems of filial affection, for both mother and father, and for his children and his granddaughter. Heaney published "Preoccupations" in 1980, the first of several collections of critical essays. His literary criticism came to assume great authority and gained an international reputation, notably in America. Heaney was preoccupied with mortality and domestic relations, affection and obligation throughout his work. His volume "Human Chain" (2010) written after he suffered a stroke is painfully shadowed by ageing and mortality. Heaney's poetry is full of broken things, but it is also a poetry of the continuities that sustain us against mortality.
Translation was a major element of his later work: notably of the long Anglo-Saxon poem "Beowulf" (1999), and his version of a Horatian ode, "Anything Can Happen", which commemorated the events of 9/11.
Awarding the Nobel Prize, the Academy lauded him for analyzing the violence in Northern Ireland without recourse to conventional terms. During his Nobel lecture, Heaney dwelt on the politics of Northern Ireland, condemning both "the atrocious nature of the IRA's campaign of bombings and killings" and "the ruthlessness of the British army on occasions like Bloody Sunday in Derry in 1972".